Our phones and other portable devices all have built-in speakers usually but I've found that they're not always that good in terms of sounds quality and loudness. Today I have another video review for you of a portable Bluetooth speaker that can add functionality to your portable devices. The speaker is called the SoundWave SW100 and it's a speaker and it can also acct as a speakerphone, so read on to learn more…
Tech Specs,Features or the Basic Info
SD SW100 SoundWave Bluetooth Speaker
SW100 Bluetooth Speaker
The SD SW100 SoundWave Bluetooth Speaker is a truly compact speaker with a sound quality and battery life that far surpasses its size, making it the perfect solution for listening to music whenever you want. It also doubles as a phone loud speaker, ideal for hands-free conversations or conference calls. With integrated Bluetooth Class II technology, there are no messy cables or connecting wires needed – simply connect to any Bluetooth enabled device and start streaming your music instantly.
Where you go, the sleek & stylish, ultra-portable SW100 can go too.
Features:
Integrated rechargeable battery.
Music Pauses when the phone rings.
Noise suppression and echo elimination.
Enjoy your music and handsfree phone calls at the comfort of your desk.
Latest Bluetooth technology pairs wirelessly with your smartphone.
Small and discreet design takes up virtually no room wherever you are.
 
Compatibility: Any Bluetooth compatible device
Price: $39.81 from Amazon at time of review
Video Review
Photo Gallery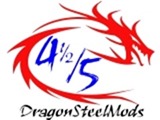 review# 792
Disclosure: This product was given to DragonSteelMods for review by the company for review purposes only, and is not considered by us as payment for the review; we do not, never have, and never will, accept payment from companies to review their products.
To learn more about our review policy, testing methods and ratings please see this page.