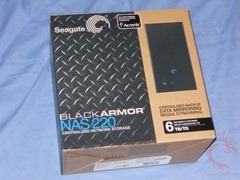 The NAS box comes in many shapes, sizes and configurations and from my experience most all of them are very useful. Seagate is a huge storage company and it's a just a logical next step for them to produce their own NAS box. Up for review today is the NAS 220, which is a 6tb NAS box, it has two Seagate 3tb drives inside of it in a default Raid 1 configuration for a usable capacity of 3tb which can be a lot. The NAS 220 can be utilized in the home or even an office where access to your files would be needed, either on your network or access while you're away. The box itself is well made, it's metal and it's fairly small and compact overall. The NAS 220 shows some decent performance in my tests, but it's much stronger on the read side of things. So read on to learn more…
Seagate BlackArmor STAV6000100 NAS Review
Tech Specs,Features or the Basic Info
Model: STAV6000100
Centralizes your backup and storage.
The BlackArmor NAS 220 storage server delivers easy-to-use centralized network storage and backup for small businesses.
Supports up to 20 PC and Mac workstations
Automatic, incremental and full-system backups for networked PCs
Compatible with Time Machine software for Macs
Secures your data with powerful hardware-based encryption
FTP server functionality for remote file access
Ready to work.
The BlackArmor NAS 220 storage server ships with two reliable, energy-efficient Seagate hard drives preinstalled and configured in RAID 1
for automatic data mirroring.
Easy-to-use software helps you choose the backup, performance and security options that are right for your business. And Seagate has you
covered with available support that includes data recovery and priority tech support (data recovery services sold separately).
Command from the field.
You can manage the BlackArmor NAS 220 storage server remotely with DDNS, which can be configured using an intuitive Web-based
management interface.
The BlackArmor NAS 220 storage server can also function as a secure FTP server to deliver remote access to your files. Designate user
access manually using the Web-based management interface or integrate with Microsoft Active Directory.
Hardware for hard work.
The BlackArmor NAS 220 storage server comes with two user-replaceable, reliable Seagate Barracuda hard drives preinstalled. As your
business grows, you can easily upgrade to larger capacity drives.
Additional BlackArmor NAS 220 storage server features include:
Gigabit Ethernet port for local network connection, Web-based management and remote access
Two USB 2.0 ports for external drives, printers and UPS (uninterrupted power supply)
800 MHZ processor; 128 MB RAM
Business-grade protection.
Software plays an important part in achieving business continuity, and the easy-to-use BlackArmor NAS 220 software package delivers
layered protection for your business-critical data.
Rest easy with BlackArmor NAS 220 storage server features like these:
Incremental and full-system automatic backup of network-connected PCs
Bare-metal restore to recover your entire system, including the operating system, programs and settings in the event of PC hardware failure
The ability to secure your files with powerful hardware-based encryption
Additionally, BlackArmor NAS server software helps you easily configure the drives for the optimal mix of performance, redundancy and
storage capacity.
Specs:
Physical:
Height (in/mm) (maximum): 7.79/197.8
Width (in/mm) (maximum): 4.09/104
Length (in/mm) (maximum)    7.4/188
Weight (lb/g): 6.6/2980
Price: $898 (from Amazon at time of review)