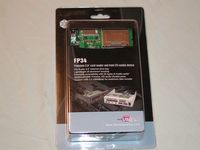 Lots and lots of devices these days use memory cards, and there are all types of them, but not many computers come with a built in card reader, especially one that can reader pretty much every type of card. So, what is a person to do about this? Well, you could get a little external reader that just reads cards, which are nice but somewhat lacking. The other option would be to get a drive bay type of reader which makes access to your cards at your fingertips, so why not get a reader that is more than a reader? Today for review I have the SilverStone FP34 Premium 3.5 card reader and front I/O combo device. The FP34 pretty much puts all those ports that are located on the back of your PC on the front of your PC for much easier access. Read on to check it out some more….
SilverStone 3.5 Card reader front I/O panel (FP34)
Reviewed by: Kristofer Brozio AkA Dracos
Sponsor: SilverStone
Tech Specs,Features or the Basic Info:
The FP34 is a finely crafted 3.5 drive bay device that combines a powerful card reader and a set of USB/1394/audio ports into one. With support for up to 26 different types of media card format, it is the perfect accessory for serious multimedia enthusiasts. Available in either black or silver colored aluminum finish, the FP34 is also a great addition for any PC users looking to add additional front I/O ports and upgrade to High Definition audio (Azalia) connectors.
Features:
Fits in any 3.5 external drive bay
Lightweight all aluminum housing
Extensive compatibility with 26 types of media cards*
Additional USB, Firewire, HD audio (Azalia) ports
Support USB 2.0 (480Mbits) for maximum data transfer
Specs:
Enclosure material aluminum
Color: Black /Silver
Dimension: 102mm (W) x 25.4mm (H) x 120mm (D)
Weight: 250g
Media card power requirement USB powered
Interface: USB 2.0 (480Mbps)
Operating system support: Windows 98, Me, 2000, XP, Mac OS 9.x / X
Front I/O ports: 2 x USB A, 1 x USB Mini 5pin, 1 x 1394 6pin, 1 x 1394 4pin, 1 x audio (Azalia), 1 x MIC (Azalia)
Media card support: SM / XD / CF I / CF II / MD /CF-Ultra II / CF Extreme / SD / MMC / MMC II / MMC 4.0 / RS MMC / HS MMC / Mini SD(w/ adapter*) / SD-Ultra II / T-Flash(w/ adapter*) / MS / MS PRO / MS Duo / MS PRO Duo(MG) / MS PRO(MG) / MS(MG) / HS MS PRO(MG) / HS MS PRO DUO(MG) / MS PRO Ultra II
A Better Look at Things
:
Let's check out the packaging, after all sometimes when people buy things they are apt to buy better looking things, it's just human nature. I'm sure you wonder why I like to examine the packaging so much, it is for that reason, you can have an excellent product but bad packaging and consumers are going to but the better looking one even if it is an inferior product, again it's just human nature. A big part of marketing is the packaging and making your product stand out from others and draw attention to itself. SilverStone has always done this very well, there packages are stylish but yet cool looking and attention getting.
The front of the package of the SilverStone FP34 gives you the main features and some views of the FP34 itself. There is also a window that you can see the actual reader through and the circuitry as well.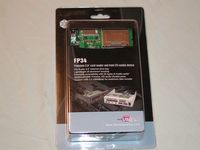 The back of the package gives us all the specs and features so that you know exactly what you are getting and if it is right for you.
Getting the FP34 out of its package we also find a driver disc and lots of cables attached to the FP34.
The front of the FP34 is tightly packed but not so tight to make things hard to access, use of the 3.5 inches of space has been optimized in the best possible way.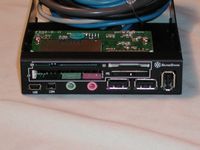 Looking at the connections we have the basic standard motherboard header connectors all nicely combined into a little block. I hate the types of connectors that give you a separate connection for each wire, it is confusing, tedious work and time consuming to install these things.
The SilverStone FP34 is made from sturdy aluminum, it seems very durable and does not bend easily. The finish is very well done, and the overall construction is excellent, but that's SilverStone, all of their products are top quality and constructed very well.
There are lots of ports on the FP34, and every user may not utilize them all but it is nice to have them when needed. I for one use a card reader constantly and having it right there in front of me is such a nice convenience.
Installation, Testing and Comparison
Installation requires a free 3.5 bay of course, and you need to decide which I/O ports you will be utilizing and find the connectors on your motherboard. Now, not all motherboards have all the connectors that the FP34 has, like the HD audio, that is something new, but it is nice to have it for the future. I installed the FP34 in my Coolermaster Centurion PC case which only has one 3.5 external bay, so my floppy had to go, nowadays you don't even need a floppy anymore so no big loss.
Installation was very easy, just make sure you have your motherboard manual handy when installing to identify all those connectors easily.
The first thing I noticed about the FP34 when putting a memory card into it was just how fast it is. I have two other card readers, an external one from Nmedia and one that is built into my HP Photosmart printer. When I put the card into the FP34 not even a second went past and up popped the contents of my memory card, the other readers I have take a few seconds to access and show the contents of the cards.
That was the most obvious difference, the next thing is the transfer time to transfer things to my computer from the memory card. It seemed to me that things transfered much faster using the SilverStone, but perceptions can be sometimes skewed so that's why we do testing.
For the testing I am using a zipped file of 54 pictures that is 43.8MB in size. I will be using DiskBench to test the speeds to copy from the reader, copy to the reader and the time it takes to read the file on the reader. For testing I am using an ATP ProMax 1Gb CF Card.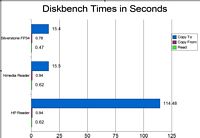 Well we can see from the results that even using the same card the SilverStone FP34 is faster, even if it is 10ths of seconds it is still quite a bit faster during the Copy from and Read tests. The Copy to test is almost the same time for both the SilverStone and Nmedia, but the Photosmart is very slow.
The Read test is essentially the access time to access the card by your computer, or it's contents and that .47 seconds is less than half of a second, that could be why it seemed almost instantly to me. We can see that the Nmedia is well over half of a second in the access or read time with the Photosmart coming in with the same time. I'm not putting down the Nmedia card reader by no means, external portable card readers do have their place and it is fine for what it does.
There are other parts to this product like the Firewire and USB ports, you may be wondering why I really didn't focus in on those, it's because they are direct connect to my motherboard, it is essentially just an extension of the capabilities and performance of the motherboard itself. Basically these parts will run at the same speed as they normally would, card readers are different as we have found out, they do vary in speeds even if the reader is supposedly made for USB 2.0 speeds it doesn't mean it runs that fast. My experience with card readers is just that, they are all different, they all run at varying speeds even though the interface is the same.
Summary:
If you are looking for quality and speed in a card reader then this is it, you will find that and more in the SilverStone FP34. The benches tell us a bit but, as I mentioned the SilverStone does seem much faster in accessing the cards, I think a lot of the speed people need is perceived and the SilverStone has that and more. The card reader is just excellent and having the rest of the I/O ports at your fingertips is a nice bonus. Bottom line is SilverStone makes quality products that perform.
DragonSteelMods gives the SilverStone 3.5 Card reader front I/O panel (FP34) a 5 out of 5 score.
PROS:
-High quality
-Looks nice
-Easy to install
-Very fast card reader
CONS:
-None
I would like to thank SilverStone for the chance to review their products and their support of DragonSteelMods.