Our phones have become indispensible, they're a huge part of our lives, they go with us everywhere, and they've become much more than just phones. Sony has decided to make them even more useful with the addition of a second screen called the LiveView that works with most any Android phone. The LiveView is a 1.3" Color OLED screen that has a ton of uses like checking your email, reading text messages, and checking Twitter and Facebook updates. The LiveView can be clipped most anywhere or worn as a watch. It can allow you to control your phone from a distance with the many plug-ins available for it like controlling your media player or even dialing your phone. It's a very unique and rather useful little device.
Product Name: Sony Ericsson LiveView Micro Display
Author: Kristofer Brozio
Sponsor:  MobileFun
Tech Specs,Features or the Basic Info:
Sony Ericsson LiveView Micro Display
Take control of your phone without ever taking it out. The LiveView is wearable and wireless; you can also customize it with applications.
Why Buy:
* Control your phone's main features without getting your phone out
* Receive twitter, Twitter, Facebook and text messages through your LiveView
* Play, pause and skip tracks on your music player wirelessly
* Customizable with different Android apps
* Caller display lets you know who is calling
The LiveView is a truly unique product; the wearable device will allow you to control your phone without removing it from your pocket as it features bluetooth technology which will work up to 10 meters away from your phone. It allows you to read text messages, Twitter and Facebook updates from your favorite friends. The caller display will show you who is calling and the battery life. The device also allows for you to control the music player on your phone. Calendar updates will prompt you of important events. If you can't find your phone the LiveView has a feature that will help you to find it.
Specifications:
Dimensions: 11 x 35 x 35 mm
Weight: 15g
Display: 1.3″ color OLED
Compatibility: Android phones with Android 2.0 and above
What's in the box?
* LiveView
* Clip
* Wristband
* Micro USB Charger
* User Guide
Price: £61.23 / $98.10
Unboxing
The box is small as you might expect with a window in it to see the LiveView and of course there's information listed on it.
When you unpack the box you'll find user manual, power supply, LiveView, clip and wrist strap. Yes the power adapter that I got is not for the US, but it can be powered or recharged right from any standard USB port.
The strap is nylon, a bit tacky in my opinion though, but well made and tough. Included are watch pins and a watch face I guess you would call it.
The LiveView itself is just a small display, an OLED actually that is 1.3" in size. The screen itself isn't touch sensitive but the borders are.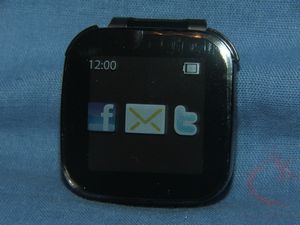 It comes with a clip already attached, it's metal and sturdy.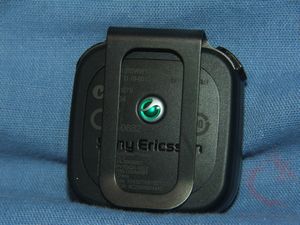 There are two buttons on the top shoulders:
On the bottom is the micro USB port:
When charging the power button has an LED in it that lights red and then green when charged.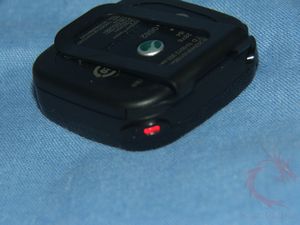 Installation and Testing:
Let's take a quick look at the watch part of this; the band enabled you to wear the LiveView like a watch. I think the LiveView is just a bit too big, or thick actually to be work this way, at least that's my opinion of it.
The manual has instructions to easily attach the band.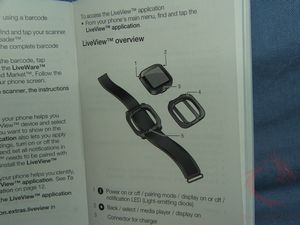 The first thing you need to do is remove the metal back clip and attach the watch clip.
Once the clip is on you use the pins to attach it to the band, fairly simple.
To use the LiveView you'll need to charge it of course, and then install the LiveWare Manager app from the marketplace. The easiest thing to do is scan the barcode right in the instruction manual.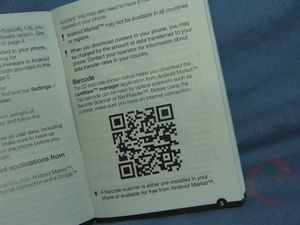 Then you'll need to turn activate Bluetooth on your phone and pair it with the LiveView. I used it with the Samsung Galaxy S Captivate and it connected with no issues. Bluetooth does use up the battery on your phone so expect to charge both your phone and the LiveView every day. The range is decent, not that you'll ever need them to be far away from each other as the LiveView compliments your phone. 
I installed two applications actually, the LiveView Application and the LiveWare Manager. The applications allow you to install and configure the LiveView apps that are included with it and those that you download from the Marketplace. 
It comes with some basic plug-ins but I installed some more from the market. Here are some pictures of the LiveView in action to show you the plug-ins and what the screen looks like.
You can use the LiveView to monitor your Twitter or even read your emails. You can see your missed calls, or check your calendar. With other programs or plug-ins it can be used to control your media player, check the weather or even dial your phone. I ran across another plug-in that shows a live view from your camera right on the LiveView itself and it's actually fairly decent looking.
You can use it as a watch but it's not the best for that as it doesn't stay on, after a few seconds the LiveView display turns off automatically to save battery life.
There were some issues with the LiveView when I first got it, but Sony recently released an update that improved and fixed a few bugs. I am still having an issue with my phone though where it locks up sometimes and I can't access my phone. It happens sometimes but not often, it's usually when I turn the LiveView off that this happens. The update did fix the amount of plug-ins; you can now use up to 30 of them. I think one of my problems is that the LiveView apparently works better with Android 2.2 and Samsung still hasn't released the update for my Samsung Captivate, but that's another story or should I say rant about that update or lack thereof actually. I guess I could say the same thing about Sony, they're not exactly timely with their updates, but at least they delivered around the time they mentioned they would.
Summary and Comments
I thought the LiveView was a bit gimmicky when it first came out and I'm not alone in that thought, many other people have said the same thing. Since I've had it I've found that it can be useful especially if you want the ability to control your phone from a distance.
We use our phones now for media players and the LiveView can let you control it from distance which is a rather novel idea. The LiveView sort of gives you freedom and it's nice. Overall it's a well made little product that I think can be very useful in the right hands, I've come to like it really.
There are many useful plug-ins available for the LiveView with even more coming from what I've seen.
DragonSteelMods gives the Sony Ericsson LiveView Micro Display a 4.5 out of 5 score.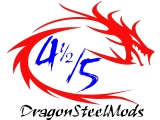 Pros:
+Decent battery life

+Good range

+Unique and useful product

+Seems nicely made

+Fairly simple to use

+For what it is the resolution is good

+Several apps available with more being made

+Lightweight
Cons:
-A bit thick for a watch

-Sometimes disconnects

-Bluetooth drains battery of course

-Not exactly high resolution

-Random lock ups with phone
review# 690
Disclosure: This product was given to DragonSteelMods for review by the company for review purposes only, and is not considered by us as payment for the review; we do not, never have, and never will, accept payment from companies to review their products.
To learn more about our review policy, testing methods and ratings please see this page.