The exposed faces of the iPhone and iPod Touch are ripe for scratches and smudges. There are numerous screen films to protect these devices and today we will look at the offering from Speck. As a reviewer I have looked at several Speck products and found them to make quality Apple related accessories. Today's review item keeps this tradition going.
The Speck ShieldView for iPod Touch/iPhone comes in a set of three static cling films that feature an anti-glare matte finish. They can be easily applied and removed without any residual adhesives or goo.
Let's take a closer look…..
Speck ShieldView for iPod Touch/iPhone
Reviewed by: Tomas Ratas
Sponsor: Speck
Tech Specs,Features or the Basic Info:
Speck ShieldView for iPod Touch/iPhone
Protect your iPhone 3G or 3GS screen with ShieldView screen film packs! 3 highly sophisticated static-cling screen protectors stick to your device screen perfectly and without any bubbles or annoying peeling corners, yet leave no residue and can be easily removed and even repositioned. One screen film will last a long time and take a lot of abuse, however the re-sealable envelope packaging will keep your extra screen protectors in pristine condition, ready and waiting for when you're ready to freshen things up.
-Protects touchscreens from scratches, smudges
-Anti-glare for improved visibility
-Non-adhesive; easy to apply/remove
Length: 2.25 inches
Width: 0.001 inches
Height: 4.3125 inches
Weight: 1.0 oz.
Colors: for iPhone 3G
SKUS: IPH3G-SHVW-A025MT
Length: 2.25 inches
Width: 0.001 inches
Height: 4.375 inches
Weight: 1.0 oz.
Colors: for iPod touch
SKUS:T2-SHVW-A025MT
A Better Look at Things:
The Speck ShieldView for iPod Touch/iPhone comes in a stiff cardboard envelope. Underneath the back flap are the application instructions. Inside the package are three individual screen films.
Each ShieldView is protected on both sides by a clear plastic film with a "1" or "2" tab. There is no adhesive used with the ShieldView, they stay attached to the appropriate Apple device via static cling. This allows the film to be repositioned or reapplied if necessary.
Installation, Testing and Comparison:
If you have ever installed a film on an iPhone or iPod Touch then the process will seem familiar. To start, clean the device's screen then peel off the "1" backing and then apply the static cling surface onto the screen. Smooth the film out as your are applying the film.
The iPhone film is a little trickier to apply as there are two openings to line up as opposed to the single one on the iPod Touch. Once satisfied with the positioning of the ShieldView, remove the backing with the "2" label. If there are any bubbles noticed then squeegee them out using a flat surface such as a credit card.
Here is a picture of the finished product. The Shieldview lines up with the edges of the screen leaving barely a millimeter of screen uncovered along the perimeter.
Fingerprints still appear but are not as prominent or as visible compared to the naked iPad screen.
The matte finish does take away a significant amount of glare from the iPhone/iPod Touch's screen but it also washes out some of the color making it seem less vivid. That is the trade off with most "anti-glare" finishes. To some folks this may be a negative to the ShieldView film; for me it is not an issue.
Summary and Comments:
The Speck ShieldView for iPhone/iPod Touch is a perfect screen protector especially if you wish to have an anti-glare film. Reflections are less noticeable with the ShieldView in place. Just be aware that most anti-glare films do mute the display colors so if that is something important to the user you may wish to get a crystal type film.
DragonSteelMods gives the Speck ShieldView for iPod Touch/iPhone a 4.5 out of 5 score.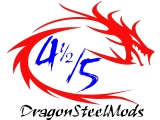 Pros:
+Easy 

to apply and remove

+Decreases 

screen glare

+Prevents 

fingerprint grease build up
Cons:
review#654
Disclosure:This product was given to DragonSteelMods for review by the company for review purposes only, and is not considered by us as payment for the review, we do not, never have, and never will, accept payment from companies to review their products.
To learn more about our review policy, testing methods and ratings please see this page.