The mousepad is one of the most important parts of your desktop setup I think, and I use a mousepad and a deskpad as I like having a soft surface under my keyboard area as I do spend hours at my desk and I just like to be comfortable. I do have two deskpads, well actually just one now, a Corepad and an Xtrac but they're old and frayed and just in pretty bad shape so I tossed one out and I needed a new one so I went to Amazon searching for one. I was on Amazon and came across the regular black ones but what turned up in my search results was something a bit different called the TekMat and it's sold as something for gun owners to use as a bench mat or work surface while cleaning or performing maintenance on your guns. These pads are really just mousepads but they have imprints on them of different guns and I grabbed the AR-15 version for myself, it's a nice change from the plain black of the 'real' mousepads that are for sale these days.  Most deskpads sell for $35 and up but the Tekmat is only $25 and it's virtually the same as those gaming deskpads but at a much lower price. The only real difference I can see is the size, the TekMat is only 12 inches tall while the other gaming deskpads are usually 17 inches tall or more, other than that it's essentially the same. So read on for a unique deskpad that works great…
Tech Specs,Features or the Basic Info
 TekMat 12-Inch X 36-Inch Long Gun Cleaning Mat with AR15 Imprint Black
The perfect cleaning and repair mat for your AR-15 or M-16. Have fun and learn while you work on your rifle. The soft top protects your gun from scratches while the neoprene rubber backing protects your work surface from chemicals.
This isn't your ordinary gun cleaning mat! Show your pride for your weapon while using this high quality neoprene rubber backed and cloth top gun cleaning mat to protect your gun bench, desk, kitchen table, or whatever surface you usually clean or maintain your gun on. You likely keep your gun in a soft padded case or maybe a gun cabinet with a felt lined rack or something similar to protect it so why would you scratch your gun while cleaning or repairing it by setting it on a hard surface that could easily scratch your firearm?
PROTECT YOUR GUN AND WORK AREA
The soft polyester top will ensure your gun doesn't get scratched while the neoprene rubber backing on the mat will keep everything in place and prevent your work surface from sliding around. This mat will also keep harmful chemicals, oil and dirt from penetrating down to your desk, bench or the area where you normally clean and work on your firearms. After the mat begins to accumulate too much dirt, chemicals, or oil just throw it in the wash on a gentle cycle, allow to air dry and it will be virtually like new.
ENTERTAINING AND EDUCATIONAL
With the exploded view drawings and accompanying parts list, making repairs, disassembling your firearm, or basic cleaning can be done much faster and with greater enjoyment. Guns are extremely fascinating and the drawings and data that is printed on each mat will keep you entertained while educating you on how your firearm operates.
DIMENSION
This gun cleaning and parts mat measures 12 inches by 36 inches and is 1/8 of an inch thick.
PRODUCT DETAILS
This is made specifically for the AR-15 A2 style as built by Colt but as is the case with all AR-15 or M-16s the parts are interchangeable and this will certainly be 90-95% consistent with your AR-15.
MSRP: $24.99
Price: $24.32 (from Amazon at time of review)
Unboxing
There is no box for the TekMat, it just comes in a plastic bag basically. It's not exactly breakable so a plastic bag is fine I think.
This a is a big mat or a deskpad, it's 12 inches by 36 inches and is 1/8 of an inch thick. It's really just a big mousepad but instead of being plain black it has an imprint on it with the exploded view and details of the AR-15 rifle. Tekmat offers many different variations on this imprint, you can get other guns and even other colors as well.
Not only is there the exploded view and parts list but there's a little history of the gun and technical specifications as well.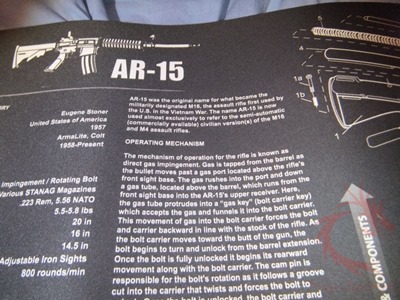 Here's four close up pictures for you showing the imprint and the actual surface of the pad. The TekMat is cloth and it's very smooth and not very rough so your mouse should just glide across the surface.
The bottom or backing of the TekMat is rubberized for a non-slip grip on your desk or workspace. The backing is neoprene actually and it's meant to protect your work surface from chemicals while cleaning your gun really but it's just like what you would fine on any other mousepad.
The TekMat is only 1/8" inch thick and flexible so you can easily roll it up and take it with you if you need to. Between the top and bottom is a layer of soft padding, but it is a firm padding, it's not soft and squishy so it will provide a firm work or mousing surface for you.
I should also note the TekMat is machine washable so if it gets dirty you can just toss it in the washing machine on the gentle cycle and hang it to air dry and it will be as good as new. We all drink and eat at our desks, even though we shouldn't we still do it and accidents happen so being able to just toss it in the washing machine is just great I think.
Testing and Usage
To give you a better idea of how big this mat is, here's a keyword and mouse on it. They both fit fine with room to spare. Yes it's big so you will need a rather large desk to use it on.
I certainly like it much better than a plain black mousepad or deskpad as they're sometimes called. I guess plain black is nice but I kind of like having something to look at really. This one is black of course but you can also get it in gray or olive drab colors if you prefer something other than black.
The mouse I use all the time is the Mionix Naos 5000 for gaming and just general use. If you're never used a Mionix product then you probably don't know this but their software comes with a mousepad analyzer program built-in called SQAT or Surface Quality Analyzer Tool that let's you test the surface quality of your mousepad to see how well it will do with the Mionix mouse.
From the Mionix site:
S.Q.A.T – Surface Quality Analyzer Tool
Surface Quality Analyzer tool to measure the tracking quality on a certain surface
Yes it's not an exact science but I've found that it really does give you a good idea of how well the mouse will do on the tested surface, at least the Mionix mouse anyway.
The TekMat is technically a cloth mousepad so I grabbed a couple other cloth pads for use with the SQAT, the Xtracpads Fat Mat and the Zowie Gear G-RF, and tested them for comparison. Currently I use the Icemat which is a glass mousepad so I included that in the testing as well.
The test results are:
Top row, left to right: TekMat and Xtracpads Fat Mat
Bottom row, left to right: Zowie Gear G-RF and Icemat
As you can see the Tekmat actually scores as well as the Fat Mat and better than the Zowie Gear G-RF and I found it's actually not bad to use as a mousepad. The Icemat scored the best on the test, but I expected that as that's the one that I use all the time and that's why I use it all the time.
Yes I used the TekMat and it seems fine for everyday mousing and even gaming, overall it's not bad at all really in terms of surface quality and tracking I think.
Primarily though I use it under my keyboard as I site for hours here typing and it's nice to have a softer surface to work on and then I have my Icemat off to the right with the mouse. I do have a large desk though so I have plenty of room to do this, if you have a desk large enough to accommodate the TekMat you could use it for just your keyboard and mouse surely.
My only complaint, and this is for both as a mousepad and as a bench mat, is that it's only 12 inches tall. Personally I would much rather see something taller, at least 17 inches or more really. That's just my feelings on it though, you might be more than happy with the dimensions.
Summary and Comments
For the price the TekMat is just great I think, I like it very much it's just as good as the Xtracpad deskpad and the Corepad deskpad that I have or I should say had as I got the TekMat to replace the aging and frayed Xtracpad that I threw away.
The TekMat is technically sold as a bench mat and yes that's what it can be used for, but it works great as a mousing surface as well as it is just a big mousepad but one with a unique design on it instead of just plain black.
TekMat offers many different designs and even other colors besides black so you've got many choices.
The pad is cloth but it has a nice smooth surface and the bottom is a non-slip neoprene so the mat will stay in place.
Yes the pad is large, you will need a large desk to use this pad with but you won't need a separate mousepad really as you can put your keyboard and mouse on the Tekmat as the surface tracks very well.
As I mentioned the only real complaint I have is the size, I just wish it was taller than 12 inches. It's a bench mat for a gun so 12 inches might be enough, but even there I think taller would be better really.
One of the things I love about the TekMat is that it's machine washable, accidents happen so being able to just throw it in the washing machine is a big plus for me.
TekMat does offer smaller versions with they sell as handgun bench mats which I'm sure could be used as a regular mousepad as well.
So if you're looking for a new deskpad but don't want plain, check out the line from TekMat for something that's functional and unique.
The gun design on the pad is perfect for gamers, I don't know why actual mousepad companies haven't though of this yet. I know a Call of Duty or Battlefield gamer would love one of these on their desk.
DragonSteelMods gives the  a 4.5 out of 5 score and our Recommended Award as well.
Pros:
+Good quality
+Only 1/8" thick
+Good tracking
+Better than plain black mat
+Multiple design choices and colors available
+Machine washable
Cons:
-Only 12 inches tall
review# 774
Disclosure: This product was given to DragonSteelMods for review by the company for review purposes only, and is not considered by us as payment for the review; we do not, never have, and never will, accept payment from companies to review their products.
To learn more about our review policy, testing methods and ratings please see this page.