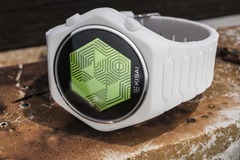 Here's an interesting watch from TokyoFlash, they've just announced the Kisai Quasar silicone watch which is certainly unique. The watch is like most other from TokyoFlash, it's hard to read, but that's not a bad thing as that is what makes it special and that's the reason people like them.
Tokyoflash Japan has just released the Kisai Quasar watch in silicone.

Made in very limited quantities, Kisai Quasar Silicone is housed in a light and comfortable silicone case with matching strap and features a geometrically patterned display that camouflages time. The watch has time, date & alarm modes, stop watch, animation and EL backlight.
The release price is $99 (€71, £59).
watch and there is a video demo here on our YouTube channel.