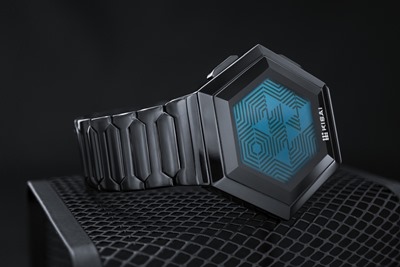 All of the stuff from Tokyoflash is very unique that's for sure, and they've just launched Kisai Quasar which is pulsating hexagonal watch. For the next 48 hours you can get in on the introductory price of $109, then the price will go up to $149 after that. More pics and info below for you..
Tokyoflash Japan has just released its latest watch, the limited edition Kisai Quasar.

"Kisai Quasar combines the simplicity of a digital watch with a geometric, patterned display that camouflages time. Featuring date & alarm mode, stop watch, animation and EL backlight, Kisai Quasar was originally a concept submitted to the Tokyoflash Design Studio Blog by Laszlo Scheffer from Hungary."
Kisai Quasar is made of stainless steel and comes in 8 color options, black or silver stainless steel with a blue, red, green or mirror display.

Available at the special release price of $109 (€82, £69) for 48 hours only, until Thursday October 17th at 11:00am Japan time. It will be $149 (€112, £95) after this time.
video demo here on our YouTube channel.