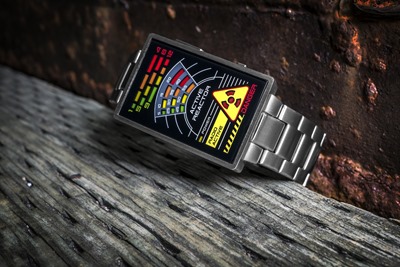 A watch that looks like a Geiger counter? At least that's what I think it's supposed to look like. TokyoFlash has just launched the Kisai Radioactive and like most watches from them it's very unique. The watch is priced at $139 until August 21st if you're interested.
Tokyoflash Japan has just released a new LED watch design Kisai Radioactive.
"Danger lights flash from beneath a vibrant display panel that indicates the time. An industrial looking brushed stainless steel case with matching strap creates a striking contrast. A bold design, Kisai Radioactive was originally a concept on the Tokyoflash Design Studio Blog, designed by Tokyoflash fan Hitoshi Yamada from Japan. It is a USB rechargeable LED watch featuring time and light up animation."
Kisai Radioactive is available at the special release price of $139 (€100, £84) for 48 hours until Thursday August 21st at 11am Japan time.
there is a video demo here on our YouTube channel.