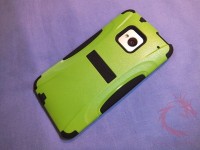 When you get a new phone you need a case for it, at least I do, my phones and other devices must be in cases and have screen protectors on them. They cost quite a bit of money so why not protect them? I prefer more of a rugged style case for my phones but I don't want something that adds a lot of bulk either. Today for review I have the Aegis case from Trident that offers a great deal of protection but yet doesn't add much bulk to the svelte HTC One. The Aegis case offers two layer of protection, an inner silicone or rubber layer and then a hard outer shell and when combines they offer a great deal of protection for the phone inside from the rigors of daily life. So read on to learn about one of the best cases out there for the HTC One…
Trident Aegis Case for HTC One Review
Tech Specs,Features or the Basic Info
Trident Aegis Case for HTC One – Green
The Aegis case 
features an inner-layer of shock-absorbing silicone with a green outer-layer of hardened polycarbonate, designed to fit the HTC One perfectly.
In mythology, Aegis describes armor which can withstand a lightening bolt from Zeus himself. Though we wouldn't recommend trying this out, you can be sure that the Aegis case will provide your HTC One with a layer of protection which can withstand bumps, scratches and dirt, keeping your HTC One looking newer for longer.
Give your phone protection without the bulk 
The Trident Aegis case for the HTC One offers the best of both worlds; excellent protection whilst keeping the case as slim as possible.
Hybrid material construction for bump and shock protection
The exposed silicone corners dissipate impact away from the device for additional bump and shock protection and the hardened polycarbonate plastic shell not only resists impact damage but allows the case to easily slide into your pocket or purse. All buttons are fully functional through the case and the audio jack and USB port are accessible through silicone plugs.
Trident logo on back of case
The slightly raised Trident logo on the back of this cases also serves as a grip for when you are using your phone on a desk or table. Ensuring it doesn't slide around and looking good at the same time.
All ports and features are fully accessible 
The Trident Aegis allows access to all the buttons on the phone through the built in rubber buttons and has cut outs for the flash, camera, loud speaker, microphone and noise cancelling microphone.
Includes a screen protector
For the ultimate protector this case comes complete with a Trident screen protector, applicator and cleaning cloth. Ensuring your screen will never get marked or scratched.
Price: $33.99
Mfg Link: http://www.tridentcase.com/shop-products/htc-one-m7/aegis-case-htc-one-m7.aspx