Over the last few days I've taken a look at two pads from Ulti-mat, and they were decent products overall. Today for review I've got another mousepad from Ulti-mat, the Breathe X3, a large sized all cloth pad.
Product
Name: Ulti-mat:
Breathe X3
Author: Kristofer Brozio
Sponsor: Ulti-mat
Tech
Specs,Features or the Basic Info:
Breathe X3
The Ulti-mat Breathe mouse pad
is made completely out of fabric. Breathe is a so called low
sensitivity pad. The surface of the pad has been finalized which
makes the pad different and more slippery compared to its
competitors.
There are four different sizes
of Breathe mouse pads. The smallest is 260mm x 180mm. The second one
is 300mm x 250mm. The third one is 380mm x 320mm and the biggest pad
is 550mm x 450mm.
The biggest Ulti-mat Breathe
mouse pad is one of the biggest mouse pads in the world at this
moment. Breathe is an answer to most peoples demands.
Breathe X3: 380mm x 320mm
(14.97inch x 12.61inch)
A
Better Look at Things:
The Breathe X3 comes in a
cardboard box, with a plastic box inside housing the mousepad.
The Breathe X3 is a large cloth
pad, it's all black in color and has the Ulti-mat logo in the bottom
right corner.
The backing is a non-slip rubber,
so it should stay in place no matter what you do.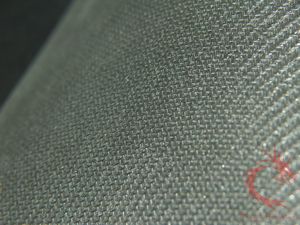 Installation,
Testing and Comparison:
For testing I started off using my
Microsoft SideWinder X8 wireless mouse, but I found out instantly
that the X8 just wasn't tracking right, it would skip and jump all
over the place and it wasn't very accurate at all.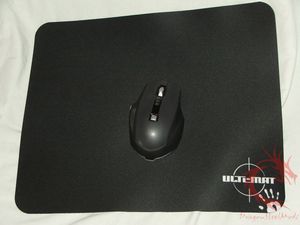 I switched back to my NZXT Avatar
mouse and found it was working better, tracking was much more
accurate, I'm guessing the X8 just didn't like the Breathe X3.
So I used the Avatar while using
the Breathe X3 for testing, but I shouldn't have had to switch to
another mouse. The Breathe X3 did track well with the Avatar, it's a
cloth pad, but it's relatively smooth, though it did offer some
resistance.
A mousepad should be compatible
with all mice no matter what brand or type of sensor used. I've been
using the X8 for quite a while and will continue to, but obviously I
can't use it with the Breathe X3 mousepad.
Summary
and Comments:
In my opinion a mousepad should be
compatible with all mice, no matter what type of sensor it uses, or
what brand of mouse it is.
The Breathe X3 works with some
mice and not others, and while it works well with some mice, I can't
give this pad a good score because of incompatibility issues.
Anybody want it?
DragonSteelMods gives the
Ulti-mat: Breathe X3 a 3.5 out of 5 score.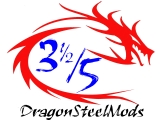 Pros:
-Big surface
-Cloth pad
-Fairly smooth surface
-Good tracking (dependent on
mouse)
Cons:
-Inconsistent tracking
I would like to thank Ulti-mat for the chance to review the Breathe
X3 and for their continued support of DSM.
review# 571