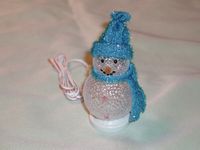 What would Christmas or the wintery holiday season be without an appearance from our friend the snowman? Well for those of you stuck in your office most of the time, how about the next best thing: A USB Powered Snowman from USBGeek! This little guy is really cool (pardon the pun), he's cute and is sure to brighten anyones day with the four colors from his LEDs. He's even dressed for the season with a nice warm cap and scarf, and he's sure to bring a smile to even the Grinchs face! Read on to check this little gadget out…
USB Powered 4 Color Snowman from USBGeek
Reviewed by: Kristofer Brozio AkA Dracos
Sponsor: USBGeek
Tech Specs,Features or the Basic Info:
USB Powered 4 Colors Snow Man
A great X'mas gift
Features:
USB-Powered
Low power consumption, no heat when in use
4 Colors cycle LED
Work with PC, MAC and Playstation2
No software needed for installation.
Height : 120mm
Weight : 47gm
A Better Look at Things
:
Our little USB Snowman comes packaged in a clear plastic cylinder so you can see what you are getting.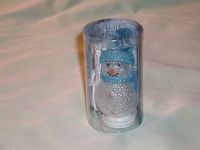 The is an insert also behind the snowman to give you some more information if you need it.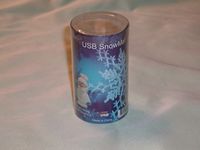 Unpacking the snowman is easy, just pop the top and lift him out. Our snowman has a matching blue hat and scarf, there are other colors available as well. The little USB snowman even has 'coal' eyes and mouth, and a 'carrot' nose.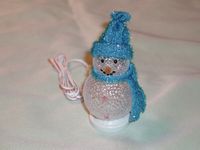 He sits on a little base from which the USB power cord comes out of, the cord is about three feet long, so it should reach most places you want to place him.
I put our little snowman next to a can of soda to show you a nice comparison of his size, he actually is rather small.
The USB Powered Snowman seems very well made, he feels very sturdy, and is very lightweight. The hat and scarf are a soft cloth material that appears to be glued on. Overall the little guy is really cool!
There is no real installation so in the next section I have three movies of our little USB Snowman in action. Click next to check it out…
–
–
–
–
Snowman Home Movies:
This first movie is with some lights on.
This move is in the dark…
And the last movie is the little snowman in the dark again, but I tried to get some angle shots..
Summary:
What's not to like? It's cool, it's cute, it's a USB Powered Snowman! This is one of those products that I can easily recommend you getting for yourself and for your friends, it's a cool little product that everyone will appreciate in their own way.
DragonSteelMods give the USB Power Snowman from USBGeek a 5 out of 5 score and our Recommended Award as well.
Pros:
-It's a Snowman!
-Small, portable
-USB powered
-Quiet
Cons:
-NONE!
I would like to thank USBGeek for the chance to review their products! Look for more reviews of USBGeeks cool stuff coming soon from us at DSM.