With services like YouTube, MySpace and others out there, Webcams have become increasingly popular. There was a time when they were more of a novelty item, but now it seems that everyone has one in some form or another. With that popularity increase of course comes forced advancements in the technology itself, with those advancements comes specialization. Today for review our friends at USBGeek have sent us a very cool WebCam, this one features Night Vision, and of course has built in microphone as well. Read on to check it out, it really is a great camera….
USB WebCam with Microphone and NightVision from USBGeek
Reviewed by: Kristofer Brozio AkA Dracos
Sponsor: USBGeek
Tech Specs,Features or the Basic Info:
USB WebCam with Microphone and NightVision
Features:
350K pixel CMOS sensor (VGA)
Snap Shot trigger button
2 Infrared lamps for NightVision
3 white LEDs for light assistance
Built-in microphone
Adjustable lens for picture focusing
Works on MSN, Skype, ICQ etc.
Support OS: Windows XP/ME/2000/98SE
Specification:
Senor: 1/4 CMOS
Resolution: VGA 640 x 480
Frame Rates: Up to 30fps@352×288, 15fps@640×480
Capture Ressolution: Up to 640 x 480
Focus Distance: 3cm ~ infinity
Microphone: -45DB
Infrared Light: 0~2m high power
Price: US$ 20.00

Find more WebCams at ShopZilla!
A Better Look at Things
:
The USB WebCam with Microphone and NightVision comes in an easy to open plastic clamshell, you can plainly see the camera itself through the packaging, and a coupe sample pictures as well.
The back of the package has the features listed in a couple languages and a small diagram of the camera pointing out the buttons and what they do.
Opening the package we find the camera itself with special USB cable with microphone connection, along with the driver/software disc and instruction manual. You can see the camera comes with its own stand and flexible shaft for positioning the camera where you want it. The base has a rubber coating to keep it in place as well.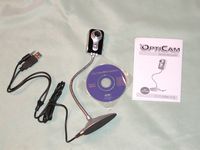 As I mentioned the cable has the USB and microphone connection in one, it is basically a 'Y' type cable that splits into both connections.

Find more WebCams at ShopZilla!
A Better Look at Things
:
The camera itself is small, and sleek looking. It is black and silver in color, professional and stylish.
The lens can be manually focused with the ring around it to insure optimum picture quality.
There are two LEDs located under the lens, these are the infrared LEDs for night time picture taking, while the three LEDs on the bottom on the camera are actually white LEDs for added light if need be, of to use it as a little light for reading etc. The tiny pinhole between the infrared LEDs and the lens is the microphone.
On the right side of the camera are three buttons, one is labeled 'CAP' for single shot picture taking, the next is labeled 'IR' to turn the infrared LEDs on and off, and the last button is labeled 'LED' to turn the three white LEDs on and off on the bottom of the camera.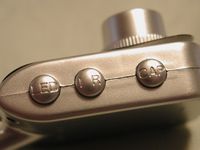 The back of the camera is nothing special, just some vents for airflow.
The USB WebCam with Microphone and NightVision seems very well made it is fairly lightweight but yet heavier than expected from such a small gadget. The entire setup seems very well made overall.

Find more WebCams at ShopZilla!
–
–
–
–
Installation, Testing and Comparison
Installation is fairly easy you just need to pop in the disc and install the software then plug in the camera and Windows finishes the install for you automatically.
Two different programs are installed one is called VidCap, the other is called AMCAP.
According to the instruction manual you need AMCAP for capturing video with audio and the VidCap program for capturing still images but I found that AMCAP will do both, and VidCap will do both as well. The AMCAP software does feature many other options though like Auto Exposure, Brightness, Contrast and other quality settings that the other software does not.
Here are three still images, these are 320×240 resolution, the manual and specs state that capture can be done at 640×480 res but I can't figure out just how to change it and the help file is non-existent. The first is the weight pack from my Logitech G5, the second is my keyboard and the third is a far away shot of my monitors. Basically three shots, close-up for details, in between and far away.
Ok, the next three pictures were taken in the dark with the nightvision/infrared turned on. The Logitech G5 weight pack, my keyboard and a quick picture of my black Xtrac pad to show how it really lights things up.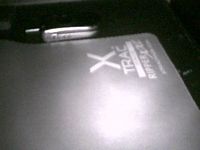 Here are two pictures, the first is with the night vision off and the second is with it on.
And here are two quick movies of my Roboraptor, the first is with low light and no infrared, the second is with the infrared on.
Well that's that, the quality is pretty good actually, YouTube really doesn't do it much justice in that respect.
Of course I really did not play with all the settings, but there are many options you can adjust to make the quality of the pictures much better than I have them. I was really surprised by just how many options there are that you are able to adjust to make your pictures good quality.

Find more WebCams at ShopZilla!
Summary:
For the price of this camera you just can't beat it, I would have expected to to cost much more for all that it does, but at $20 it's a great deal. I've seen cameras that are five times as expensive and can't do what this camera can do. If you are looking for a cheap, quality webcam then look no further and head on over to USBGeek and get this one…
DragonSteelMods gives the USB WebCam with Microphone and NightVision from USBGeek a 5 out of 5 score.
Pros:
-Small, portable
-Adjustable resolutions
-Nightvision and LED lighting
-Easy to use
-Good quality pictures
-Very low price
Cons:
-None really
I would like to thank USBGeek for the chance to review their products and for their continued support of DSM.

Find more WebCams at ShopZilla!