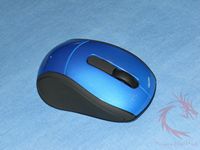 Up for review today I've got a tiny little mouse from
Verbatim aptly named the Mini Travel Mouse. The mouse is small enough to fit in
the palm of your hand. The Travel Mouse is wireless and you can stow the
receiver right inside of the mouse itself. If you're in the need of a very
small and portable mouse then this is what you want. This thing is probably the
smallest mouse I've ever seen.
Product Name: Verbatim
Wireless Mini Nano Travel Mouse
Author: Kristofer Brozio
Sponsor: Verbatim
Tech Specs,Features or the Basic Info:
Wireless
Mini Nano Travel Mouse
Go Mini! Verbatim's
new Nano travel mouse is ultra-compact and wireless too! A great solution for
people on the go—this optical mouse is ideal for notebook and netbook users.
The small Nano receiver plugs into your laptop's USB port and can stay; no need
to plug and unplug a bulky receiver or deal with cords! With 2.4GHz reliability
and performance, the travel mouse ensures no delays in cursor movement. This
portable mouse comes in a variety of fun colors and works on any computer with
a USB port.
Features:
-Ultra-portable
design is great for storing in a briefcase for use on the road
-Nano wireless
receiver – small enough to plug in once and leave connected
-USB 2.0 interface
(also compatible with USB 1.1 ports) – allows for 2.4GHz wireless reliability
and performance
-Functional mouse
is compatible with Windows 7, Vista, and XP operating systems
-Backed by a
Verbatim 1-year limited warranty
Price:
$18.81 (from Amazon at time of review)
A Better Look at Things
:
The Verbatim mouse comes in everyone's favorite package style, the
sealed plastic clamshell.
Inside you'll find the mouse, user manual, battery and the receiver.
The mouse I got for review is blue in color, but you can get it in red,
graphite or purple as well. The mouse has the two standard buttons and the
scroll wheel which is also a button itself. The top is smooth plastic while the
sides are a rubber texture plastic. The mouse is lightweight and very small and
seems well made.
On the bottom you'll see the sensor, power switch, four Teflon feet and
a connect button.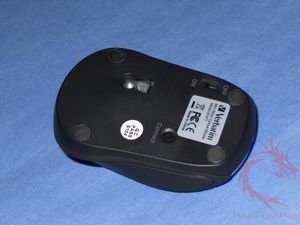 The back of the mouse slides off to reveal the battery compartment; you
can also store the receiver in there.
Installation, Testing and Comparison
To give you an idea of just how small this mouse is, here it is with the
Mionix
Naos 3200 and the Verbatim
Easy Riser Laser mouse:
The Easy Riser is considered a small and portable mouse, but the Mini is
much smaller than even that.
The first thing you'll notice is that the mouse is very small, almost
too small for my hands really. I can cup my hand over it and it will just
disappear, it's that small.
Using it does take quite a bit to get accustomed to because of its small
size.
It does work very well, I let it replace my main mouse for about a week
and after a time I found that it works very well. There were no skips or jumps;
the sensor seems to track very well.
It's a portable mouse so it's great for taking with you, and being it's
so small it won't add much weight to your daily carry.
Summary and Comments
The Verbatim Mini Travel mouse is small, very small, but it works well.
It's great for taking with you when you want to travel light.
The tiny size of it might not be the best for people with large hands,
or men basically, but for women this might be a great mouse.
DragonSteelMods gives the Verbatim Wireless Mini Nano Travel Mouse a 4.5
out of 5 score.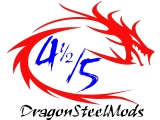 Pros:
+Very small and portable
+Accurate
+Storage for wireless receiver
Cons:
-Very small for large hands
review# 697
Disclosure: This product was given to DragonSteelMods for review
by the company for review purposes only, and is not considered by us as payment
for the review; we do not, never have, and never will, accept payment from
companies to review their products.
To learn more about our review policy, testing methods and ratings
please see this page.