I've always like front panel multi-functional devices, I've found them extremely useful and very helpful making life so much easier by having everything at your fingertips. Vizo has sent us their new Master Panel II for review, this thing has just about everything possible on it, you'll never have a need to reach around to the back of your PC again if you've got this great device installed…
Vizo Master Panel II
Reviewed by: Kristofer Brozio
Sponsor: Vizo
Tech Specs,Features or the Basic Info:
MTP-201
Vizo Master Panel II
No need to go to the back, do it in the front !!
VIZO Master panel II fits for 5.25″ bay and bears USB2.0 card reader, dual-channel fan controller, eSATA port and multi-I/O function ports in one module which provides the convenient way to connect your devices and manually adjust your system fans" speed at the same time.With Master Panell II, you can do it in the front of your PC and don"t need to go to the back.
It is the most economical, high performance, space saving unit for your PC
FEATURES:
For 5.25″ Bay
USB2.0 internal card reader 4 memory slots are active, which allows you to copy data between the different memory cards at the same time
Dual fan speed control knobs (4V -12 V)
Multi I/O transfer function (USB*2/ 1394 / eSATA/ RCA / audio*3)
Support hot plug and hot swappable
Must be attached to hot swappable compliant host to enable hot swappable function
No need to go to the back, do it in the front
Support WIN 98SE / ME / 2000 / XP / Vista
Support MAC OS 9.X/ X or above
SPECIFICATIONS:
Dimensions: 148(W) x 42(H) x 70(D) mm
Card reader Interface: USB2.0
Power Mode: USB power / DC 12V, 5V
Memory card slot:
4 slots for: Compact Flash Type I/II, Micro Driver, Memory Stick(Duo*), Memory Stick Pro(Duo*), Smart Media, SD, mini SD*, Multi Media card, RS-MMC*, microSD*
*: need card adapter
Fan Control: 2*3pin fan RPM control knobs (4V-12V)
Weight: 90g
PACKAGE INCLUDES:
Master Panel II Main Module
Power Adapter Cable
Fan Cables
USB Cable
MIC Cable
1394 Cable
Line in / out Cable
SATA Cable
RCA Cable
Accessory Package
98 Driver CD for Card Reader
User Manual
A Better Look at Things
:
–
As usual we start with the packaging, the box for the Vizo Master Panel II has got lots of pictures showing nice close ups of specific parts, and all the specs and features listed on the back.
Inside the box we find another plastic box, an instruction manual and software disc.
The Master Panel II truly is a multifunctional device with numerous ports, jacks and even fan controls knobs crammed onto the front of it.
Taking a quick look at the back, or inside, is where we find all of the connections that will be used to make the Vizo Master Panel II do it's job.
Taking a closer look at the front, we can see a basically all-in-one card reader, USB ports, firewire, eSATA, AV, audio jacks for input, headphones and microphones and two silver knobs to control two fans.
Of course the Master Panel II comes with quite a bit of cables that you'll need to run all around your computer. Vizo even included a couple zipties and PCI bracket to route the audio wire through.
Installation, Testing and Comparison
I'll be honest installation wasn't pretty but it was fairly easy, as long as you read the instruction manual to figure out where all the cables go. Once installed the Vizo Master Panel II does have two LEDs on it, one green to indicate power and one red that indicates activity.
I personally didn't like the messy look of all those wires floating around so I actually sleeved them to make them neater and help keep them out of the way. Even sleeved, (the blue ones in the picture) my case still looks a bit of a 'rats nest' with wire going to and fro everywhere…but there's not much more I can do to clean it up…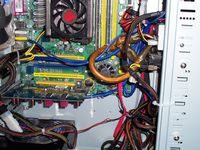 As for using the Master Panel II, I had no problems with it at all.
The card reader was comparable in speed to other card readers I've owned and reviewed over the years. One peculiar thing about the card reader is that is is very shallow in depth, most readers allow the cards to be inserted about half way in, with the Master Panel II my cards only went in about one fourth of the way, so they stuck out pretty far.
All of the connections worked fine and I had no problems with them.
The fan controllers actually offer a bit of resistance and don't move very easily, which is a good thing, you can't accidentally bump it and change your fans speed. The cables for the fan controllers are the split type so you can route the speed sensor to your motherboard if you wish to monitor the speed of your fans as well.
For the most part I found the cable to be long enough for my case, but I think those that have a full tower sized case might have a harder time reaching all of the ports, or you'll have to move the Master Panel towards the middle of your case.
Summary:
Overall the Vizo Master Panel II is a great device, the only improvements I could make are to lengthen and sleeve the cables to make them neater and compatible with all cases.
As I said in the intro I'm very fond of front panel devices like these, and this one has got to be one of the most functional I have seen to date, you've literally got everything at your fingertips for quick and easy access.
DragonSteelMods gives the Vizo Master Panel II a 4.5 out of 5 score.
Pros:
-Many useful functions at your fingertips
-Well made
-Fairly easy to install
-Very useful device
Cons:
-Lots of cables means extra work and a mess
-Cables might not be long enough for all cases
I would like to thank Vizo for the chance to review the Master Panel II and for their continued support of DSM.
review# 245