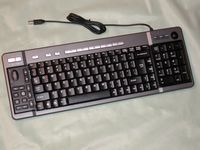 Today on the review block we have another product from X-Gene, if you recall the last X-Gene review it was a review of their wireless keyboard with trackball, well this review is of their wired keyboard with trackball. No, it's not the same, not even close, the wireless version was more fun looking, while the wired version looks like it belongs in an office, it is very stylish and has quite a few useful functions. Features like multimedia keys, internet function keys and the optical trackball built-in all make this one really cool keyboard, so read on to check it out….
X-Gene Wired Multi-Media Keyboard with Optical Trackball
Reviewed by: Kristofer Brozio AkA Dracos
Sponsor: X-Gene
Tech Specs,Features or the Basic Info:
Wired Multi-Media Keyboard with Optical Trackball
(PN: 01028)
Price: $50
To order, please call 909-598-6988 ext.111
Features:
800 DPI optical trackball
103 keys and 23 hotkeys
USB interface with one extra USB port
With notebook keyboard module design, enables mobile operation and effortless typing
Requirement:
Mac and Windows 2K, XP, and above compatible.
Specifications:
Optical trackball: 800 DPI
Multi-Media hotkeys
Internet hotkeys
Mouse & Scroll buttons
Package:
Carton Dimension: 365x275x460mm
Gross Weight: 9.77Kgs
Unit Net Weight: 0.88 Kgs
Unit Dimension: 425x150x31.5 mm
Retail Package Dimension: 445x178x51 mm
Retail Package Weight: 0.95Kgs

Find more Cool Keyboards at ShopZilla!

A Better Look at Things
:
As usual we start off with looking at the packaging, the front of the box has a nice large picture of the actual keyboard included inside so you know exactly what you are getting, along with some features listed near the bottom.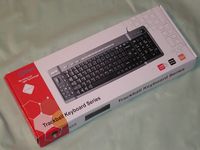 The back of the box has a nice detailed look at the keyboard itself with blow up shots and labeling of the special keys on the keyboard.
Inside the box we find the keyboard wrapped up in plastic to keep it neat and clean. The only thing that comes with the X-Gene Wired Trackball keyboard is a ps/2-USB adapter, no driver disc is needed.
The keyboard itself very much surprised me, when he mentioned sending it for review I thought it was going to be the same as their wireless version except with a wire, but I was wrong. This keyboard is very classy and stylish, something I could imagine being on an Executives desk somewhere. I really like how things are separated by the case of the keyboard, how the keypad and multimedia functions seem to be on a separate section of the keyboard.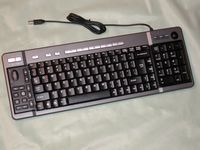 The far left of the keyboard is where you will find the standard multimedia keys, but also you will find a scroll wheel, and forward and back buttons. Also located there is a few office keys, Cut, Copy and Paste as well. Above the scroll wheel, the two silver buttons are the left click and right click mouse button for use with the trackball.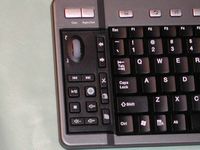 Oh, you can read my review of the X-Gene Wireless Trackball Keyboard HERE to see the differences I was referring to, don't worry it will open in another window…

Find more Cool Keyboards at ShopZilla!

A Better Look at Things
:
On the far right of the keyboard is where the actual optical trackball is located, the trackball is actually metal, something I did not expect. Next to the trackball is the standard indicator lights for num lock, caps lock and scroll lock, beneath is the standard keypad.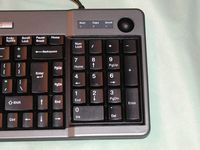 Moving to the center of the keyboard, across the top is where we have the main special function keys, these are for internet use and not. From left to right we have, Stop, Refresh, Search, Favorites, and Close Application. The close application is something I haven't seen on other keyboard with multiple function keys before, very cool actually.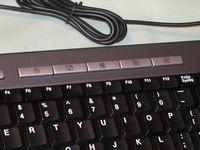 To the left of those we have three other keys that are separated from the others, basically between the mouse buttons and the row of function keys. These are, from left to right, My Computer, Email and Home. Of course these keys will track to your default settings so they will point to whatever you have them set at.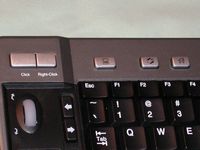 The X-Gene Wired Trackball keyboard is set up at an angle to make typing more comfortable.
On the back edge of the keyboard we also find an extra USB port as well, sort of a bonus for us, I don't know about you but all of my USB ports are in use at one time or another…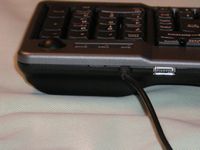 The bottom of the keyboard has four textured rubber feet that really keep the keyboard in one place.
Also on the bottom we find the identifying label and a battery compartment… I did an inquiry about the battery compartment and found that they will be releasing a wireless version of this keyboard as well, it is exactly the same but wireless!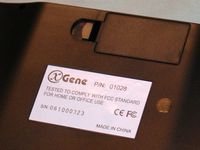 The X-Gene Wired Trackball Keyboard is actually fairly heavy compared to others and for its size, it seems very well made and able to withstand a lot of abuse. The addition of the trackball is really cool, I found myself using it when I forgot to recharge my MX1000 mouse (which I do often!).

Find more Cool Keyboards at ShopZilla!

Installation, Testing and Comparison
Installation is very easy, just plug it in and Windows XP recognizes and installs it for you.
Using the keyboard is comparable to others out there, with the exception of the function keys that I actually found very handy to use in my daily activities.
I already mentioned I got to use the trackball for quite a while when my MX1000 was recharging and I found it to be pretty good for the most part, notice I said pretty good, not excellent. I found the trackball was fine for normal activities, but I also found that it does not like fast motions, if I try and spin the trackball to get somewhere on the screen fast it just skipped and basically stayed where it was. I use two monitors, and I jump back on forth a lot so I found that the trackball was just not up to keeping up with me, but if you move it relatively slow and steady it works fine, it does not have to be very slow, but it can't be very fast either. I really expected since it was optical that it would track much better than it does.
I wasn't even going to attempt to do any gaming with the trackball after finding out that it really cannot track fast movements. The trackball is fine for everyday usage and someone with a single monitor should find it works fine for them. The trackball does track well during normal usage and I found it easy to use overall.
The keys themselves are fine, a bit springy, but still soft to the touch and comfortable to type on, they are a bit noisy though. I normally use a smaller keyboard, and I found that there was a bit of a break in period for me, people using a standard keyboard should be fine.

Find more Cool Keyboards at ShopZilla!

Summary:
Despite the problems with the trackball I encountered the X-Gene Wired Keyboard with Trackball is a very solid and well made keyboard. It works great, and the additional function keys really do come in handy, I found myself using them quite often. The X-Gene keyboard would be great for just about anyone, it's stylish looks and classy design make it the perfect fit anywhere.
DragonSteelMods gives the X-Gene Wired Multi-Media Keyboard with Optical Trackball a 4.5 out of 5 score.
Pros:
-Optical trackball
-Function keys
-Well made and designed
-Extra USB port
Cons:
-Trackball tracking could be better…
I would like to thank X-Gene for the chance to review the Wired Multi-Media Keyboard with Optical Trackball and for their continued support of DSM.

Find more Cool Keyboards at ShopZilla!