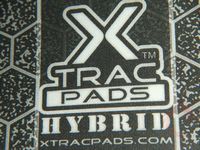 I remember many years ago when I was
looking for a better mousepad than I had at the time, I stumbled
across of few reviews and posts about a company called XTrac and from
what I read their products came well recommended. I liked the look of
the pad, and what I read about them so I decided to buy one for
myself, and it turned out it was worth the money I spent on it. Since
then of course I've gotten many pads for review from various
companies, but none have been quite like the XTracPads,
I really like the design on them, the overall quality, and the fact
that they're just a good all around product.
Today for review I'm taking a look at a
new mousepad from XTracPads called the Hybrid. What makes this pad
special is the fact that it appears to be a cloth mousepad, but yet
has the slickness and qualities of a plastic surface through a
process of blending plastic to the cloth on a molecular level to
create a very good mousing surface. The Hybrid has the qualities of a
cloth pad in that it can be rolled and taken with you, and, and
mentioned, the qualities of a plastic pad as well, truly a hybrid pad
that gives the user the best of both worlds.
So read on to learn more about the
XTracPads Hybrid mousing surface…
Product
Name: XTracPads HYBRID Mousing Surface
Author: Kristofer Brozio
Sponsor: XTracPads
Tech
Specs,Features or the Basic Info:
The XTracPads HYBRID is not a
typical mouse surface. This product has been in development for 3
years.
What makes the XTracPads HYBRID
surface so unique is the blend on plastic into the Nanofiber surface
of this mouse pad. By bonding the plastic to the cloth on a molecular
level, we have been able to create one of the most precise mouse pads
in the world today.
With this new professional
gaming mat we have managed to incorporate more plastic into the soft
surface than ever before. This new mixture gives superior control and
speed without compromising the soft feel of a cloth surface.
Underneath the XTracPads HYBRID
pro gaming mat is our Sure Grip open cell rubber backing. This
backing has proven to provide superior grip to a wide variety of
desktop surfaces.
The XTracPads HYBRID is a
surface your mouse will never forget!
XTracPads HYBRID features:
* Cloth and plastic surface
* Comfortable and fast
* Frey resistant edges
* Sure Grip rubber backing
* HUGE mousing surface
Specifications:
10″ x 16″ x 3/16″
(254mm x 406mm x 4mm)
Sure Grip rubber backing
Cloth and plastic mousing
surface
XTracPads HYBRID
Designed in the USA
Made in USA
*mouse not included
Tested and 100% compatible with
the following mice:
Logitech:
MX300/500/510/518/700/1000/G5/G7/G9
Microsoft:
Intellimouse Explorer 3.0/4.0
Laser Mouse 6000
Razer:
DeathAdder
Apple:
Mighty Mouse
A
Better Look at Things:
The Hybrid comes packaged in a
plastic tube, it's rolled when you get it and I was a bit leery of
this as many pads that come rolled take a while to become flat again,
the Hybrid though only took a couple days and it was nice and flat.
The shipping tube can also double as a carrier so you can protect the
pad during transport if need be. Included with the pad is Mad Tape,
it's replacement mouse feet if you feel the need to use it, most
higher end mice today though come with good feet on them, so you may
or may not use the tape, but it's a nice bonus and nice to have
around if need be to hook up an older mouse.
(EDIT: I just spoke with the owner of Xtracpads and he told me he included the MadTape for me for testing and it does NOT come in the retail package)

I've always liked the look of
XTracPads mousing surfaces, there's just something about the design
that I really like. The Hybrid is fairly large at 10" x 16", but
yet small enough to fit even on desks with limited space. Most of the
pad is compromised of hexagons with a static like pattern inside of
them, this supposedly allows your mouse to track better. On the right
side is a semi transparent black stripe that ends with the XTracPads
and Hybrid logo, along with their website address. The surface does
has a cloth feel to it with a bit of roughness, not entirely smooth,
but I do prefer a bit of traction for my mouse so this works well for
me.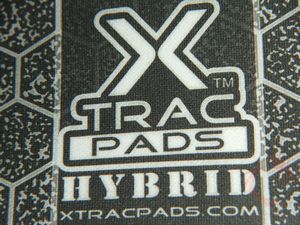 The pad is 3/16" of an inch
thick, it's like a sponge really making it soft and pliable and
comfortable to rest your hand or wrist on. The backing is a non-slip
rubber surface to make sure the Hybrid stays in place.
Installation,
Testing and Comparison:
My current favorite mouse is the
NZXT Avatar, I've been using it for a few months now and I've come to
love it really so that's what I used for testing the Hybrid. I have
the Hybrid situated long ways, or vertically on my desk due to space
limitations, my desk is very large actually, but I use a large
mousepad or deskpad under my keyboard on my desk that measures
approximately 35" x 16". The position of the Hybrid works well
for me even though the way I have it is a shorter surface going left
to right, I had no problems navigating across three three screens as
the Hybrid tracks very well.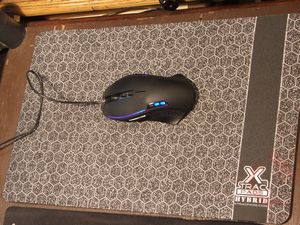 As I mentioned I use three
monitors for my setup, one 22" and two 17" ones on the sides of
the 22", it works very well for me and what I do. The Hybrid
allowed me to easily glide across all three monitors without picking
up the mouse.
I get many games for review so the
Hybrid got quite a bit of testing while gaming, it performed
flawlessly never missing a movement, no matter what DPI I had the
Avatar set on.
For regular everyday uses as well,
the Hybrid tracked excellent also, slow detailed movements were
noticed as were fast ones. Honestly the Hybrid just works perfectly
with my mouse, there was no erratic behavior at all, every movement
was exactly what I wanted.
The only complaint I could have is
that the edges have started to fray a bit, it mentions as one of the
features that the edges are fray resistant, but after two weeks mine
has already started to fray. It could be just the one I got for
review, an isolated incident, but it still happened.
Summary
and Comments:
The XTracPads Hybrid mousing
surface is the perfect combination of plastic and cloth, it truly
offers the user the best of both worlds.
I've become partial to cloth pads
over the years, but I do like plastic ones, so the Hybrid gives me
everything I want in a mousing surface.
DragonSteelMods gives the
XtracPads Hybrid a 4.5 out of 5 score and our Recommended Award as
well.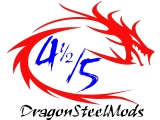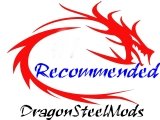 Pros:
-Excellent tracking
-Love the design
-Large surface, but small enough
for cramped desks
-Includes mouse feet
-Comfortable to use
Cons:
-Edges fraying a bit
I
would like to thank XTracPads for the chance to review the Hybrid and for their continued support of DSM.
review# 550