Today I've got an exciting review for
you, well not really, it's a fan, how exciting can that be right? It
does have an interesting design though, the blades are dimpled like a
golf ball and supposedly reduce noise levels by up to 15%, while
still running at the same speed and providing the same amount of air
flow as other fans. The fan is a 140mm fan from Zaward called the
Golf GII, so read on to check it out.
Product
Name: Zaward
140mm ZG2-140A Golf Fan GII
Author: Kristofer Brozio
Sponsor: Zaward
Tech
Specs,Features or the Basic Info:
Model: ZG2-140A
Features:
-Unique patent Golf dimple
blade reduces 15% noise level at the same RPM & airflow.
-Low Noise level from
10.1~20.3dBA depends on fan speed.
-Long life expectancy of 60,000
hours in 40 degree C.
-It increases fan's efficiency
and reduces current consumption.
Specification:
Dimension: 140 x 140 x 25mm
Fan Speed: 300±250rpm ~
1200±250 rpm
Bearing Type: Duro bearing
Max.Air Flow: 74.14 CFM
Operation Voltage: 12V
Life: 60,000 Hrs
Noise Level: 10.1 ~ 20.3 dBA
Weight: 166g
Color: White
A
Better Look at Things:
One quick note here is the the
packaging for the fan I received for review is wrong, at least in
that the models numbers listed on the package are not the same as the
actual fan inside. The package though looks the same basically as
this one.
So here it is front and back:
Inside you'll find the fan,
instructions and a plastic bag with washers and rubber vibration
dampeners.
Here's the fan itself front and
back:
…and here's the blades close up:
The fan only has a 4-pin power
connection on it, instead of a 3-pin and there's no adapter included
either. Personally I prefer 3-pin connections on my fans, oh well..
Installation,
Testing and Comparison:
Normally I like to test fans using
a CPU cooler, but I don't have a cooler that can utilize a 140mm fan,
so we're doing this the old fashioned way by installing it as a case
fan.
I installed it in my NZXT case
that happens to have two 140mm spaces on the top, I removed one of
my Noctua fans and installed the Zaward:
Here it is from the inside view:
So it's running in my case and it
doesn't seem to add any more noise than the Noctua fans, and it does
seem to provide the same amount of airflow. I didn't notice any
difference in the temperatures inside of my case when using this fan
of not.
I like my systems to be quiet and
this fan will work for that kind of application.
Summary
and Comments:
The Zaward ZG2-140A seems to be be
a rather nice fan in terms of quality and performance. It's quiet
when running and it seems to provide a decent amount of airflow.
The price though might be a bit
steep form some people with this fan coming in at around $25, but the
Noctua fans I have cost around the same, so it's not totally
unreasonable to pay that much for a decent fan. It all depends what
you want really..
DragonSteelMods gives the Zaward
140mm ZG2-140A Golf Fan GII a 4.5 out of 5 score.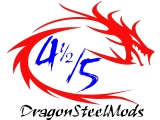 Pros:
+Quiet
+Seems to move a lot of air
+Seems well made
+Includes vibration dampeners
Cons:
-4 pin connection
-Might be considered expensive
review# 655
Disclosure: This product was given to DragonSteelMods for review by the company
for review purposes only, and is not considered by us as payment for
the review, we do not, never have, and never will, accept payment
from companies to review their products.
To
learn more about our review policy, testing methods and ratings
please see this page.