When it comes to Android games you could spend days browsing for something that's decent to play, the same could be said for any appstore really, there's just a lot of junk on them really. I recently came across Battle Cats which in a game from Ponos from Japan and it was recently ported to English and I'm happy I found it as it's just a fun game. It's a simple attack the castle style game but it features cats as your army, and there's a lot of them and there are many different kinds like the Samurai Cat, Axe Cat, Ninja Cat and Tank Cat, just to name a few. The game allows you to use experience points to upgrade your cats and various other options in the game like our defenses and the speed at which you earn money. So read one to learn more about Battle Cats…
Product Name: Battle Cats
Tech Specs,Features or the Basic Info
Adorable kitties go wild all over the world!Here's your chance to raise and play with them for free!
Note:Battle Cats is completely free to play, but some items can also be purchased for real money!
****Easy&fun battle system****
Tap any cat you like.
Fire Cat Cannon to support them.
Attack enemy's castle.
****Easy&fun raising system****
Clear stages to get XP.
Tap cat to upgrade the level!
Their form will be changed at level 10.
****Fun things in Battle Cats****
Find treasures all over the world.
Gross,but somehow lovely characters.
Special cats are even cuter!
Easy system and recommended for men and women of all ages!
Start your wonderful adventure today!
Presented by PONOS
Menus, Gameplay and Screenshots
I played Battle Cats on my HTC One, 7" Idolian Mini Studio tablet and another Idolian tablet which is an older 10" tablet. I had no problems playing on any of them. The Mini Studio is a dual core while the 10" tablet is a single core CPU, and they both worked fine. Of course the HTC One handled it with no problems at all.
The game starts out with  scrolling intro video telling you what led up to the events in the game. If you've never played it I would highly suggest you don't skip it.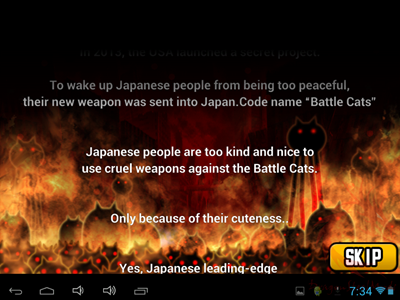 Then next is the title screen with just options for Play and Settings. The game is done in a cartoony and comical style so it should appeal to every age.
There isn't much to the settings really, just some basic options for music and audio and Help if you might need it. The game is easy to play really, you can just pick it up and play.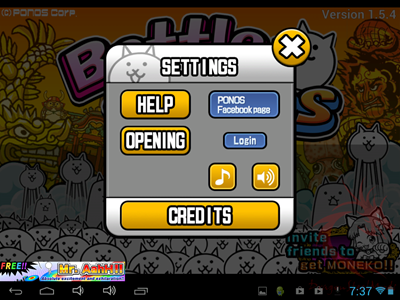 As you're playing Battle Cats you earn experience points that are used to upgrade and purchase assorted things in the game.
The currency is the game is essentially experience points but it's also cat food which can be used to buy specialized and more powerful cats.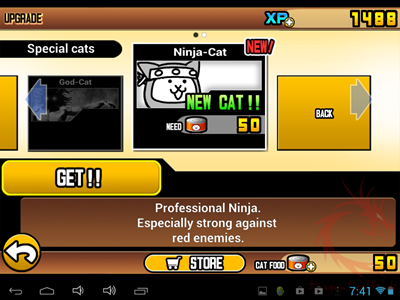 The game is played in stages which you have to beat to progress.
All of the levels or stages are pretty much the same, you have a castle and the enemy has a castle which you have to knock down. You send your troops and they send theirs and they fight until they are beaten back to the castle which can then be attacked. Your castle also has a limited range big weapon on the top that can be used every once in a while as it had to recharge, it like everything else can be upgraded with experience points.
The enemies will be varied from little ground troops to bosses that just fight right alongside the troops.
One of the best things about the game is the graphics I think, they're fairly basic but cute and just fun really.
The game also allows you to pick and choose which troops will be fighting and in the beginning you'll be limited to a certain number but you can earn more slots.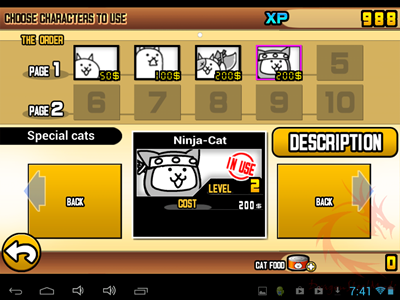 In the game you can also find an collect treasures that will permanently upgrade a stat for you like increasing the amount of money produced. I found these hard to get and you have to go back and keep playing the same levels over and over again.
When you go back and play the levels you already completed you won't get as much experience as you did the first time, so it's slow going if you need experience points to upgrade something to move on in the game.
The game does use money and it's aptly named 'cat food',  as I mentioned, which you can slowly earn during gameplay or from special offers. Sadly you need a lot of it really, and the only way to get a lot is to actually spend real world money and buy it. I don't like free games that make you pay afterwards but this is the way all apps are going it seems. Some of the reviewers on Google Play are complaining that they can't finish the game unless they buy cat food. I guess I haven't got that far in the game yet, but I have come to the point where I just keep dying because my cats aren't powerful enough, so that might be what they mean as I need cat food to buy the special and more powerful cats.
The goes does look very good on any device, I've tried it on a a couple tablets and my HTC One as I've mentioned. The game isn't what I would call graphically intensive so it should play just fine on any device from the Galaxy S4 Mini, to an off-brand Android tablet or older phone. Looking at the Google Play page for Battle Cats I've really not seen any problems for any phones, newer and older, so anyone should be able to play it with no issues.
Summary and Comments
So yes Battle Cats is a free game to download but sadly you'll most likely have to use your real world money to really get anywhere in the game.
As of now it has a 4.8 out of 5 overall score on the Google Play and I basically agree with that, but I might make it a bit lower myself, to just a 4 out of 5.
Overall I like the game, it's a lot of fun to play really. The game offers many choices in how to play, you can upgrade your current cats or your castle or other parts of gameplay. You can also get new special cats to really give the beat down to the enemies.
There are many cats to choose from, and they're all cute and fuzzy and it's a great game for kids and adults alike. My 7yr old loves to play and so do I. I was planning on just spending a little bit of time with it for the reviews, but I ended up playing it for hours so far and will probably go back to it again.
DragonSteelMods gives Battle Cats a 4 out of 5 score.
Pros:
+Fun
+Cute
+Simple to play
+Many options
+Choices for cats and upgrades
Cons:
-Must use real money to really advance in game
review# 771
Disclosure: This product was given to DragonSteelMods for review by the company for review purposes only, and is not considered by us as payment for the review; we do not, never have, and never will, accept payment from companies to review their products.
To learn more about our review policy, testing methods and ratings please see this page.