More power, yes it's another external or portable battery video review today for you. This one is from Energizer and it's the Energi to Go XP4001 4000mAh portable battery which features dual USB ports for simultaneous charging of two devices at the same time. So read on to learn more…
Tech Specs,Features or the Basic Info
The XP4001 rechargeable portable battery is double the pleasure! Dual outputs provide simultaneous charging of two devices at once. Perfect for your portable gaming devices.
Powerful Charges two devices at once
Easy to Use Just plug it in for instant power
LED Light Indicator Smart LED's show battery & charging status
Lightweight No more bulky AC adapters and messy cords
Rechargeable up to 500 times
Reliable Longest industry 3 year limited warranty
Powersafe Technology
All products integrate a minimum 12
safety logics into every cell for maximum protection of the battery, device and user. In addition, each product uses a mathematical circuit control unit with built-in proprietary software to control and regulate temperature, voltage and current.
Powersave Mode
Most products come pre-charged and ready to use. Most products provide an Auto Shut-Off mode to avoid power loss when not in use and maintain power for up to one year.
Free Tips for Life
Register your product and INSTANTLY qualify for two FREE tips per year for the life of your product with minimal local shipping and handling fees applied.
Specifications:
Battery Cell: Lithium Polymer
Power Capacity: 4000 mAh
Rated Input: DC 5V, Max 1500 mA
Rated Output:
5V, 1A (1 Device)
5V, 05A (2 Device)
Recharge Time: ~4 Hrs
Weight: 0.34 lbs / 0.15 kg
Dimensions: 5.2(L) x 3.15(W) x 0.55(H) inches
13(L) x 8(W) x 1.4(H) cm
Package Contents:
(1) XP4001
(2) USB Charging Cable
(1) AC Adapter
(6) Cell Phone Tips: Mini USB / Micro USB / Nokia / Samsung / LG / Apple 30 pin
(1) User's Manual
(1) Welcome Card
(1) Travel Bag
Price: $40 to $60 depending where you look

Video Review
Photo Gallery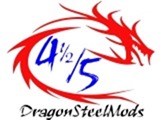 review# 797
Disclosure: This product was given to DragonSteelMods for review by the company for review purposes only, and is not considered by us as payment for the review; we do not, never have, and never will, accept payment from companies to review their products.
To learn more about our review policy, testing methods and ratings please see this page.