Up for review today I've got an MP3 player from a company called HandGiftBox and it has a price of about $8. The player is small and portable and uses a microSD card for storage with no internal storage at all. So what do you get for $8? Is it even worth your time? I'd have to say no as for me the player broke with less and an hour of use and the headphones sound horrible and are very uncomfortable. The player can only use a microSD card up to 8gb in capacity and battery life is a dismal two hours. So read on…
Tech Specs,Features or the Basic Info
Supports 8G TF Card Mini Size MP3 Player
Color : Blue
Capacity : 8GB
Media Players Type : MP3 Players
Shipping Weight(Kg) : 0.08
Highlights:
Excellent music playing function
Allows you to enjoy music at any place any time
Long playing time
General Specs
Audio Format MP3 / WMA
Touch Screen No
Memory
Built-in Memory  None
Card Slot TF card reader
Card Supported Up to 8GB TF Card (not included)
Additional Features/Functions
Microphone  Yes
Voice Recorder Built-in mic with MP3 format recording
Headphone Jack 3.5 mm plug
Data Interface USB interface
Battery & Power
Battery Type Built-in 250mAh rechargeable Lithium-ion battery
Playing Time 2 hours
Standby Time 6 hours
Package Includes
* MP3
* Earphone
* USB Cable
* User Manual
Price: $7.99
Unboxing
The packaging for this little MP3 player looks very familiar. It's a clear plastic box that will work well at protecting it.
Once unpacked you'll find the player itself, a USB cable, headphones and a very brief user guide.
Here's a closer look at the user guide, yep that's it…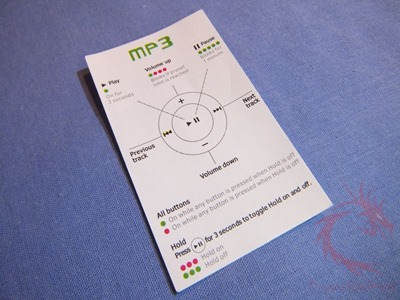 The dimensions of the mp3 player are about 1.5" x 1.5" and it's about .25" thick or about .5" with the clip. It's made of metal and plastic.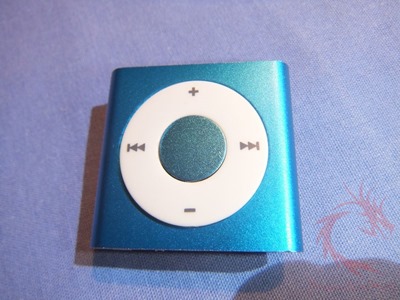 Here's the clip, just a plastic spring style clip, nothing special.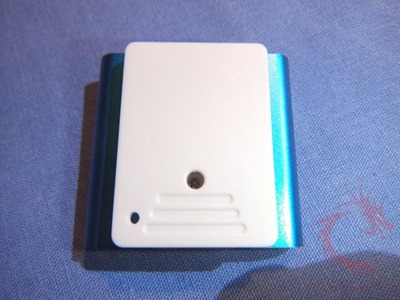 On the top you'll find the power switch and the microphone. Yes there's a microphone but I don't see anywhere about how to record with it.
On the bottom you'll find the USB port, microSD card slot and the headphone jack.
The headphones are just basic, no sizes, just plastic with a thin rubber ring around the ear piece.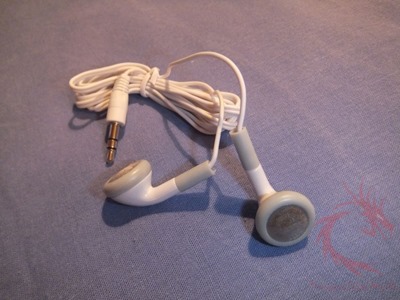 Testing and Usage
The first thing you'll need to do is charge it and that's done with the included USB cable and the LED will light up red to let you know it's charging. I don't know how long it takes to charge honestly, I left it plugged in for hours and the LED never went off or changed colors. According to the specs you should get a measly two hours of use on a single charge. Two hours isn't even worth it in my opinion.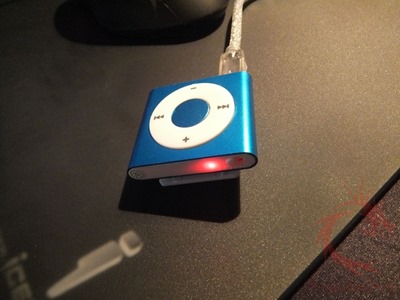 To get music onto the player you have two choices. You can put music directly onto the microSD card or you can transfer while it's connected via USB as it shows up as an external storage device.
I found that transferring directly to the card was faster.
I should also mention that you can only use up to an 8gb card, so that limits you to what or how much you can carry.
So I put some music on it and listened.
The Headphones:
The first thing I noticed was that the headphones are not labeled right and left.
The next thing I noticed was that the headphones really don't fit in my ears and they are not comfortable at all. There are sharp pieces on them that dig into your ears.
The sound from the headphones is horrible, it's flat, there's really no bass or treble.
Each headphone has a gray colored piece of plastic at the bottom and I found that's not attached at all, it just falls off and slides down the wire. I don't know what's up with that?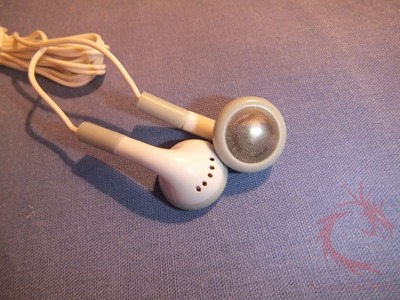 The Player:
The buttons work as expected, you just push and it does what it's supposed to do.
I used it a total of three times, for maybe 30 minutes in all and it broke.  The control ring is just held on with small plastic clips and it looks as though one broke. I wasn't pushing hard or anything, I hear a snap and it popped up to reveal a broken clip.  That single clip is what holds the whole control panel on, the other part is just tabs that go under the lip of the housing so it really can't be fixed.
So that was the end of that, it's broke with not even an hour of use.
Summary and Comments
Well it's inexpensive and small making it very portable, but that's about all it has going for it.
It broke after less than an hour of use.
The included headphones are uncomfortable and just sound horrible.
Battery life is ridiculous at only two hours.
The player can only support up to an 8gb microSD card severely limiting how much music you can take with you.
DragonSteelMods gives the  a 2 out of 5 score.
Pros:
+Inexpensive
+Small and portable
Cons:
-No built-in memory
-Only up to 8gb storage
-Horrible sounding headphones
-Headphones uncomfortable to wear
-Broke after less than an hour of use
-Questionable build quality
-2 hours play time
review# 775
Disclosure: This product was given to DragonSteelMods for review by the company for review purposes only, and is not considered by us as payment for the review; we do not, never have, and never will, accept payment from companies to review their products.
To learn more about our review policy, testing methods and ratings please see this page.