So this is review number 800 for us and you'd think I might have something exciting for such a milestone, but no I've just got an external hard drive enclosure from a company called Mukii. The name of the enclosure is long, it's the TransImp TIP-330U2-BK 3.5" USB 2.0 Aluminum External Hard Drive Enclosure. Yes it's USB 2.0 so it's not exactly speedy but then again you don't always need superfast for everything you do. The enclosure is aluminum which helps in heat dissipation an it looks good too. So read on to learn more…
Tech Specs,Features or the Basic Info
MUKii TransImp TIP-330U2-BK 3.5" USB 2.0 Aluminum External Hard Drive Enclosure
As digital and high-resolution media contents become more and more popular, the demand for file storage increases. Because of that, high-speed storage peripherals interface is an inevitable trend, which saves time and energy and improves working efficiency. MUKii TransImp TIP-330U2 3.5" hard drive enclosure uses USB 2.0 interface that supports a transfer rate up to 480Mbps. It also passed the strictest compatibility tests and is compatible with all 3.5" SATA hard drives on the market while featuring high reliability. AC adapter supplies pure and stable power to the hard drive to ensure safe and accurate data retrieval at high transfer rate. The vertical stand allows flexible positioning and saves space on your desktop. M one tuning system included (Auto format/ Smart energy saving/USB Turbo/Auto backup/Status feedback) are powerful and yet easy to use. The aluminum casing not only is stylish and ultra slim, but also provides excellent cooling efficiency. MUKii TransImp series hard drive enclosures are designed to the requirements of time-saving, energy-saving and data security to satisfy all your needs in data transmission.
•Compatible with any 3.5" SATA hard drive.
•USB interface for easy data access.•Hot Swappable :Plug and play
•Compliant with USB 2.0 Backward Compatible With USB 1.1
•Transfer rates up to 480Mbps with USB 2.0.•Blue LED indicates Power / HDD status.
•High quality and stylish design. •Aluminum case provides excellent heat dissipation.
Price: $19.99 (from Amazon at time of review)
Unboxing
The box comes wrapped in plastic and there's a nice pictures of the enclosure on the front with some info on the back.
Once you unpack everything you'll find the enclosure, user guide, CD, screws, USB cable, stand an power supply.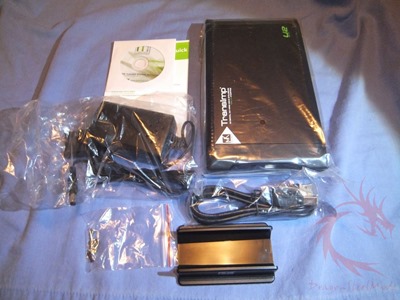 The stand is just basic, it's plastic and the USB cable is standard as well. The power supply comes with a removable plug that just snaps on and off, nothing special about it.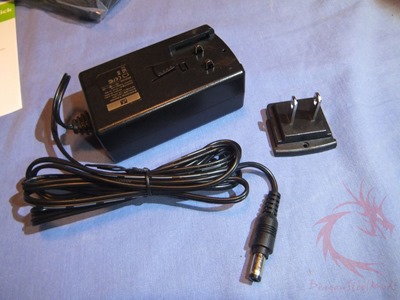 The enclosure looks very nice, it's mostly aluminum with plastic caps on the the ends. The Mukii logo and name are printed on the front and the back is just plain black. Overall the enclosure seems sturdy and well made.
The front plastic cap has a green stripe running up it and there's an LED located on the bottom of the enclosure which I find odd but I guess it works.
On the back you'll see the power button, power connection and the USB interface.
The rear section slides out to reveal the SATA connection for the hard drive and you'll also find a connector for the LED that you have to connect.
Once you slide it all the way out you'll see the tray is actually just three quarters in length and there are holes in it to attach the hard drive with the included screws.
Testing and Usage
The installation is easy, just slide the hard drive into the SATA connector and secure it with the screws. Next you need to slide it into the enclosure and connect the LED cable which can be tricky as there really isn't much room at all because you have to close it almost all the way.
Once you install the drive then you can hook it up and power it on and then you'll see the LED light blue. The LED is fairly bright and it bounces off whatever surface you have the enclosure sitting on. The stand works fine to hold the enclosure up, it keeps it steady and in place.
I used a Seagate 7200.12 1TB drive with the Mukii enclosure and it's just USB 2.0 so I only ran a basic test on it, just running ATTO Disk Benchmark on the drive in my computer and then in the enclosure over the USB interface.
USB 2.0 isn't fast as we all know, but it was the best we had before USB 3.0 came around. Most computers have several USB 2.0 ports on them but only a few USB 3.0 ports so chances are you're going to be using the USB 3.0 ports for other things and you'll have to use a USB 2.0 port anyway. My computer has four USB 3.0 ports and I twelve USB 2.0 ports so yes I use the USB 3.0 ports but mostly I use the USB 2.0 ports as there's just more of them and honestly I'm just not in that much of hurry that I need superfast transfer speeds.
I don't think most people, or the average user, these days are doing anything that requires USB 3.0 speeds really, I use my computer for lots of things and USB 2.0 is just fine for me. The Mukii enclosure is USB 2.0 and the speeds are about what you would expect to see. The enclosure is fine for most uses I would think.
Summary and Comments
The Mukii TransImp TIP-330U2-BK 3.5" USB 2.0 Aluminum External Hard Drive Enclosure is what it is, it's not anything more or less.
The enclosure runs at USB 2.0 an the speeds are as expected, fine for most uses.
The enclosure though looks very good, and it seems well made and I like the fact that it's made of aluminum which will help in heat dissipation.
The stand works well to hold the enclosure up in a vertical position, the enclosure should not fall over.
Installation is fairly easy but it can be tricky to get the LED connection hooked up as there isn't much room at all inside once the hard drive is attached to the tray.
All in all the Mukii enclosure is basic and it's fine for what it is.
DragonSteelMods gives the MUKii TransImp TIP-330U2-BK 3.5" USB 2.0 Aluminum External Hard Drive Enclosure a 4.5 out of 5 score.
Pros:
+Nice looking
+Well made
+Works fine
Cons:
-Installation can be tricky
review# 800
Disclosure: This product was given to DragonSteelMods for review by the company for review purposes only, and is not considered by us as payment for the review; we do not, never have, and never will, accept payment from companies to review their products.
To learn more about our review policy, testing methods and ratings please see this page.