Today for review I have a micro sim card adapter, or actually  a pair of them and I'm here to tell you that they are junk, worthless crap, they're craptastic! In fact they destroyed the sim card slot in my phone when I tried to use them. The adapters are from a company called Noosy and my HTC one has a micro sim card and I thought something like this might come in handy as I do review phones from time to time, but I was mistaken, at least for this brand of adapter. If you want to read on go ahead, but I'll tell you the product is horrible and just a waste of time…
Tech Specs,Features or the Basic Info
2 Pcs Micro SIM to SIM Card Adapter for iPad iPhone in Gift Retail Package
Micro Sim Adapter * No Need pay for Double data Fees * Use one Sim Card on all Devices * So Convenient! One Step is ok
Product Features:
-Micro sim to Regular Sim Card
-Gift Retail Package
-many color come with it.
-let your sim card fit's all type of phone.
Dimensions:
-Size (LWH): 0.98 inches, 0.59 inches, 0.04 inches
-Weight: 0.16 ounces
Price: $3.89
Unboxing
There is no box, just a cardboard holder or an envelope really.
When you open it up you'll find the two adapters stuck to another piece of cardboard.
They sent me two colors, white and yellow. They're made of thin and mostly flexible plastic.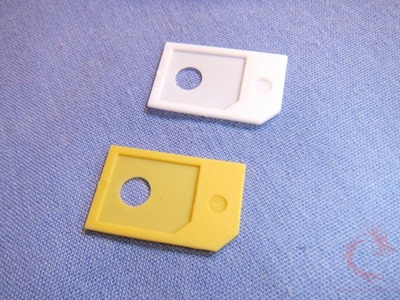 On the bottom of them you'll find a hole so you can push your micro sim card out of the holder or adapter.
Installation and Testing
So here's the adapters with a regular sized sim card, look the same size to me.
The adapters also appear to be the same thickness as well.
So my HTC One uses a micro sim card, but sometimes I still review phones and not every phone can use a micro sim so I needed an adapter and I ordered these from Amazon.
Here's my micro sim and the regular sim together:
So the first thing I did was try to put my micro sim in the adapter, and it just fell out. I tired both of them, I tried pushing and nothing, the micro sim just falls out of the adapter totally. You can't even slightly lift the adapter and the sim card just falls out. So from here I was worried but I never used and thought maybe, just maybe, that's how it was supposed to be. (a nagging thought in the back of my mind told me no, that's not right, but I ignored it…)
I grabbed a phone that uses standard sim card, luckily it's an inexpensive phone. As soon as I tried to put the adapter and micro sim into the slot the sim just fell out. I tried several more times to no avail. I was as careful as possible, even holding the phone upside down to get the micro sim to stay in place. I got it in mostly, but the micro sim just popped out. I grabbed a pair of tweezers and gently got my micro sim safely out, but the adapter was stuck fast.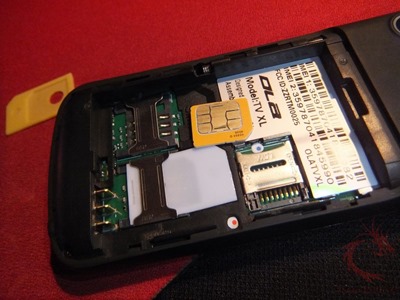 I tried to gently get the adapter out but it was really stuck in there. I ended up pulling rather hard and it came out but not before essentially destroying my sim card slot in the process.
You'll notice the pins are bent and appear to be missing from the bottom half! The adapter was so stuck that I even bent the sim card slot cover getting it out.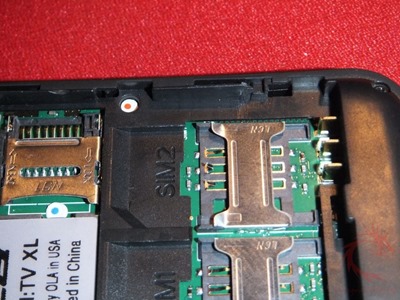 It's a dual sim phone so here's both slots, yes the bottom pins are apparently bent up under the metal shield. So it appears five of the six pins are bent now and the sim card slot is unusable without some work.
So I'm not sure how to fix this one exactly, but I'll give it a try someday and hopefully not do any more damage than these adapters did.
I'm just happy that I didn't try this with a more expensive phone or specifically with one that only has one sim card slot. At least with this phone it can still be used as you can use it with just a single sim card.
What a worthless piece of crap this product turned out to be.
Summary and Comments
So it only cost me $4, I guess I'm lucky that it was so inexpensive and that I choose to test it on an inexpensive phone with two sim card slots.
So I'm off to Amazon to order another sim card adapter that will hopefully work correctly as I think I could really use something like this.
So this product is worthless and dangerous, I have to tell you to stay away, stay very far away from it.
So that's it for this review and this product, in the garbage it goes…
DragonSteelMods gives the Noosy Micro SIm Adapter a 1 out of 5 score.
Pros:
+Inexpensive
Cons:
-Doesn't work
-Broke my phone
-Micro Sim card doesn't even stay in the adapter
review#768
Disclosure: This product was given to DragonSteelMods for review by the company for review purposes only, and is not considered by us as payment for the review; we do not, never have, and never will, accept payment from companies to review their products.
To learn more about our review policy, testing methods and ratings please see this page.