Up for review today I have the JLabAudio JBuds J5M Earphones which also feature an in-line microphone and multimedia controls. These earphones are budget priced, but they are well made of aluminum and even have a Kevlar reinforced cord. The sound quality isn't the greatest though, they do have decent bass and treble but they have a slightly muffled sound to them. For the price yes these aren't a bad set of earphones, but if you have a little more to spend I'd recommend getting something else as they do have some other issues besides the sound quality. Read on to learn more..
Tech Specs,Features or the Basic Info
JLab marks the 5th anniversary of the best-selling JBuds line with the striking new J5M, the most universally appealing JBuds ever.
The J5M's titanium micro drivers deliver an incredibly smooth and consistent response across the entire frequency curve, from deep, rich bass to full, luscious mids and crisp, vibrant highs.
The all new 45° angle jack leverages the strength of pure metal with the durability of firm flexing rubber. The Y joint features the rugged exoskeleton pioneered on the J4, but lighter and more compact. The lightweight cable is reinforced with Kevlar for optimum flexibility and strength.
The J5M features an in-line microphone with button control for crystal clear calls, a sleek, refined housing ergonomics deliver an ultra comfortable fit with a smooth, satin soft feeling inside the ear. The rear bass port offers the optimal mix of airflow to the drivers through an eye-catching inset rear chrome grill inspired by Italian supercars.
Crafted from solid aluminum and polished with a silky, scratch-resistant anodized finish, the J5M is available in an array of sinful color pairings. 24 karat gold plated 3.5 mm jacks for premium, lossless connection. Includes 4 pairs of soft, silicone cushions in XS, S, M, L, as well as a detachable clip for securing the cable. Compatible with our soft double flange Pro tips for even greater range of custom fit, and with JLab's removable ear hooks.
FEATURES
– Supreme comfort
– Inline microphone and track control
– Incredibly smooth wide range titanium micro drivers
– All aluminum construction with four foot Kevlar reinforced cable and rugged, firm flexing joints
– Includes four different sized tips, cable clip, and JLab's world-class warranty and service
SPECIFICATIONS
– Drive unit 2xo8mm
– Frequency Response 20-20khz
– Impedance 16ohm +/- 20%
– Sensitivity (at 1kHz) 92 +/-3dB
– Cord length: 129cm
– Plug Type: Dia. 3.5mm Stereo Gold Plug, 45 degree angle
– Max. Power: 10mW
– Channel Balance: 3dB at 1kHz
LIST MSRP:$59.95
SALE PRICE:$24.99
Price: $12.74 (from Amazon at time of review)
Unboxing
The packaging isn't that special, just a foil type bag with specs and info on the back.
Inside of the bag you'll find the earphones, an accessory bag, mini catalog of other Jlab product and an owner's manual/warranty card. There isn't a manual included with the Jbuds but on the card you'll find out how to get one on the Jlab website.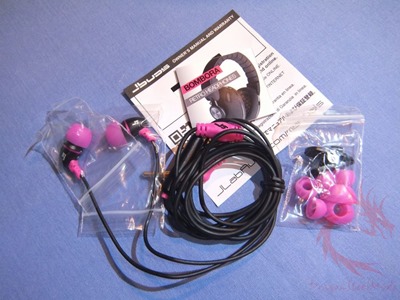 Included with the earphones you'll find a small slip so you can attach the cord to your shirt and there are four sets of varying sized silicone covers, one is already installed on the earphones.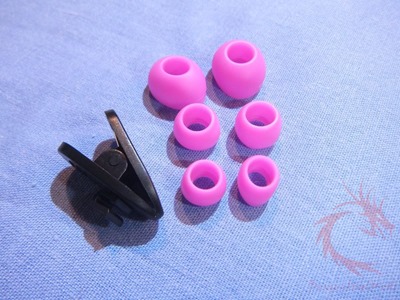 This is something I've never seen before, each earphone is in a zip style bag. The cable is 129cm long and it's reinforced with Kevlar for durability and flexibility.
Here are the earphones themselves, they are made of aluminum making them lightweight. They feature a scratch resistant anodized finish and you can get them in many color combinations.
Here's the backs of the earphones, not much to really say here.
Here's one of the earphones with the cover removed so you can see the speaker. Inside of the earphones are titanium micro drivers or speakers for optimal sound quality.
The headphones are split into right and left sides with a kind of large divider with the J5 logo on it . The headphone jack or connector itself is angled and it's rather large.
Lastly we have the in-line controls. I'm happy to say it's on the right side, I'm right handed so that works best for me. There is a single button on the top and a microphone on the bottom. Depending what device you're using the single button can be for calls and multimedia.
Testing and Usage
I used the JBuds J5M earphones with my PS Vita and my HTC One Android phone. I've pretty much stopped using my MP3 player in favor of my phone as it works very well, and most places I go with my Vita you need headphones as other people don't want to hear it.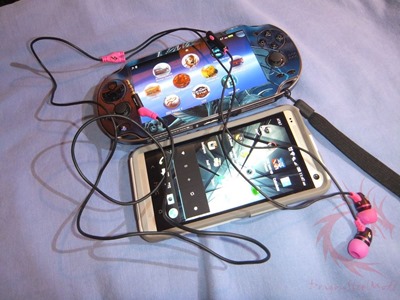 Sound Quality:
For the price of these the sound is actually quite good. They had a very full sound with decent bass and decent treble but overall they had a slightly hollow or muffled sound to them. For the price yes they sound good, but overall I'm not sure I'd want to use them all the time as I like my music to sounds crisp and clear and these aren't really.
Call Quality:
Not much to say about call quality, yes you can take calls with them and people sounded fine.
Personally I don't like phone calls in stereo, but some people don't mind.
Controls:
Controls didn't quite work with my HTC One Android phone.
According to the user guide the button should allow for answering and ending calls, and yes that worked fine.
The manual also gives instructions for multimedia usage.
One click is for play and pause and yes that worked.
The manual says two quick clicks to skip to next track and three quick clicks to skip backwards. For me two clicks brought up Google Voice search and three clicks rediale3d the last number I called.
So it doesn't do what the manual says but it does something anyway. You just have to be careful so you're not redialing people when you're clicking the button I guess.
Comfort:
I have to say these are fairly comfortable to wear for long periods of time. Once you find the correct size bud cover for you then they fit well and are comfortable thanks to the very soft silicone covers. They are lightweight and after a while you really don't even notice you're using them.
Build Quality/Design:
The cord is nice and long and should be fine with whichever placement you use for your phone or mp3 player. At 129cm, it's more than long enough to reach all the way to your side.
The cord seems durable and it is reinforced with Kevlar making it rugged so it should last a long time.
The earphones themselves are aluminum so obviously they're nicely made in terms of design and build quality
Noise Reduction:
Noise reduction sort of fit in with comfort and by that I mean they are a tight fit in your ears which helps to block out the sounds. They have no active noise cancelling of course, but for the most part they do a decent job of blocking out sound, not all but most sound is blocked.
Cord Noise:
Here's where the J5M earphones really fall short, there is a lot of cord noise with these. Just moving around a little bit and the noise from the cords is transferred to the earbuds and it's fairly loud. If you're listening at low volumes the cord noise can actually drown out the music. You can lessen the cord noise slightly by looping the cords over your ears and then inserting the earphones into your ears, but I personally don't care for that as they really don't stay there especially if you're active.
Summary and Comments
One thing you can't fault the Jbuds J5m earphones for is the price, on the Jlab site they are $25, but you can pick them up on Amazon for about half that. Are they worth it even at that price? I don't think so myself, but if you're on a tight budget they should do.
The earphones themselves are nicely made, they have an aluminum housing and a Kevlar reinforced cord and yes they are very comfortable to wear for long periods of time thanks to the very soft silicone bud covers.
The sound quality is questionable. Yes they have a nice balance of bass and treble and have a full sound but they are slightly muffled or hollow sounding overall.
The controls do not work as I expected them to. The user manual says they are compatible with Android but did not work how they were supposed to with my HTC One Android phone. Instead of skipping tracks it opened voice search and redialed the last number I called. At least it does something right?
These do have a lot of cord noise, to the point it can be annoying especially if you're listening at low volume levels.
DragonSteelMods gives the JBUDS J5M Earphones a 3.5 out of 5 score.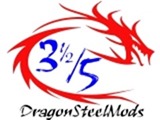 Pros:
+Decent bass
+Decent treble
+Seem well made
+Comfortable for long periods
+Fit well
Cons:
-No carrying case
-Controls don't quite work correctly with my Android phone
-Lots of cord noise
-Slight muffled or follow sounding
review# 801
Disclosure: This product was given to DragonSteelMods for review by the company for review purposes only, and is not considered by us as payment for the review; we do not, never have, and never will, accept payment from companies to review their products.
To learn more about our review policy, testing methods and ratings please see this page.