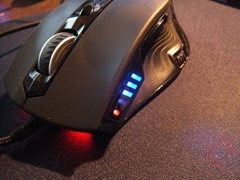 Up for review today I have a gaming mouse from Sentey called the Revolution Pro and it is a very feature rich product. The mouse can be adjusted from 200dpi up to 8200dpi and you can even create your own macros and save them to five different profiles that you can create. Sentey includes configuration software that you can use to gain access to all of the features of the Revolution Pro but you don't have to use as there are defaults pre-programmed into the mouse that you can use. Sentey also included a very nice and protective carrying case with the Revolution Pro along with some gamer related swag to brighten up your living space. Read on to learn more…
Tech Specs,Features or the Basic Info
Sentey Revolution Pro
Model: GS-3910
Today's professional gamers have a secret. Somehow they constantly leave their wretched competition squealing in the wake of their superiority, quivering at the vast injustice that has just been served up to them on a silver platter of destruction.
Enjoy your Nvidia Surround Their secret? The Revolution Pro from Sentey. This ergonomically formed, meticulously crafted masterpiece of devastation features an array of professional features that stand alone on the field of victory!
The features? How about 9 macro buttons, 4 configurable DPI levels (up to 8200 dpi each with Sentey's MAXDPI technology), up to 11,750FPS, 4D four-way OMNISCROLL technology, independent and programmable X&Y axises, adjustable weight control (6×4.9g weights), 26 color LED indicators, up to 5 individually customized gamer profiles, ceramic foot pads for ultra slick movement on any surface, and extreme acceleration and polling rates, all built on the Avago chipset. It's no wonder you've been getting your butt kicked, until now..
UP TO 8200 DPI. AVAGO 9800 CHIPSET
LASER-STEAM TECHNOLOGY
Laser-Stream technology is comprised of an unique image acquisition system or (IAS) as well as the addition of a custom digital signal processor or (DSP) that features a quad serial port. IAS Works by acquiring microscopic images of the surface through a special laser guided lens that uses a sophisticated lighting system alongside the DSP to calculate and optimize the direction and distance the mouse is moving.
RAPID GAMING RESPONCE
The unique ceramic feet feature a low coefficient of friction that helps provide seamless movement through various different surfaces. They are high density and extremely durable with a melting point of 2715 ° C, and are often labeled "Ceramic Steel", the feet are practically indestructible.
4 ADJUSTABLE DPI PROFILES WITH CORRESPONDING COLOR LED INDICATOR.
The DPI adjustment button has an impressive range of options: 400/1600/3200/8200 DPI. This option gives the user more control and flexibility in regards to the speed of the mouse cursor, and can be set on the fly, or even in the middle of a game. The light indicator ensures that you are always aware of what level of sensitivity the mouse is using.
COMFORT, AESTHETICS AND PRECISION
SOFT MATTE BLACK
High Quality Premium Finish
LIGHT UP
Light up LED Indicator lights up with 26 unique corresponding DPI level colors.
6 ADJUSTABLE WEIGHTS
The weight control system allows up to 6 different weight combinations, that can fulfill the requirements of even the most hardcore gamer, in both the mouse's handling, feel, and control.
Each weight is approximately 29.4 grams
SOFTWARE CONFIGURATION
BUTTON CONFIGURATION
10 software configurable buttons.
DPI CONFIGURATION
4 Levels of DPI Configuration
INCLUDES A CARRYING CASE FOR TRANSPORT
A Complete Travel kit is included, to take your gaming wherever you go
Specs:
GENERAL:
Name:    Revolution Pro
Model:    GS-3910
Series:    Professional Series
Type:    Optical Laser
Part Number:    GS-3910
UPC:    788513039105
Warranty:    1 Year
ACCESORIES:
Weights:    6 Weights (5 grams each)
Documentation:    Manual
Side Grip:    Yes
Software/Driver:    Yes
SYSTEM REQUIREMENTS:
Operating System:    Windows XP, Vista, Windows 7 or Later
Internet Connection:    No
Connection:    USB 2.0
Hard Disk Space:    1.5 MB
FUNCTIONAL SPECS:
DPI Resolution:    Up to 8200
DPI Level Preset:    4 Levels
Sensor:    ADNS 9800
Chipset:    Avago
Polling Rate:    1000Hz Frequency
Frame Rate:    12000 FPS
Scrolling:    4D 4 Way Scrolling
Track Speed:    150 inches/sec
Acceleration:    30G
X &Y Axis:    Independent and programmable
Buttons:    9 Buttons + 1 DPI Selector
Macro Buttons:    7 Macro Buttons
Profiles:    5 Customizable Profiles
Pads:    Ceramic Feet
Illumination:    5 Different LED Colors and No Light Mode
Adjustable Weights:    Yes
Interface:    USB 2.0
PHYSICAL SPECS:
Connector:    Gold Plated USB Connector
Cable Lenght:    1.8 Meters (6 Ft)
Cable Type:    Heavy Duty Braided
Size:    126 x 84 x 42mm
Upper Enclosure:    Soft Rubber Black Matte
Net Weight:    170gr
Gross Weight:    2.5 lb
Packaging Size:    9″ (L) X 7″ (W) X 3.75″ (H)
Price: $89.99 (from Sentey site at time of review)
Price: $39.99 (from Amazon at time of review)