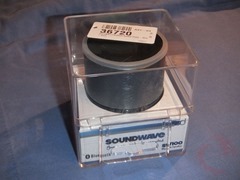 Mobile phone accessories are a big business obviously, especially Bluetooth, you'll find plenty of them out there. One of the more popular items is speakers, why? Well because sometimes the speaker in your phone just isn't that good or that loud, so you need something better. Today for review I have the SoundWave II Bluetooth speaker but it's also a speakerphone so you can use it for music or to answer phones calls. This little speaker is very well made, and it's loud and clear ever at high volumes. The SoundWave II is Bluetooth but it also has a standard 3.5mm jack so you can use it with devices that don't have Bluetooth, so it's a versatile little gadget for sure. The battery life is excellent offering up to ten hours of music or talk time and an amazing 800 hours of standby time! SO read on to learn more…
Tech Specs,Features or the Basic Info
Product Name: SoundWave II Bluetooth Speaker Phone
The SoundWave II Bluetooth Speaker Phone packs improved sound quality in a contemporary package which allows you to enjoy your calls or music hands free.
Enjoy improved music and hands-free phone calls at the comfort of your desk
The SoundWave II allows you to enjoy your music or handsfree phone conversations from the comfort of your desk. The SoundWave II features the latest Bluetooth technology so it pairs effortlessly to your smartphone without the need of using wires.
Improved design features superb sound reproduction
The enlarged speakers size (5cm) and tuned dynamic driver mean that the speaker and mic is excellent for clear conference calling as well as listening to music, delivering deep bass and excellent mids for an immersive audio experience.
Improved brushed aluminum design provides a contemporary look and feel
The SoundWave II is manufactured from aluminum and features a brushed finish. Not only does this mean that the speaker is more robust and built to last but the color contrast between the gun metal grey and black detailing really makes this speaker look stylish and contemporary, complementing any mobile device its connected to.
Integrated microphone allows crisp conference calling
The speaker phone comes with an integrated microphone. This is perfect if you're listening to music and you receive an incoming call as it allows you to answer the phone call and speak clearly through the speaker phone at the touch of a button. This makes it particularly great at conference calling or for personal use with video chat programs such as iChat, Skype, Google Talk and more
Small and discreet design takes up virtually no room
The speak phone features a small and discreet design so it can sit on your desk whilst taking up virtually no room. The powerful in built speaker allows you to enjoy your music loudly and also means that phone conversations which you have are crisp, loud and easy to hear.
Latest Bluetooth technology pairs wirelessly with your smartphone
The SoundWave II also features built-in Bluetooth 3.0 technology with active pairing so you can wirelessly pair your Bluetooth enabled device and play your tunes without getting wires tangled. The Bluetooth works within a 10 meter range so you've got the freedom to move around with your phone without having to carry your speaker with you.
Price: $30.99
Unboxing
The SoundWave II comes in a thick clear plastic box.
Inside you'll find the speaker and a small white box.
Once you get everything unpacked you'll find a user manual, USB cable, audio cable and a non-slip mat.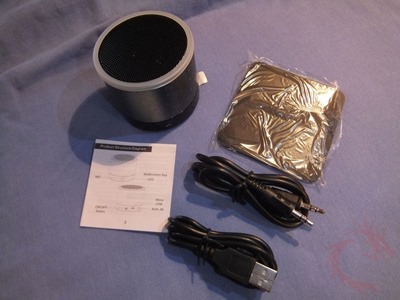 The audio cable is just a double ended standard 3.5mm style. The SoundWave II charges via the included cable but it's stand microUSB so you can use any really.
The speaker itself is very well made and it's rather heavy, it is thick aluminum with a metal speaker grill on the top to protect the 5cm speaker inside from damage.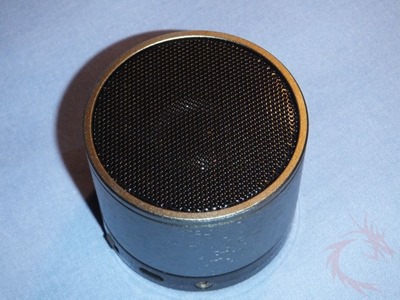 Around the bottom edge of the speaker you'll find a button with a phone on it, this is the answer/end call button and the multi-function button for pairing. Along the bottom you'll also see the microphone, USB connection, power switch and the 3.5mm audio jack. The base of the SoundWave II is rubber and non-slip.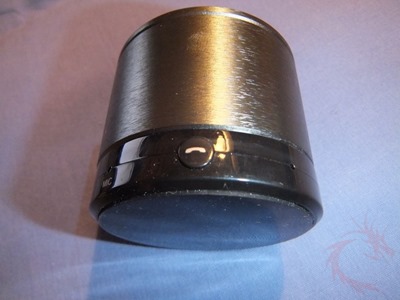 Testing and Usage
Before you use the SoundWave II you'll need to charge it and that's done with the included USB cable. A little red LED will light up letting you know it's charging. The battery, when charged, should provide up to 10 hours or music or talk time and an amazing 800 hours of standby time!
For testing the Bluetooth I used my HTC One Android cellphone. Pairing was quick and easy, I didn't even have to enter any codes, once paired I could play music or take phone calls right through the speaker with no problems. The range is very good, I could easily go across the room and still have a connection.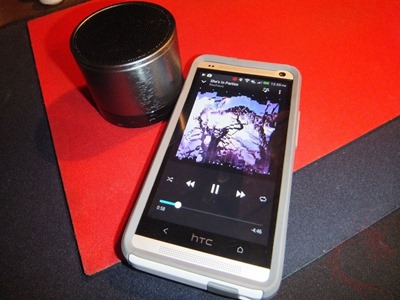 The SoundWave II is not only Bluetooth but you can use it as a regular wired speaker too.  I used it with my ZuneHD and it worked perfectly.
The SoundWave II can get very loud, which is what you want of course. Even at loud volume levels there is little of no distortion.
Sound quality is very good, but it can be a bit bass heavy. The sound is clear in both music and phone calls, but it's only one speaker so it's no stereo sound.
One drawback is there is no volume control on the speaker itself, some people might not care but I do.
Included also is a rubber non-slip pad, it's just a thin piece of rubber and that's it.
The base of the SoundWave II is also rubber but if you need a larger area you just use the pad. For example you could use it on your car dashboard to make sure it stays where you put it.
Summary and Comments
So that's it really, it's a portable Bluetooth speaker and it's a speakerphone as well but it also has a handy 3.5mm audio jack so you can use it with virtually any audio device you have.
Battery life is excellent, offering at least a days worth of play time on a single charge.
Sound quality is very good, even at high volume there is very little distortion.
For what it is, it's nice little speaker.
DragonSteelMods gives the SoundWave II Bluetooth Speaker Phone a 4.5 out of 5 score.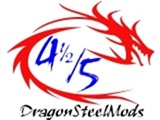 Pros:
+Well made
+Can get very loud
+Simple to use
+Bluetooth or direct audio connection
+Excellent battery life
Cons:
-Can be a bit bass heavy
-No volume control on actual speaker
review# 770
Disclosure: This product was given to DragonSteelMods for review by the company for review purposes only, and is not considered by us as payment for the review; we do not, never have, and never will, accept payment from companies to review their products.
To learn more about our review policy, testing methods and ratings please see this page.