Laptops are great products, they allow
us to take our computers with us easily to get work done and have fun
as well. There's one problem with most laptops though, they're really
not meant to be on your lap, they all can get fairly hot and being on
your lap is the possibly of covering the vents or fans making them
even hotter and even more uncomfortable to use.
There are many types of laptop coolers
and pads out there, but many of them are big and bulky and also many
have fans in them requiring power thus draining your battery a bit
quicker than normal. Quite a while back I reviewed the Xpad laptop
cooler and found it to be a very nice product overall, today I've got
the latest version, the Xpad Slim. The Xpad Slim is much thinner than
it's predecessor, and lighter, though it is essentially the same
look, an X style pattern of raised bumps that lifts your laptop up to
allow better airflow under it, while at the same time shielding you
legs from the heat.
So continue on to learn more…
Product
Name: XPAD
SLIM Non-slip Laptop Cooler & Heatshield
Author: Kristofer Brozio
Sponsor: Xpad4Laptop
Tech
Specs,Features or the Basic Info:
XPAD
SLIM Non-slip Laptop Cooler & Heatshield
…the next generation of the
best-selling original
Cools your laptop without fans
Protects your lap from laptop
heat
Non-slip interface keeps your
laptop on your lap
Xpad is a universal fit design
that will accommodate laptops with up to 17 inch screen size.
For small laptops (i.e. 13 inch
screen size), the wider Xpad footprint will allow you to comfortably
use your laptop on your lap without having to keep you legs tightly
closed or having the edges of the laptop dig into your lap.
The Xpad size is wide enough
for comfortable use but slim enough to fit into your laptop bag along
with your laptop.
Features:
-LIGHT-WEIGHT: Weighing in at
less than a pound, Xpad feels amazingly light!
-UNIVERSAL FIT: Xpad will
accommodate Laptops with screen sizes up to 17 inches!
(Please measure the distance
between the rubber feet on your laptop – they should fit within a
14.5″ x 10.5″ footprint.)
-ERGONOMIC: Xpad is optimally
sized to fit on your lap while gripping your laptop so that it won't
slide when used on an incline.
-PORTABLE: A slim profile means
Xpad will fit in most Laptop bags along with your Laptop.
-30-Day 100% Satisfaction
Guarantee
Price: $24.95
A
Better Look at Things:
The Xpad Slim comes in a plastic
casing, it just pops open so no tools are needed to get at it.
There is a paper band across the
product that identifies it.
Looking at the following picture
you can see where the X in Xpad comes from, it has an obvious X
design to it.
Here's a side shot, you can see
it's very thin: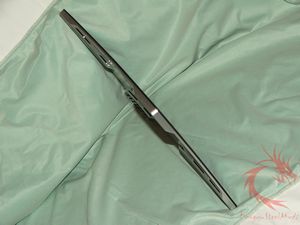 The raised sections of the X are
not solid, rather they features ventilation slits to possibly further
improve cooling.
The bottom is black in color with
the Xpad logo there, along with patent number and web address, the
base is a non-slip material as well.
Installation,
Testing and Comparison:
There's not much to the
installation, just put your laptop on it and you're ready to work or
play.
Here's my mini notebook on it,
kind of a bit overkill here:
Here's my regular sized laptop, a
Dell Latitude C640, a much better fit:
here's a side view and some closer
shots as well:
For testing the Xpad Slim I
compared the CPU temperatures with the Xpad Slim and without, with my
laptop just sitting on the table. I ran Orthos Stress Prime to get
load on the CPU, ambient room temperature during testing was 21.2C.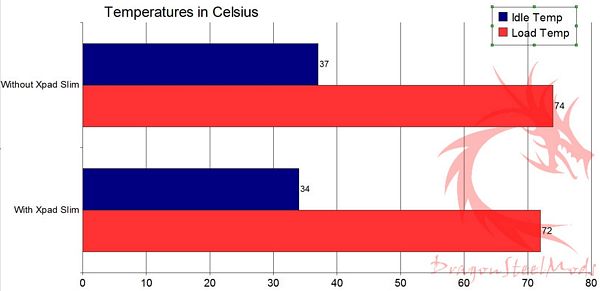 As you can see there is a
difference when using the Xpad Slim, it does get things a bit cooler.
I also used my laptop while on my
lap with and without the Xpad Slim, there is a very big difference in
how much heat I could feel. The Xpad Slim also provides a more stable
place for the laptop to sit.
Summary
and Comments:
So the Xpad Slim does cool you
laptop and keep the heat away from your lap, which is good thing, no
one wants a hot laptop, and no one really wants a hot lap, especially
us guys, that could be bad…
..but yes it does cool your
laptop, so it works as advertised, though only by few a few degrees,
then again cooler is cooler right?
It's not a bad product overall,
the cooling abilities of it will of course depend on your type of
laptop and where the fans and vents are located, so everyone will
have different results with it.
DragonSteelMods gives the Xpad
Slim a 4.5 out of 5 score.
Pros:
-Does cool your laptop
-Keeps you lap cool
-Seems well made
-Relatively inexpensive
-Fits most all laptops
-Easy to use
-Thin and light, making it
portable
Cons:
-None really
I
would like to thank Xpad4Laptop for the chance to review the Xpad
Slim and for their continued support of DSM.
review#562