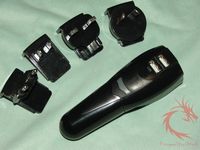 All of our devices need power, and with several types of the exact same device out there it has always bugged me that you can't just plug it in anywhere you go, it's all electric right? What I mean is that if I go to Europe, Australia or even China I can't plug in my device, they've all got different types of plugs, why is there no standard with this type of thing? It could be the exact same device but yet it won't work here in the US or vice versa without some sort of adapter. You'd think that since all of these things are used by everyone there might be a standard, but there isn't, just another one of those questions that will never be answered…
Today for review I've got a 2 in 1 car and home charger from USBFever , that's also truly an international charger, it can be used in any country around the world where you go with four interchangeable AC Plugs . Most international chargers only come with three types of plugs, so having four makes this one even more useful, and this charger has got two USB ports on it, they look exactly the same but the amperage is different on them, one runs at 500mA, while the other runs at 1000mA. You might wonder why this is special, but take a look at your iPhone, or iPod, and you'll see that it needs 1000mA, while a regular mp3 Player or cellphone might only need 500mA for charging. I've not seen any other types of portable chargers out there that specifically address the needs of high-current devices.
2-in-1 Car / Home Travel Dual USB Charger
Author: Kristofer Brozio
Sponsor: USBFever
Tech Specs,Features or the Basic Info:
2-in-1 Car / Home Travel Dual USB Charger
Product Code#:AK427-B094
Price: US$19.99
Highlights:
There are many USB Universal A/C Travel Chargers in the market, most of them are just convering 3 major plug types, namely, UK, EU and the USA, however.
How come if you travel to Australia and China? They are using a plug type that is similar to the USA type, just the 2 plugs are not parallel to each other.
With this charger, you can even bring it with you in your summer ride because it can use in car and accepting 12~24V!
Features:
– Travel: Comes with 4 removable plugs – UK, US / Japan, European & Australia / China and applicable in worldwide 110V ~ 240V A/C
– Suitable for all types of cars, it accepts DC 12~24V
– Dual USB Charging slots, double your efficiency.
– Charging all of the USB-Powered device (see note below)
– LED Indicator when power is on
– Made of high quality materials
– The real universal because you can either use it while driving or at home / travel
Charging these devices:
– iPhone
– iPod Touch
– iPod Nano 3rd, 2nd, 1st
– iPod Classic (6G)
– iPod Video (5G)
– iPod Photo, 4G
– iPod 3G
– iPod Mini
– iPod Shuffle
– PDAs
– Cellphone
– MP3 / MP4
– Digital Camera
– Portable Game Console
General Specifications:
– Input: AC110-240V & DC 12-24V
– Output: 5V / 500mA 5V / 1000mA
– 4 Removable Plug adatpers
Safety Specifications:
– Short-circuit Protection
– Protection from overload
– Fire-Retardant Shell
Safety Approvals:
– CE
– FCC
– RoHS
Color:
– Black
Package Contents:
– Main Body with cover x 1
– Changeable plug x 1 sets (4 pcs)
Packing:
– Blister
Note:
– if you would like to charger your Nokia phone, you may need a Voltage Booster in between the Car charger and your Nokia phone.
– There is 2 USB Slots, one is for MP3 (500mA), another one is for iPod/Phone/PDA (1000mA). Actually the differences are just the output of current, there is no any other physical difference, if you device are not that high in loading, you can plug in either any one.
– The TOTAL output of the 2 USB Ports are 1000mA, if you have 2 ports charging at the same time, the 1000mA will be allocated by loading and the port marked for "MP3" will be allocated with 500mA maximum.
A Better Look at Things
:
The packaging for the 2-in-1 Car / Home Travel Dual USB Charger is your ever popular sealed clamshell plastic box. You can plainly see the charger itself and the four plugs through the top.
Opening it up we only find what we can see through the box, nothing else is really needed.
The charger itself looks like any other car charger you might find out there today with a protective cap on the end.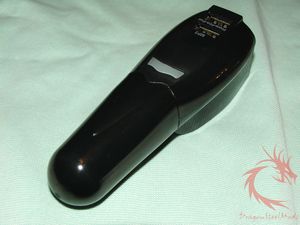 The USB ports are located on the top and labeled 'MP3' and 'Phone-PDA-iPod'. The MP3 USB port is 500mA, while the other is 1000mA.
The different wall plugs fit into the back of the charger and lock into the base by sliding them into place, very easily done, and secure when installed.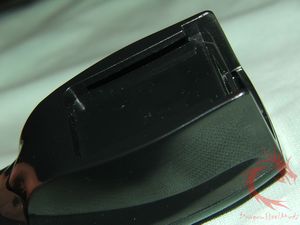 Removing the cap you'll find the standard cigarette plug adapter.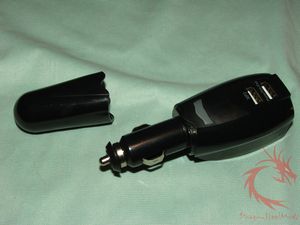 Installation, Testing and Comparison
There really is no installation involved, I didn't travel out of the country so I only used the US version of the adapter to charge my MP3 Player. There is a faint red LED on the top that indicates power when plugged in.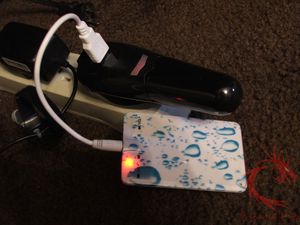 I also took it out to my car and tried it there as well, it worked fine, although it is a bit large overall.
This product seems to work fine and do as advertised, my only complaint could be that it's rather large and I would have like to have seen some sort of carrying case included as well, it could be fairly easy to misplace the plugs, and of course for traveling it just makes things much neater.
Summary:
If you're a frequent world traveler then I'm sure you can appreciate a device like this, me personally I've yet to get out of this country, but when I do I'll be prepared!
The 2-in-1 Car / Home Travel Dual USB Charger is a basic gadget that does have a lot to offer to the right person, even if you aren't traveling internationally you can still use it in your everyday life as a secondary universal charger. With this product you won't have to go and buy separate car chargers for your devices, it can be used for any that charge from USB.
DragonSteelMods gives the 2-in-1 Car / Home Travel Dual USB Charger a 5 out of 5 score.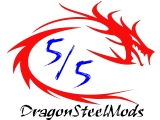 Pros:
-Portable
-Seems well made
-Truly a world charger
-Dual voltage USB ports
-Easy to use
-Low price
Cons:
-None really
I would like to thank USBFever for the chance to review the 2-in-1 Car / Home Travel Dual USB Charger and for their continued support of DSM.
review# 458