The video card coolers out there
usually look really good, but they're usually also fairly loud and
they don't do too good of a job at keeping your card cool really. Yes
they keep the temps below the manufacturers recommendations but
that's about all they do, and they're normally loud in the process of
doing so. Some manufacturers have started putting after market
cooling solutions on their cards because they've realized that we,
the customers, don't want a video card that sounds like a small plane
taking off inside of our PC cases. Those types of coolers though are
usually found on special edition cards, or only by certain companies,
not many have really caught on to this yet, and that's unfortunate
for us, but fortunate for companies like Arctic Cooling who produce
after market VGA coolers.
Yesterday I took a look at a CPU cooler
from Arctic Cooling, the Alpine 11 Pro, today I've got the Accelero
L2 Pro VGA cooler for review. I've installed it on my ECS
Nvidia GTS250 video card and I can say it does
a better job than the stock cooler and it's much quieter, but it
takes up three slots because of its height so depending on your setup
you might have an issue with installation.
Product
Name: Arctic
Cooling Accelero L2 Pro VGA Cooler
Author: Kristofer
Brozio
Sponsor: Arctic
Cooling
Tech
Specs,Features or the Basic Info:
Quiet Cooling Solution for
Mainstream Graphic Cards
With a multi-compatible
mounting system, Accelero L2 Pro offers excellent cooling for both
nVIDIA and ATI graphics cards.
Main features
• Excellent
cooling performance up to 100 Watts
• Ultra
quiet 92mm PWM fan with low noise impeller
• Patented
fan holder eliminates the buzzing sounds
• RAM
and voltage regulator cooling
• Pre-applied
MX-2
• SLI
and CrossFire compatible
Excellent cooling for a wide
range of VGA boards
Featuring a 92mm PWM fan that
runs from 900 to 2,000 RPM, the Accelero L2 Pro achieves up to 27 CFM
airflow and 100 Watts cooling capacity. The optimised heatsink and
the pre-applied thermal compound MX-2 guarantee excellent heat
dissipation from the core.
The flexible mounting is
designed for fitting a wide range of nVIDIA and ATI cards – from
GeForce FX5700 to the 9800 series; and Radeon X1300 to HD4850 series.
The Accelero L2 Pro is surely a perfect cooling solution for these
graphics cards at a very competitive price.
The Art of Silence
The Accelero L2 Pro also excels
in noise management. The 92mm fan is equipped with low noise impeller
and installed in a patented fan holder in order to eliminate buzzing
sounds. Thanks to this excellent acoustic design, the Accelero L2 Pro
remains extremely quiet (only 0.4 Sone) even at full speed.
Specs:
Dimensions: 119 L x 94 W x 51 H
mm
Fan: 92mm x 1
Fan speed: 900 – 2000 RPM
(controlled by PWM)
Air flow: 27 CFM / 46m3/h
Maximum cooling capacity: 100
Watts
Weight: 250g
Warranty: 6 year
Application:
ATI Radeon HD
4850,4830,4770,4670
nVIDIA GeForce 9800, 9600, 9500
Up to 100 Watts
ATI Radeon
HD 4850, 4830, 4770, 4730
HD 4650, 4670
HD 4550
HD 3870, 3850, 3650
HD 3470, 3450
HD 2600, 2400,
X1950, X1900,
X1800, X1600,
X1550, X1300 series
nVIDIA GeForce
9800, 9600, 9500, 9400
8800, 8600, 8500, GTS250
7950, 7900, 7800
7600, 7300
6800, 6600
FX5950, FX5900
FX5800, FX5700 series
MSRP (excl. VAT):
14,90 € / US$ 20.90
A
Better Look at Things:
I have to give credit to Arctic
Cooling for the packaging job, they managed to get everything into a
nice, neat little plastic box.
Inside you find the Accelero
sitting on a plastic tray that not only protects the pre-applied
thermal compound, but also houses 16 heatsinks! Included with the
cooler is also the instructions, accessory bag and power adapter.
There are are two kinds of
heatsinks included, eight of each, regular squarish ram sinks and
inverted 'L' shaped ones for the voltage regulators.
The cooler features a rather large
92mm fan, beneath that you'll find essentially a block of aluminum
with the mounting bracket already installed for you with the thermal
compound applied to the base. The fan does have set of power wires
coming from it, but that set is divided into both 3pin and 4pin
connections.
The base is not polished smooth,
but it appears to be flat, it's a bit hard to get a good look at it
since the thermal compound is there.
Installation,
Testing and Comparison:
So
first up was testing with the stock cooler installed, I recently
received the Sparkle GTX260 for review, you'll see that soon, so the
GTS250 is my secondary card, and I've also got an EVGA
8600GTS card in my system just running PhysX.
As I mentioned in the intro, I
installed the Accelero L2 Pro on my ECS GTS250: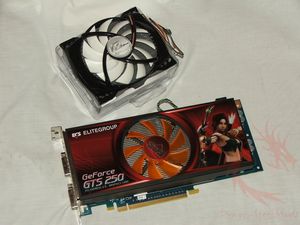 Besides the cooler and ram sinks
there are four sets of four more accessories for the installation,
the screws, plastic spaces, nylon washers and adhesive discs as well.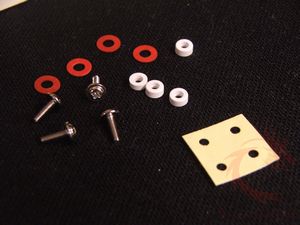 First thing you'll need to do is
remove the stock cooler, for me this was very easy, only four screws
held it onto the card. Then you'll need to clean the VGA chip and the
ram chips of any residue. The GTS250 doesn't have a heatsink on the
voltage regulators so I didn't have to bother with it, but some cards
might have one that needs to be removed as well.
The next step would be to stick
the heatsinks on the chips, I used all of them that were included, I
didn't have to use all of the regulator sinks but I figured why not..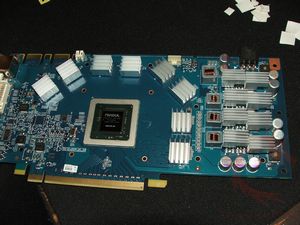 Next step is to use the adhesive
discs to attach the spacers to the mounting bracket on the Accelero
after you figure out which holes you'll be using. Luckily for me I
didn't have to make any adjustments at all, the stock settings worked
fine with he GTS250.
Then you'll need to install it on
your card, four screws and four nylon washers later you're all done.
The fan has both a 3pin and a 4pin connector on it, the GTS250 has a
four pin fan connection on it so that's what I used.
It might seem like a lot of steps,
but it's really easy especially if you don't have to make any
adjustments to the cooler. If need be you can move the mounting
bracket to fit your card, there are three holes under the bracket
that can be used.
So the next step is to put it back
in my system, well that didn't work out too well for me, I found that
the Accelero takes up three PCI slots which put my power supply in
the way of the installation. Now if you have a top mounted PSU then
you most likely will not have this problem, or if you're installing
the card in another slot on your motherboard you might not either.
Though I can see a possible problem if you wish to use the three
slots beneath the card, especially if you want to run SLI in your
system, it might not work depending on the spacing of the slots on
your motherboard, and don't even think of running three cards or
four.

You might be wondering now what
happens since I can't get the card back in there, luckily I already
knew it wasn't going to work like this. I put this stuff in here to
show you just how big it is and to illustrate what can happen if
you're not paying attention.
The first pics above we're my
normal system with the three cards installed, I already knew this,
the Accelero, wasn't going to work in my setup correctly, so I had to
remove the 8600GTS and move the GTX260 down to the bottom PCIE slot
and then install the GTS250 in the top spot for my testing with and
without the Accelero L2 Pro installed.
Ambient room temperature during
testing was 24C (+/- .3C).
I used FurMark or Fur Rendering to
stress the GTS250. Specifically I ran the Xtreme Burning Mode /
Stability Test for 30 minutes with 16X MSAA on at 1680×1050
resolution. I used GPU-Z to monitor and log temperatures then
recorded the highest and lowest temps for the chart. The lowest temp
was not the 'cold' boot temp, it was after the system booted up and
sat for 30 minutes or truly Idle.
As you can see there is a
difference between running the stock cooler and the Accelero, though
not as
much
as I expected really, but still a drop in temps. So it does cool the
card better than the stock colling solution. It's also much quieter
than the stock cooler, I didn't hear it at all over the rest of the
system even under load, so it's quiet which is a good thing.
One thing to note is that in the
Alpine 11 Pro CPU Cooler review I complained about having the thermal
compound pre-applied because many of us 'play' with our systems,
changing things around a lot, so having the compound pre-applied is
not the best idea really, or at least they could have included some
extra. With the Accelero though, most likely you won't be taking it
off, a VGA cooler is not one of those things that we mess with too
often really, so having it pre-applied is nice really, but here again
it would be nice if they included a small amount of thermal compound
on the side if we ever wanted to take it off for some reason.
Summary
and Comments:
The Arctic Cooling Accelero L2 pro
works better than the stock cooler and it's quiet as well. Keeping
the card cooler and being quiet are two things that you'll want to
see when it comes to a VGA cooler, so these things were accomplished
by the Accelero.
The Accelero though doesn't cool
quite a well as I expected to would, it's rather large and I really
expected much more of a difference over the stock cooler than I
or it achieved.
This VGA cooler takes up three PCI
slots in your case, that's something that is just amazing really,
even the large stock coolers usually only take up two slots, yes
there are exceptions but normally only two. Taking up three slots is,
in my opinion, a bit ridiculous, you're losing space and there's a
chance it just won't fit in the case. In my setup I had to re-arrange
things and even remove my dedicated PhysX card to be able to use the
Accelero. Granted my system is not the 'average' system, so this
might not apply to a lot of people, but those who are going to
purchase an after market cooler are likely to be enthusiasts or
someone like me that has more than one card in their system and quite
possibly a dedicated PhysX GPU as well.
DragonSteelMods gives the Accelero
L2 Pro VGA Cooler a 4 out of 5 score.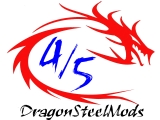 Pros:
+Fairly easy installation
+Silent cooling
+Decent cooling performance
+Pre-applied thermal compound
+Dual fan power connections
+Nicely made
Cons:
-Large size takes up three slots
-No extra thermal compound
included
I
would like to thank Arctic
Cooling for the chance to review the Accelero
L2 Pro VGA Cooler and for their support of DSM.
review# 607
Follow
me on Twitter!