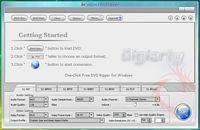 It's amazing how things change over
time. Ten years ago, burning a CD was a tedious process that
required three hours of time and a blank disc that ran you $2 a
piece. It redefined music and set off a digital media age that has
grown catastrophically. DVDs came along and did the same for movies,
and everyone had to learn how to use them and get used to watching
movies on a whole new platform.
Now, DVDs are present in our lives and
as common as coffee cups and light switches. The digital age has
moved forward so much that media is under our command whenever and
however we want it. We can call up movies on our computers, stream
media through our video game consoles and carry it in our pockets.
Part of that revolution has been the
ability to port media over to any platform. We can take something in
a certain format and change it to any other, allowing us to do
whatever we need to do with the data. We can even pull movies off of
their plastic homes and take them with us thanks to clever software.
Today we're going to take a look at the WinX DVD Ripper, a piece of
freeware that allows you to rip any DVD onto your PC and instantly
have it saved in a variety of file formats. These days, software
like this is common, and necessary to facilitate our portable,
on-demand media needs. There are a billion programs out there that
do the same tasks, some performing better than others. Most of it
comes with a price, but not the WinX DVD Ripper. Let's see how this
free software stacks up.
Product
Name: WinX DVD Ripper by
Digiarty Software
Author: Jeff
Saporito
Sponsor: WinX
Tech
Specs,Features or the Basic Info:
WinX DVD
Ripper is a free software program that facilitates ripping the content of a
DVD to computer hard disk drive and converting to popular video
formats. It supports all types of DVDs including normal DVDs, CSS
protected DVDs, commercial DVDs, Sony ArccOS DVDs, all region 1-6
DVDs and most of popular video formats such as FLV,
AVI, MP4, WMV, MOV, MPEG1/2 as output video formats.
Features:
-Rip
DVD to popular video formats as AVI, FLV, WMV, MPEG, MP4, MOV, etc.
-Support DVD NTSC & PAL format
and (S)VCD NTSC & PAL format.
-Rip DVD audio into MP3 music file.
-Support grabbing screenshot from
DVD video.
-Support ripping in single and batch
mode.
-All video/audio parameters
adjustable for users optimizing video quality.
-Supper fast ripping speed, up to
300%-500% real time.
-Excellent video/audio quality.
-Easy to use and 100% stable.
-Multiple DVD source supported as
normal DVD, CSS protected DVD, region 1-6, commercial DVD.
100% Clean, No
Spyware, No Malware, No Adware and No Virus.
Supported DVD:
Normal DVD, CSS protected DVD, region 1-6, Sony ArccOS,
Commercial DVD
Output video formats:
AVI, MPEG, FLV, MOV, MP4, WMV, MP3
Platforms:
Microsoft Windows 98, NT, 2000,2003, XP, Vista, Windows 7
A
Better Look at Things:
The software is downloaded for
free from the company website, so there are no box shots or any such
thing.
Installation,
Testing and Comparison:
There aren't fancy menu choices or
a navigation panel to get you into the program. As soon as it loads
up, you are at the main interface where everything happens. The only
thing to do is to load a DVD into your burner and get started.
For this review, I will be using a
Lite-On DVD/RW and the movie Slumdog Millionaire.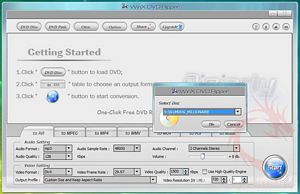 Just hit the DVD Disc button at
the top of the screen and it'll let you select the DVD in the drive.
Then, you hit OK. The software interface is very simple to
understand. Being that nearly everything is controlled from this one
screen, it's pretty straightforward which makes it a good choice for
the average user of any skill level.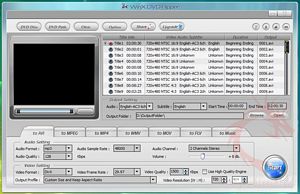 Here, the software will read
through the disc and break down all the chapters and segments for you
to see. Note the subtitle box in the center of the screen is
automatically set to English. This sucks, and will put the subtitles
on your video output if you don't disable the language.
WinX DVD Ripper allows you to rip
your DVD into AVI, MPEG, MP4, WMV, MOV, FLV or audio formats. This
is really nice, and means you can directly convert to whatever format
your needs require. Most any situation will be serviced by one of
those choices.
You can also set your audio format
and quality, sample rate, automatically adjust its volume, select
your video sample rate, format and quality, and change the resolution
and aspect ratio of your output. Really, the program gives you a lot
of control over the end product, particularly for free software.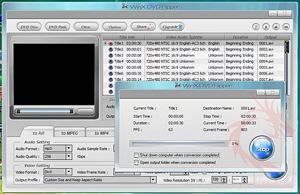 When you are ready to convert,
you simply press the Start button and the process begins. It won't
give you any hassle about copy protection or any of that jazz.
The video will take a really long
time to convert – nearly real-time to watching the film. Slumdog
Millionaire is a flat two hours long, and it took just shy of that to
convert. That's a pretty slow conversion. The output settings were
of a very high quality, but there are definitely other programs that
don't require as much time. The software doesn't seem to have the
ability to utilize multiple processor cores which adds to this fact.
Eventually, the video finished and
was available to view in one avi file.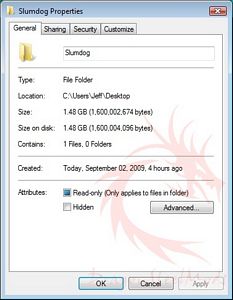 The file is nearly 1.5GB, which is
a huge video file. Granted, I exported it on fairly high settings,
but they weren't much above where the software set them by default.
Very little compression is going on. But, if you have the space to
spare, the video quality is pretty much an exact duplicate of the
original DVD, so that's pretty awesome.
The software does come with some
handy help options in case you are a total newbie to video. It
should give you some instruction on how to choose the right format
and settings for your needs. It also contains pictures and some
step-by-step instruction on how to do certain things, so overall it
seems pretty helpful.
Summary
and Comments:
Well, it's called WinX DVD Ripper,
and it rips DVDs. That's all it does, but can't hassle a piece of
software too much for living up to its name. It would be awesome if
it utilized multi-core processors a little better and didn't take so
long to rip the disc. But, the output quality is pretty solid if you
have the patience to wait, and the format options and output control
offered is quite nice from freeware.
DragonSteelMods gives the WinX DVD
Ripper by Digiarty Software a 4 out of 5 score.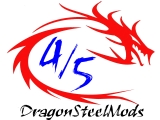 Pros:
+Solid output quality
+Lots of format options and
control
+Free is a good price
+Simple interface
Cons:
-Takes forever to rip
-Subtitles by default
I
would like to thank WinX for the chance to review the WinX
DVD Ripper and for their support of DSM.
review# 608