Installation and Usage
So to get your phone in the case you can just fit in in there, but you'll need to fight with it a bit as it is tight. You'll also need to take it apart first to get the phone inside.
The case does allow access to all of the ports, cameras, buttons, microphones etc.
The exoskeleton just clips onto the case, but it takes a bit of fighting, much more than without the phone in the case.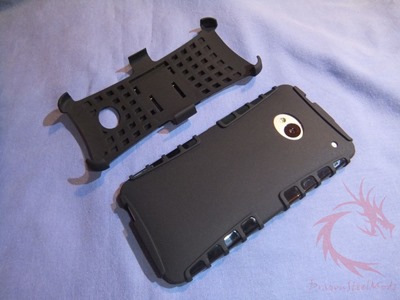 So here's the phone in the case with the exoskeleton back on it. The back, well the entire case, does add a bit of bulk to the very slim HTC One, but it's worth it for the protection it offers.
The case has a textured grid on the back for a good grip.
Even with the back on you can still access everything on the phone quickly and easily. The case has a nice labeled volume rocker on it.
Here's my phone in the case using the stand. The stand works very well actually, it seems very sturdy and shouldn't fall over easily.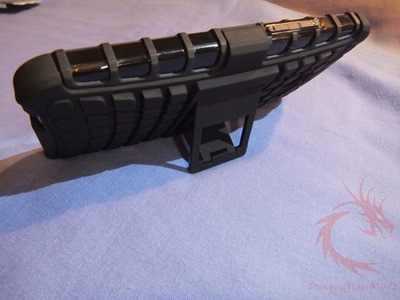 The case wraps around the edges of the phone to help protect it even further. If you put the phone down on its face the LCD won't touch the surface you put it down on.