Bluetooth
headsets are now pretty commonplace with most cell phones coming
equipped with the technology. One limitation to most of these
headsets is the working range. The standard effective range of most
BT devices is 10 meters (32 feet). Callpod a company known for their
various mobile technologies have released the Callpod
Dragon v2 Bluetooth Headset which has a
supposed range of 100 meters (328 feet) when used with a class 1
enabled Bluetooth device. Sounds pretty impressive.
Callpod utilizes
their proprietary noise mitigation system known as dual-mic noise
suppression. This technology activates when a call comes through and
helps reduce background noise while enhancing and optimizing the
sound quality of the conversation.
In addition to
this ten fold increase in range, the Dragon V2 Bluetooth Headset also
features eight hours of talk time, 300 hours of standby time, Skype
functionality, multi-device pairing and Dragon to Dragon communications for walkie talkie like
capability. The Dragon has a different shape than most standard
Bluetooth headsets but this is probably to fit the more powerful
transmitter.
Let's take a
closer look…..
Callpod
Dragon v2 Bluetooth Headset
Reviewed by:
Tomas Ratas
Sponsor:
Callpod
Tech
Specs,Features or the Basic Info:
Callpod
Dragon v2 Bluetooth Headset
Talk
on your mobile phone without wires using the Dragon® Bluetooth®
headset. With a 328+ ft (100m) range, you can roam around your office
or home without having to carry your phone. Dragon can also connect
with your PC for Skype® calls simultaneously, allowing you to switch
between your PC and mobile phone with a press of a button. With
advanced dual-mic noise suppression®, the callers on the other end
will enjoy crystal clear voice even if you are at an airport, noisy
restaurant or car. Works with all Bluetooth-enabled mobile phones,
computers and PDAs.
Performance
Extended range of 100+ meters / 328+ ft

Dual-microphone background noise
cancellation

Dragon-to-Dragon headset communication over
a 250,000+ sq ft space

Multi-device pairing (i.e. Skype®+cell
phone or 2 cell phones) with auto-switching

Design
Comfortable fit for all-day usage

Two-button design for enhanced call control
functionality

Sleek fit and finish

Reversible ear hook supports left and right
ear

Compatibility
All Bluetooth-enabled cell phones and PDAs

All the latest phones, including iPhone

All worldwide networks including
AT&T,T-mobile,Verizon,Sprint/Nextel,US Cellular

All Windows and Mac OS computers with
Bluetooth
A Better
Look at Things:
The Callpod Dragon v2 Bluetooth Headset
arrives in a black package with the headset showcased on the top
through a clear plastic jewel box. On the bottom of the package we
see a list of features.
Opening
the box we find it contains the headset,
car charger, AC charger, USB cable, a large ear bud, instruction
manual, pairing guide, carrying sac, and a mini to micro USB cable
adapter.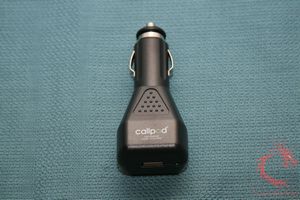 Callpod
offers the Dragon V2 in three different styles – Black Chrome,
Titanium Silver and Carbon Fiber. For our review sample, we
received the Black Chrome.
Taking
a closer look at the Callpod Dragon v2
we see it has two buttons – a central multifunction button in the
center of the device and a power volume button towards the rear
aspect of the headset. There are two microphones one within the
multifunction button and one forward to it. Opposite the first
speaker is a Red/Blue LED. On inner portion we find the speaker and
ear bud with the ear clip in front of the speaker.
The
Dragon V2 weighs in at 0.9oz [25.5g] and
measures 1.25″W [31.75mm] x 2.16″L [66.04mm] x 2.25″H
[57.15mm]. It features a 3.7 VDC lithium ion battery.
Shape
wise the Dragon looks similar to a pair of Bluetooth stereo headsets
that I reviewed a while ago – the Genius
BT-03A.
It
is certainly not the smallest Bluetooth headset on the market but it
is one of the more comfortable models. Here is a picture of the
Dragon with a Jawbone 2 for size comparison and another with the
Genius headsets.
The
ear loop can be adjusted in a vertical access allowing it to wrap
firmly around the ear and keep the ear bud resting comfortably in
one's ear canal. The key for the noise cancellation technology to
function properly is orienting the microphones in line with the
user's mouth. This may require some positioning practice in front
of a mirror to get the alignment down. If the mics are not in line
with the user's mouth then the call quality goes south, fast.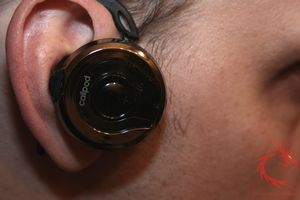 In
addition to the quality Bluetooth headset Callpod provides a nice
carrying satchel for storing the Dragon V2 along with the additional
accessories. Plus they include an automotive charger, which most
other Bluetooth headset makers do not.
Installation,
Testing and Comparison:
For testing I
used the Callpod Dragon v2 with my
iPhone 3G and MacBook Pro. Callpod recommends charging the device
fully before initial use. Pairing was simple and involved entering
the standard Bluetooth pass code of 0000 when pairing the headset to
the Apple devices.
Typically most
Bluetooth headsets function using two buttons and the Dragon is no
different. The power button pushes into the headset and slides from
side to side to function as the volume button while the center button
allows calls to be answered, ended and muted.
The audio quality
of the Dragon was almost on par with the Jawbone and the noise
cancelling capability slightly worse than the Jawbone 2. A nice
feature of the Dragon is that it can be used in conjunction with
Skype and can be connected to multiple devices. Thus I was able to
participate in both Skype and cell phone conversations using the
Dragon V2. Whichever device was providing the audio – MacBook Pro
or iPhone, the Dragon V2 would access.
Unfortunately I
did not have a second Dragon to test the walkie talkie feature. From
other reviews on the web it was described as working but its range
dependent on the obstacles between the two Bluetooth headsets. How
does the Dragon V2 fare in terms of distance? While not quite 100
meters, I was able to use the headset throughout my home where
typical Bluetooth headsets would die out when I was a floor away from
the transmission source. This was the most effective Bluetooth
headset experience to date within all rooms in my house. Once again
the effective working range is limited by the structures between the
two Bluetooth devices.
Summary and Comments
Callpod have
designed a winner. Their long range Bluetooth headset exceeded my
expectations and may replace my Jawbone2 as my everyday headset.
While it is aesthetically different from most Bluetooth headsets it
is one of the most comfortable ones that I have worn. The call
quality is on par with other high-end headsets. Multi-device
pairing is another capability that sets the Dragon V2 apart from its
competitors. If you are looking for a quality Bluetooth headset with
incredible range and lots of extras, then the Dragon V2 is the one to
get.
DragonSteelMods
gives the Callpod Dragon v2 Bluetooth
Headset a 4.5 out of 5 score.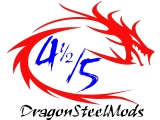 Pros:
+Comfortable
+Excellent
sound quality
+Long
battery life
+Extended
range
+Multi-device
capability
+Bundled
with plenty of accessories
Cons:
-Call quality dependent on proper positioning of the built in
microphone.
I
would like to thank Callpod for
the chance to review the Callpod
Dragon v2 Bluetooth Headset and for
their support of DSM.
review#601