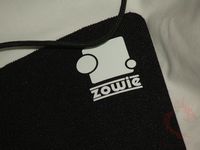 Hey look, this is review number 600 for
us! Wow, 600 reviews in 4 ½ years, not bad. So how are we
celebrating 600 reviews? We're not right now… Maybe later we'll have
some sort of giveaway but as of right now there's no time for
celebrations. It's about time to upgrade our hosting I think, and do
a little re-design or so, a few tweaks here and there I think. So be
patient as things will be changing and there may be some down time
within the next couple weeks or so, it all depends how much time I've
got to spare.
Today for review I've got the Zowie
Gear P-RF mousepad or mousing surface, yesterday we looked at the
Ulti-mat Breathe F-X3, so I figured why not follow with another pad
review. The P-RF is a small pad, but not too small, a bit larger than
a standard sheet of paper really, coming in at 13.4 x 11.4 inches.
The P-RF features a rubber non-slip backing and it has a water splash
proof surface, not sure exactly what that means though. Anyway, read
on to learn more…
Product
Name: Zowie P-RF Mousing Surface
Author: Kristofer Brozio
Sponsor: Zowie
Gear
Tech
Specs,Features or the Basic Info:
Feature :
* Water splash proof surface ,
easy for cleaning
* Works perfect for all mice
* Right size for designers &
gamers : 340 x 290 x 4 mm / 13.4 x 11.4 x 0.16 inch
* Special designed non-slip
rubber base
* Pure cloth surface could be
bent without damage
A
Better Look at Things:
The Zowie P-RF mousepad comes in a
small box with a window so you can sit it, there's also specs and
features listed, as one might expect, on the back.
It's a cloth pad so you can roll
it up and take it with you. It seems well made, it's black in color
and you'll find the Zowie logo up in the right corner..
The backing is rubber and it has
the Zowie logo all over it, a nice little, interesting design touch.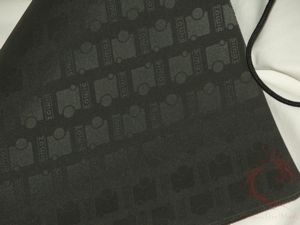 The surface is smooth but yet
rough, looking at it very closely it's actually a bit shiny, and it
sort of sparkles in the right light.
Testing:
For testing with the Zowie P-RF
pad I used four mice, the NZXT Avatar, Microsoft Sidewinder X8,
SteelSeries Ikari Optical and the Logitech G5 v2.
If you read my review yesterday of
the Ulti-mat Breathe F-X3 then you'd know that I had problem with it
and the Microsoft X8 mouse, the P-RF is a bit different in that
respect in that it works much better but not perfectly. It tracks
well with the X8, but still it doesn't quite work well with precise
movements, like if I tried to move the cursor between the letters in
the sentence, sometimes it would work and other times it would skip a
letter doing a little jump type thing. So it is an improvement over
the Ulti-mat but it still won't quite work perfectly. This isn't the
problem with the pad though, I've come across the same issue with
several mouse pads and using the X8, so my guess is that it has to be
something to do with the X8 and not the pads themselves. The X8 maybe
cannot 'read' the pads correctly or something like that, that's my
best guess anyway with the experiences that I've had.
I've moved back to the NZXT Avatar
as my mouse of choice, I like the wireless ability of the X8, but it
seems I've got to charge it every other day, maybe I should turn it
off at night or something, but it seems I'm always on the charge
cord, so it's only wireless a couple days a week really. I've always
liked the Avatar, it's small and very precise for everyday use and
gaming.
The other mice worked perfectly
with the P-RF though, I had no problems at all with tracking and for
a cloth pad the P-RF is surprisingly smooth, all of the mice just
glide across the surface with little resistance.
There is one thing to note about
this pad, it's rather rough, the surface is I mean, it reminds me of
a heavy denim or maybe, almost, a corduroy material. Some people
might not like the very rough surface of it at all, but I've seen
hard surface pads with a similar surface style.
So the P-RF is a good pad overall,
just not for all mice, but I do believe it will work fine with 99% of
them out there.
Summary
and Comments:
The P-RF is a good, well made pad
that tracks well with the right mouse. It's a nice sized pad that
should fit on most any workspace. The idea that it's waterproof is a
nice feature as well, you won't have to worry to much about spills
anyway. The backing is very non-slip, this thing will stay put no
matter how intense your gaming gets.
DragonSteelMods gives the Zowie
P-RF Mousing Surface a 4 out of 5 score.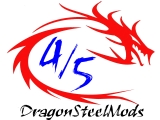 Pros:
+Well made and durable pad
+Not too big, not too small, just
the right size
+Excellent tracking
+Water proof
+Very non-slip backing
Cons:
-Not quite compatible with all
mice
-Rather rough surface
I
would like to thank Zowie
Gear for the chance to review the P-RF and for their support of DSM.
review# 600