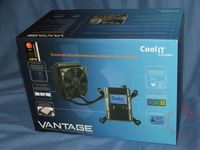 Today for review I've got the CoolIt Vantage A.L.C. CPU
Cooler. The Vantage is an all-in-one liquid cooler, it's a closed loop system
so the end-user doesn't have to doing any kind of maintenance on it. I've put
it up against the Noctua NH-U12P air cooler and while the Vantage doesn't
outperform it, it does well. So read on.
Product Name: CoolIt Vantage
A.L.C. CPU Cooler
Author: Kristofer Brozio
Sponsor: CoolIt Systems
Tech Specs,Features or the Basic Info:
Vantage ALC
provides an elegantly engineered cooling solution that is offering features
thus far unseen in the PC market.
A Revolutionary
Leap in Design that Delivers Industry Leading Reliability, Performance and
Value
Vantage ALC
provides an elegantly engineered cooling solution with an advanced control
system that monitors temperature and auto-regulates the fan to ensure the
highest degree of efficiency and minimum acoustic noise with continuous
protection of the CPU.
The innovative LCD
screen enables user-selectable control profiles with a display capable of 6
colors and 4 orientation settings.
The Vantage A.L.C.
provides superior performance and industry leading reliability with a feature
set unparalleled by any single cooling product on the market.
Features:
CoolIT CPU FHE
(Fluid Heat Exchanger)
Copper
Micro-Channel
Universal Retention
System
Out of the box
support provided for Intel 775, 1155 (Sandy Bridge), 1156, 1366 and AMD AM2,
AM2+, AM3 sockets.
CoolIT Pump
Quiet, compact,
long life Ceramic bearing CFF1 pump
Life Cycle: 50,000
Hours MTTF
CoolIT Coolant
CoolIT Systems low
toxicity with anticorrosion/anti fungal additives
CoolIT Radiator
Custom engineered
for low noise high heat dissipation
CoolIT Fan
High reliability,
Quiet 12V
Speed: 1100 – 2,500
RPM (low to high regulation)
CoolIT CPU Thermal
Grease
CoolIT Systems Pro
A.T.C. (Advanced Thermal Compound)
Operations Modes
(User Selectable)
Three cooling
performance modes: quiet, performance, and full.
CoolIT 2 Year
Manufacturer Warranty
(Price:
$110 from Amazon at time of review)
A Better Look at Things
:
The CoolIt Vantage comes very well packaged and protected.
When you unpack it you'll find mounting hardware for the various
sockets, screws and user manual.
The Vantage is a one-piece unit essentially; it's a closed loop system
so you'll never have to bother with it. There's a variable speed 120mm fan
attached to the radiator.
The base of the cooler is copper and it comes with thermal compound
pre-applied. The Vantage comes with the Intel 775, 1156, 1366 mount
pre-installed. You just have to slide the screws to the proper placement for
the socket you have.
There are two connectors coming from the CPU cooler part, one is male
the other female. One gets connected to your motherboard header and the other
to the fan for power and control.
Installation, Testing and Comparison
I installed this on my main system which basically consists of an EVGA
P55 motherboard and an Intel
Corei5 750 CPU. I was using the Noctua
NH-U12P before this.
I installed the CoolIt Vantage and found it wouldn't fit with my top fan
in place; luckily the NZXT
Phantom has two spaces for fans on the top so I could just slide it over. I
of course had to remove the back fan to install the Vantage. I did have an
issue with the Phantom case though, the back plate is rather thick on the
Vantage and it quite didn't fit.
The Vantage has an LCD display on it that shows the CoolIt logo,
temperature, fan speeds and pump speeds.
There are two buttons on the Vantage select and menu basically. The menu will allow you to change modes of
the Vantage from Quiet, Performance and Extreme. These modes adjust the fan and
pump speeds from low to high. The menu also allows you to change the colors of
the display to match your case color scheme if you want.
The colors are White, Red, Amber, Green, and Purple.
Here are a few other shots of the LCD display: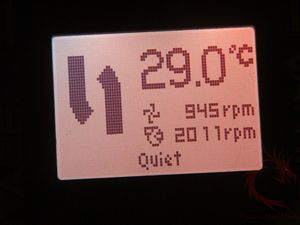 During testing the ambient room temperature was 21.3C (+/- .3C). To get
load on the CPU I used two instances of Orthos Stress Prime to get load on all
four cores. I used CoreTemp to monitor and record the temperatures during
testing, then averaged them out to get one single temperature for the charts.
Stock speed of the Intel Corei5 is 2.66Ghz, but I also overclocked it a
little bit to 3.2Ghz for testing.
The first graph I have is stock speed with both the Noctua and the
Vantage.
I'm surprised actually that the Vantage didn't do better than the Noctua
Air cooler, but then again the Noctua is a very good cooler. Still the Vantage
performs well overall, well below temperature specs for the CPU.
Next is the overclocked CPU graph, just the Vantage in the charts to see
how it performs.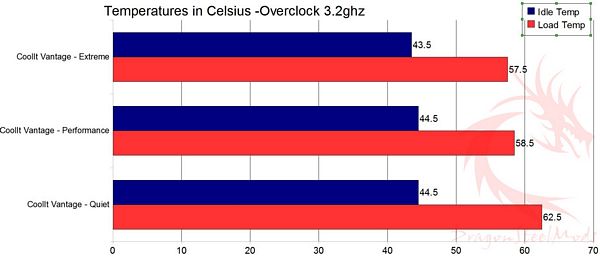 The only real difference we see is the Vantage in quiet mode; here the
temperature is fairly high when compared to stock temps.
No matter what mode you're running in the Vantage is fairly quiet, in
Quiet mode you can't hear it at all really. In Performance mode it's just a
light hum and then in Extreme mode you can hear it but not overly so.
Summary and Comments
The Vantage isn't a bad cooler overall I think. It's easy to install and
for those wanting a hassle free liquid cooling system in their computer this is
the safest and easiest way to do it. There's no maintenance required so you
won't have to worry about filling it, just install it and let it do its job.
I'm not exactly impressed but the temperatures; I was just expecting it
to outperform the air cooler.
DragonSteelMods gives the CoolIt Vantage A.L.C. CPU Cooler a 4.5 out of
5 score.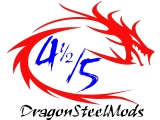 Pros:
+Quiet
+Simple installation
+Works with pretty much every socket type
+LCD display for changing settings
+Can change colors on LCD to match system
Cons:
-Not the best performance
review# 687
Disclosure: This product was given to DragonSteelMods for review
by the company for review purposes only, and is not considered by us as payment
for the review, we do not, never have, and never will, accept payment from
companies to review their products.
To learn more about our review policy, testing methods and ratings
please see this page.