Look ma, no batteries! Check this out, today I have a cool little gadget for review that is not only useful, but very inexpensive, and the best part of all, uses NO batteries! It is called the Cordgo, and it is from a company called Wing Products. It's just one of those items that is just plain cool and useful, and I have to say 'Why didn't I think of that?' Read on to check this out some more…
Cordgo from Wing Prodcuts
Reviewed by: Kristofer Brozio AkA Dracos
Sponsor: Cordgo
Tech Specs,Features or the Basic Info:
What is Cordgo?
Cordgo is a one hand operated cord adjustment and storage accessory. Cordgo's durable, lightweight design fits in the palm of your hand to deliver cord control. Adjust your cord to the perfect length every time. It's fast, easy storage saves you from ever having to deal with tangled cords again. Cordgo was designed to perform as an integral component between cord and digital device.
Music to go
Cordgo is ideal for anyone who enjoys listening to music while jogging, biking, lifting weights… or just walking about town. Cordgo not only eliminates the tangling and physical interference of a cord, it also provides the luxury of quick and easy storage. Clip it to your belt, arm band, key chain, car visor, bag strap…. or just slip it in your pocket.
Headphones and MORE!
Cordgo is not only great for headphones, it offers cord management for USB cables, hands-free mobile headsets, docking stations, FM transmitters… and more! Cordgo allows you to organize all your *cords, eliminating cord clutter
What is cord control?
-No more tangled cords
-No more damaged cords
-No more lost cords
-Adjustable cord length
*Cordgo is designed to work with cords up to 3mm in diameter. Cords with in-line controls, i.e mute or volume may not be wound completely.
Buy one get one free + free decals Only $9.95 (limited time offer)
If you like cool gadgets, you will love Cordgo!
A Better Look at Things
:
Well normally I like to take a look at the packaging of an item that I receive for review, but for this review there is no packaging, the Cordgo came to me in a white padded envelope, which I assume is the standard shipping method. I was surprised, pleasantly, when I opened the envelope to find not one but two Cordgos in the envelope along with the stickers, apparently I received the promotion, or a 'review one, get one' deal. Anyway, this is what you will receive when you order the Cordgo, you will receive two of them, along with a bunch of stickers, and an instruction sheet on just how to use the Cordgo. If you visit the Cordgo website, there is a short flash demonstration there, as well as detailed instructions on how to use the Cordgo. I assume that the stickers that came with the Cordgo are to be used to place over the Cordgo logo to sort of personalize yours, the stickers are the same size as the cover and fit perfectly on there.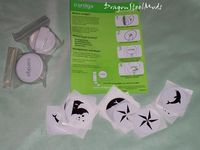 The instructions are fairly easy to understand, just four easy steps to getting the Cordgo up and working for you.
It made my life much easier to receive two of these, in the pictures I can now easily show multiple views. As in the next picture, here is a front and back shot of the Cordgo. The front is pretty plain except for the Cordgo logo, and a ridge of bumps around the outside edge to allow better grip when turning the Cordgo to unwind or wind your cords. The back of the Cordgo features a belt clip for easy transportation, but the clip also doubles as the lock to open the Cordgo for installation of your cords; you just need to push down on the clip and it pops right open.
Opening the Cordgo up, we can get a nice shot of the inner workings of it, not much there to see really. The zig-zag plastic piece you see in the following pictures acts as a spring to keep the Cordgo securely closed or locked, this is what you use to open the Cordgo. The top of the Cordgo is where you put the cord to be wound, you'll notice on the bottom half (where the spring is), in the center there teeth, those teeth match up with the top half, and create tension so you can adjust your cords and they lock in that position or length.
The Cordgo is very lightweight, it is made entirely of plastic. Upon further inspection it appears to be very well made, and will be able to withstand lots of abuse. It is a hard plastic, but not brittle hard, so I don't foresee it cracking or breaking very easily. Even if you get a year or two out of it, it wasn't that expensive for what it does; I know I'm always finding ways to keep my Mp3 players' cords from hanging and getting caught on things while I'm working, and when I put it away I just toss it anywhere, so the next time I use it I have to untangle my cords, not fun at all.
Installation, Testing and Comparison
Well this could be a really short review, but I like to try and be in depth about these things, so instead of just using one thing I decided to try two types of cords with the Cordgo.
The first was the cords on my Mp3 player, now it does state on the website that cords with in line controls or other obstructions may not wind up fully, and that is the case with my Mp3 player, it is an S.Beat from Swissbit memory, combination Mp3 player and Swiss Army Knife (really cool BTW), and ti does feature a few thing sin line besides the controls, so I wasn't able to fully wind the cords up, but it did do a good job and will work great for storage.
First I had to pop the Cordgo apart and insert the cord into it.
Then wind it all up, and here you can see the security clip did stop it from retracting all the way into the Cordgo, but that wasn't a surprise at all. My other Mp3 player, has an even larger clip on it and it wouldn't even go in half way. Ah well, the Cordgo is a really cool gadget but you'll have to take things into consideration if you want one.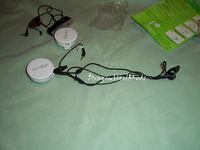 Cordgo also mentions that it can be used with other types of cords as well and of varying thicknesses, so how about the all-so-common USB extension cable. We all have these, I usually use velcro ties or just regular wire twist ties to keep all of mine together, I know you do the same. I know with my laptop I always carry an extra USB extension cable as my USB port is on the back and I just hate reaching around there all the time. I normally through the USB cable into my back and it usually ends up getting tangled with something else, Cordgo can fix that, in fact I have one in my laptop bag now.
So using the Cordgo with the USB extension cable is the same as with any other cable.
So know using the Cordgo, I just turned a couple feet of USB cable into a few inches, very nice, and I can set it to the desired length I need as well.
While there are drawbacks with using the Cordgo with certain cords, the other uses are exceptional. I know I have lots of cables floating around that could really use one of these to keep them tidy. The Cordgo isn't sold as a solve it for your Ipod or Mp3 player cord needs, it is for all types of cords and your headphone cord is just one of the suggestions of uses.
No more zip ties to shorten my cords, just pop them in the Cordgo and only let out what I need to use. I tried one on my keyboard and it worked great, normally I have the cord of my keyboard bunched up behind the monitor, but no more bunching! You know what I mean, I'm sure you do it.
This would be a great little gadget for those that go to lanparties, now you can keep all your cords nice and neat for your mouse, keyboard etc, hmm, neat at a lanparty… it could happen…
Summary:
Every once in a while a product comes along that is just cool, and the Cordgo is it, just plain Cool. How many great gadgets out there can boast that they use no batteries? Not many. You might have thought about those spring type cord keepers, but honestly they are more of a pain than they are worth, at least from all my experiences they are, if you pull one end before the other the whole thing gets all tangled and you have to start all over again, not with Cordgo. I need to get a few more of these!
DragonSteelMods gives the Cordgo a 5 out of 5 score and our Recommended Award as well.
Pros:
-Innovative product
-Very easy to use
-Fits most cord sizes
-LOTS of uses
-Lightweight
-Durable and well made
-Inexpensive
-NO Batteries needed!
Cons:
-Some cords might not fit
If you think this product is as cool as I do, then please DIGG it, as it could use the exposure, and this is the first review of it!
I would like to thank Wing Products for the chance to review the Cordgo!