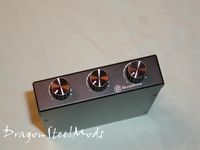 So you have fans in your case, are they loud? Don't you wish you could slow them down to quiet them, well there are many choices out there, but which one do you choose? Well today for review I have an option that I think is one of the best, and I use myself in my system, the SilverStone FP33 Fan Controller. The FP33 is stylishly made, and very functional, the FP33 even gives you installation choices, something you don't see often. Read on to learn more about the FP33…
SilverStone Fan Controller FP33
Reviewed by: Kristofer Brozio AkA Dracos
Sponsor: SilverStone
Tech Specs,Features or the Basic Info:
SilverStone FP33 Fan Controller
With more SilverStone adjustable fans now more popular than ever among enthusiasts, the release of FP33 should provide even greater user experience. Designed to fit into a 3.5 drive bay or in the expansion slot, the FP33 has three independent fan controllers to help adjust fan speeds at any combination desired in a system. As with all SilverStone products, the finish on the front panel and the knobs are of usual high class treatment, making it a top choice for anyone looking to gain more control of their system fans.
Features:
Three independent fan controllers
Compatible with all SilverStone FM series fans
Compatible with all 3pin fans
All aluminum enclosure for 3.f drive bay
Included optional expansion slot cover for rear mounting
Specs:
Material All aluminum 3.5 bay, steel expansion slot, aluminum buttons
Color: Black/Silver
Application: 3.5 drive bay or expansion slot
Fan Connectors: 2pin SilverStone fan connector, 3pin fan connector
Fan voltage range: 5V ~ 12V
Cable Length: 600mm
3.5 bay Dimension 102mm (W) x 25.4mm (H) x 120mm (D)
Controller board Dimension 36mm (W) x 17mm (H) x 31mm (D)
A Better Look at Things
:
First up we have the packaging, the front of the box features a nice window cutout allowing you to see both fan controllers that are included, there is also a nice list of features and a picture of the controller itself in both available colors.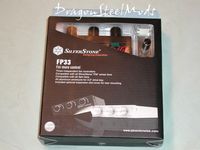 On the back of the box we find the features listed in many languages and the specs listed at the bottom.
Once we open the box, we find a nice slide out plastic tray where everything is nicely arranged for you to see and find easily. In the following picture you can see the 3.5 bay controller and the PCI slot controller as well, you can only use one or the other though, whichever you prefer, it was very nice of SilverStone to provide a choice in this way.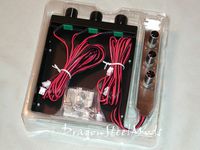 The PCI slot controller, looks like your standard PCI slot cover, but it is much heavier, and it has three nice aluminum knobs on it. Each knob has an indicator mark, and there is an 'L' and an 'H' on the PCI bracket to let you know which way to turn to slow the fan down or speed it up. It's details like this that set SilverStone apart from other companies. I've come across many PCI slot controller where they are not marked and you just need to guess which way to turn to high or low, you would think it would be standard directions for all controllers, but I have found this not to be so, so work clockwise and some work counterclockwise, markings are nice. The wires are very long (600mm), they are more than enough to cover any installation in any place of your case.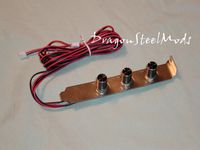 The 3.5 bay controller is made just as well as the PCI slot, but since it will be int eh front of your case, a lot of attention was paid to the details in its design and manufacturing. There are three aluminum knobs on the front, along with the 'H' and 'L' marking as well, and there is the SilverStone logo as well. The paint job is very well done over the entire controller, even the parts that won't be readily seen. Again the cables are the same lengths and will be long enough for any installation.
Included is a small bag containing mounting screws and a small PCB board, inside a housing that is used to power the fans and allow you to convert the standard 3-pin type fan to the SilverStone 2-pin type so the SilverStone FP33 can control your fan speeds. On the back of the PCB housing is 3M tape for easy mounting the converter/controller.
Well that's that, I have to say it's always nice when I receive something from SilverStone for review because I always know that it is going to be an excellent quality product. The design and attention to details that go into their products always amaze me, look at the 3.5 bay controller, the inside really didn't need to be painted, who is going to see it? Or at least it didn't have to be a quality job, but yet it is. It attention to details like these that sets SilverStone apart from other companies out there.
The FP33 fan controller is very well made, and includes everything you need to control three fans, including the options to use the front panel or the PCI slot controller.
Installation, Testing and Comparison
For my installation I used the PCI slot controller because I am using the SilverStone 3.5 card reader-I/O panel in my case (check out my review HERE) and it only has one 3.5 bay in the case, so it just made sense… Installation was very easy, if you can install a PCI slot cover or PCI card you can install the SilverStone PCI fan controller.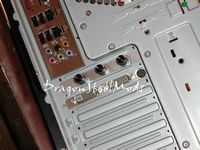 I mounted the PCB housing on the ceiling of my case, it just seemed like the right place for it, it gave me room to work, and there was an available Molex connector up there.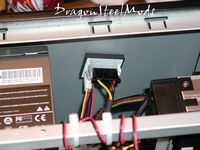 I am only using two fans with the controller at the moment, the SilverStone FM121 120mm fan on my CPU cooler and a Coolermaster 120mm fan for exhaust. You can see I have the wires bunched up beneath the exhaust fan in the picture, SilverStone included long wires.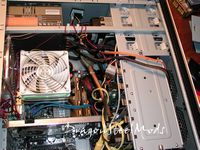 There are no real tests I can run on the SilverStone FP33, so I can't show you hard results or comparisons, I can only tell you that it works great, it's nice to be able to now control the speed of my fans. The knobs turn very smoothly but yet they are stiff to allow precise tuning of your fans speed if need be. The knobs are just the right size, and have ridges for grip built into them.
One thing to note is that the FP33 will control up to six fans if need be, but three of them have to be SilverStone fans with their 2-pin connector, so really you could use both the 3.5 bay controller and the PCI slot controller in one case, or maybe even put one in another case. The SilverStone fans are an excellent choice as well, they perform great, look cool, and are very well made, check out my review of the SilverStone FM122 HERE, and I will have the FM121 review up shortly.
Summary:
So if you are looking for a stylish way to control your fans, here it is. The SilverStone FP33 not only looks great but performs great as well. The addition of the PCI slot controller is nice as well so you have a choice of what you want to do, like my case, I only had one 3'5 bay and it was occupied, so I had to install the FP33 into the PCI slot. This is one of those products that I can't find anything wrong with, and I can easily recommend it.
DragonSteelMods gives the SilverStone Fan Controller FP33 a 5 out of 5 score and our Recommended Award as well.
Pros:
-Very well made
-Can control up to six fans
-Two options for installation
-Looks great
Cons:
-none
I would like to thank SilverStone once again for the chance to review their products and for their continued support of DragonSteelMods.