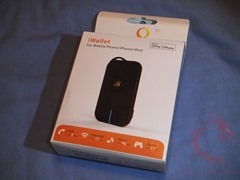 Our phones are getting more powerful and that means a lot of time the battery doesn't last all day so we need more power. Today for review I have the D8 iWallet which is a very portable 2000mAh battery pack that you can take with you to keep your mobile devices charged while on the go. Read on…
Tech Specs,Features or the Basic Info
The iWallet external battery is an Apple certified external battery pack. This external battery pack will power any device that charges via USB, including Apple brand products. "Made for iPhone" means that this battery has been designed to safely connect to iPhones, and has been certified by Apple to meet Apple's performance standards. It has successfully passed FCC, CE and ROHS testing.
Get powered up:
The D8 iWallet 2000mAh External Battery pack delivers 8 hours of extra talk time to your iPhone or other mobile phone. This equates to 46 hours of MP3 playback. The D8 2000mAh External Battery Parck is perfect for using when traveling or outdoor activities.
Compact:
The D8 iWallet external battery is designed to get you powered up, without getting in the way. With it's slim, compact design you can easily slip the D8 iWallet into your jeans or purse.
Compatible:
The iWallet charges your device via usb port making it extremely versatile. Whether you need to charge your smartphone, iPhone, iPad, PSP or any other USB connected device, the iWallet will meet your needs.
Popular Compatible Models:
Apple: iPhone 5S, iPhone 5 (OEM cable required) / iPhone 4S, 4, 3GS / iPod / iPad, iPad 2, iPad mini HTC: One X, S, V / Sensation, Sensation XE XL / EVO 4G / Radar 4G / Inspire 4G / Vivid 4G / Wildfire S / ThunderBolt / Incredible 2 S / Rezound / Desire X, C, V, HD, S, Z Samsung: Galaxy S4/ Galaxy S3 / Galaxy Note 2 / Galaxy S2 I9100 / Galaxy S I9000 / Verizon Galaxy S3 I535 / AT&T Galaxy S3 I747 / Sprint Galaxy S3 L710 / T-Mobile Galaxy S3 T999 / T-Mobile Galaxy S2 T989 / AT&T Galaxy S2 I777 / AT&T Galaxy S2 Skyrocket SGH-I727 / Galaxy Nexus / Galaxy Note / Focus S / Infuse Motorola: Droid Razr, Bionic / Atrix 2 / Triumph LG: Nexus 4, Optimus 4X, 2X, V, S, T, 3D, 7 Nokia: Lumia 920 900 710 800 / N8 / N9 Others: Blackberry Torch Curve 9900 9360 9320 / Sony Ericsson Xperia Arc S, X10 / PSP / Nook Color / MP3 MP4 MP5 / GoPro / Amazon Kindle, Kindle Fire
Price: $10.95 from Amazon at time of review
Video Review
Photo Gallery
review# 787
Disclosure: This product was given to DragonSteelMods for review by the company for review purposes only, and is not considered by us as payment for the review; we do not, never have, and never will, accept payment from companies to review their products.
To learn more about our review policy, testing methods and ratings please see this page.