So are you bored yet with that FPS game where you shoot and kill creatures and people? Are you looking for something different in a game? Maybe something reminiscent of games from years ago when they were just plain fun and addictive, like Mario Brothers, or Crash Bandicoot. Well for review today I have a game from South Winds Games that is just all that and more, it is called Dylo's Adventure, it has everything you love about games, action, drama, suspense and even a bit of fighting thrown in. Dylo's Adventure is just plain fun actually and very addictive, read on to learn more about this really cool game…
Dylo's Adventure PC Game
Reviewed by: Kristofer Brozio AkA Dracos
Sponsor: South Winds Games/ VGSmart
Tech Specs,Features or the Basic Info:
"Help Dylo to save the world! The future of life on Earth as we know is in danger!"
A game suitable for all ages, fun and challenging for both hardcore and casual players
Dylo is a cool dino who gets involved into the risky adventure of saving his prehistoric homeland from outer space invaders. Help him to take down the evil martians and their twisted plans!
Windows system requirements:
Windows 98, Me, 2K, XP
300 Mhz processor, 1ghz recommended
4Mb Video Card, 32Mb hardware accelerated recommended
64Mb ram, 128Mb recommended
DirectX 7.0 and a compatible Sound Card
Mac system requirements:
Mac OS X 10.3 or higher
450 MHz or higher PowerPC or Intel processor
128 MB of RAM
OpenGL-compatible graphics adapter
*Mac Version by Lemon Team*
Enjoy the action and endless entertainment, and dive into the great adventures delivered by our game!
Also features a 100% Satisfaction Guarantee- If you are not completely happy with your purchase we'll give your money back within 60 days of your purchase without asking questions.
A Better Look at Things
:
Since this is a downloadable game, I don't have any of the cool box shots for you to look at, but I do have some screen capture of the South Winds Games website for you to check out.
Dylo's Adventure is the first game for South Winds Games, and I think it is a pretty good one for a first game actually, it is a bit on the 'young' side but still very playable.
South Winds Games was founded by Juan Pablo Ferreyra; South Winds Games is a small company located in Argentina, focused on the creation of alternatives fun games. It opened its doors with the launch of its first game Dylo's Adventure on June 6 of 2006. As a company, it doesn't plan to conquer the world, just only your fun times. South Winds Games, To share adventures around the world!
While on the site, if we click the 'Games' button it takes us to Dylo's Adventure page, where we can click full details and learn more about Dylos' specs and features.
Continue on to the next section to learn more about Dylo's Adventure…
Installation, Testing and Comparison
Installation on Windows Xp is simple, just download the game and run the installer. We are greeted with a special installer for Dylo's Adventure, not just the plain old Windows installer. I also found that Dylo works fine on Windows Xp64 as well.
Once installed we can click the desktop icon and up pops the Dylo's Adventure Launcher where we can configure the games settings, and there is also a place to enter you registration code as well.
If we click the 'Enter Registration Code' box a smaller box pops up for use to enter the codes you received when you purchased the game. Once the code is entered, another screen will pop up and let you know that you have succeeded in the registration process. I like this style of copy protection much better than Star Force or the others out there, it is a lot less intrusive and possibly system damaging.
Once through that you can click the 'Play!' button and off we go to the main menu, from here there are a few options to choose from, you can play the game, select the user to use, options and exit. There was no big title screen or anything.
Clicking 'Options' take us to another menu with a few items to change, just sound and mucis volumes and the screen mode sizing. Dylo's Adventure is not a game that will tax your graphics card at all, but yet the graphics are very well done.
Going back to the main menu and clicking 'Play' we come to a screen where we have to input our name so the game knows which account to save your progress under, you can quit and select your name to continue where you left off before.
After entering your name, you are greeted with another menu that gives you the choice to start a new game, play the tutorial and change the difficulty settings.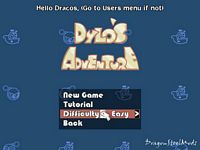 Of course I clicked the 'Tutorial' button because I wanted to know more about the game and how to play it. You can use the keyboard to play Dylo's Adventure, or you can use a joystick, I choose to use my Microsoft Sidewinder Gamepad to play Dylo.
Once you finish the tutorial you are greeted with a nice screen of congratulations where Dylo is giving you a thumbs up.
After completing every level you get to see a scorecard and see how well you did and what bonus things you found and earned.
Once past the tutorial the actual game starts, before you get into the game though,and between the area, there are storyboard style cut scenes to let you know what is going on in the game. In the first set we learn that the martians are here to take over Dylo's World….
After the cut scenes the game begins, during the game you have a status bar at the top left of the screen, a lives counter to the left of that, then the timer and finally on the far right there is your score. The download for Dylo only weighs in at 5.58MB, it is so small but yet the graphics are very well done. They look like a cartoon and the animation is very fluid.
If you die during the game, you get a 'Let's Try Again!' screen, and also the sun changes his expression to a frown, or surprise look.
Dylo does get weapons during the game, the first weapon you get is rocks, in the following screen capture you can see the bag of rocks over Dylos' head, you need to jump up and get them to use them. Later on in the game you get boomerangs to use, they go up and swing back down to you, which is nice to get the moving creatures that are in your way.
At the end of every round there is a sign labeled 'GOAL', that is where you need to get to finish the level obviously.
One of the first creatures you will encounter is a spider that climbs up and down the tree to try and get Dylo, the spider is back in the first screen shot, along with that are snails, dragonflys, and the farther you get into the game the more interesting things get. Once you get through the first area of the game another cut scene pops up and we learn that the martians are not happy that Dylo beat them, they are sending down reinforcements in the form of robots and martians to get in Dylo's path. There are also bosses as well at the end of each area that you need to beat to continue on.
Using the keyboard to play is fairly easy but I would highly recommend using the gampead as it makes life much easier.
The graphics and animation of Dylo are very well done, you can see from the screenshots that it does look a bit like a child's cartoon. It might look like a children's game but it is really fun to play, I found myself continuing to play just to see what kinds of creatures were going to pop up next.
The animation is very smooth, any computer can run Dylo's Adventure. I was running it with my 7800GTX so that was a bit of overkill I believe…..
Gampeplay is actually fun, it is easy to figure it out, there aren't many things to really do with Dylo, he only jumps, ducks and moves right or left, and of course throws things. Even on the easy setting I found Dylo a bit of a challenge as I progressed into the game further and further.
Summary:
In summary, Dylo's Adventure is a bit off the beaten path, it isn't something that everyone will get into, but it does bring back memories of sitting playing Sega or NES for hours at a time. If you have children that I suggest you get Dylo for them, and you'll enjoy it as well. Dylo has no blood and gore, just plain old fun for everyone. Actually Dylo's Adventure is a really cool and fun game, I found myself spending quite a bit of time playing it, I really expected it to be very childish, but it really isn't. It reminds me of older games on Sega and NES, sort or like Mario Brothers, it wasn't violent but yet it was fun and addictive, there is lots of jumping and running involved. Dylo is addictive if you just give it a chance, I can highly recommended going to the South Winds Games website and at least getting the Trial Version to see for yourself just how enjoyable Dylo really is. I really could not find anything wrong with this game, it is just plain fun!
DragonSteelMods gives Dylo's Adventure a 5 out of 5 score.
Pros:
-LOTS of fun
-Great graphics
-Cartoon like
-Easy to learn
Cons:
-NONE!!!
I would like to thank South Winds Games and VGSmart for the chance to review Dylo's Adventure.