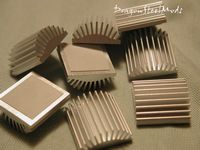 A cool ram chip is a happy ram chip, we all know this to be true of pretty much any other component as well in your system, they all like to be cool. Many options exist out there for cooling your ram chips, but today for review I have one such product for review today that works really well and looks great too, it is the JetArt Ram HeatSinks (CK5000). These heatsinks are massive compared to others on the market today and look to be able to cool very well if overall thermal transfer area counts for anything, which I think it does. Read on to learn more…
JetArt Ram HeatSinks (CK5000)
Reviewed by: Kristofer Brozio AkA Dracos
Sponsor: JetArt
Tech Specs,Features or the Basic Info:
RAM Module Cooler/RAM Heatsink
JetArt Ram HeatSinks
Model: CK5000
Description:
CK5000 is an universal RAM chip heatsink which is made of high conductive aluminum alloy. The unique radial shape design tremendously enhances their heat dissipation ability.
Applying with enclosed thermal tape, it helps to remove heat away from RAM chip fast and effectively. CK5000 is the coolest salvation to RAM chip!
Features:
-Unique Radial Shape Design
-Universal Compatibility
-Thermal Tape Included
Specifications:
-Dimensions 22 x 22 x 10 mm
-Material Aluminum Alloy
-Weight 6.5 g x 8 pcs
Accessories:
-Thermal Tape : 3M9448
A Better Look at Things
:
The packaging for the JetArt Ram HeatSinks is very colorful and the ram sinks are nicely displayed on the front for the package in a circular pattern.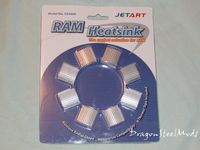 The back of the package has the same specs and features listed above along with the instruction for application which are very simple, just two steps involved.
The JetArt Ram HeatSinsk themselves are fairly large, larger than others I have seen and own. 3M Brand thermal tape is pre-applied and I'm happy to see actual 3M brand tape on there.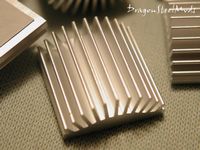 The JetArt Ram HeatSinks seem to be able to really pull the heat away from your ram chips as they are larger than others out there, more surface area usually means better cooling performance. The ram sinks are heavy and nicely crafted, they are well finished with no real machining marks, it seems care was taken in the quality control manufacturing process with these.
Installation, Testing and Comparison
Recently I reviewed the JetArt VGA cooler and for that I had to reinstall my stock heatsink on it, so after that review was over I went back to my VGA liquid cooling and thought this was the perfect time to use the JetArt Ram HeatSinks. I installed them on my 7800GTX video card, in the following picture you can see the difference between the JetArt Ram HeatSinks and another popular brand that is on the market today, that single purple one is on the VIVO chip of my card, you can see the size difference is huge.
Being that the JetArt Ram HeatSinks are so large I had to install them at various angle so they would not be touching other components on the video card, I wasn't taking any chances with a possible short with the card.
Well there really isn't a way to measure the temperatures on the ram chips, especially with the ram sinks in place, so I can't really give you any performance numbers, or temperature numbers.
I can say that I gained a 15Mhz memory overclock using the JetArt Ram HeatSinks compared the other name brand ramsinks I had on there before. 15 Mhz may not be a whole lot, but it's 15mhz faster than it was right? The memory on my 7800GTX does not like to overclock I have found out so 15mhz more is good for this particular card of mine.
Summary:
In closing the JetArt Ram HeatSinks do what they are supposed to do, they help cool your ram more effectively than others out there. I believe this is do to the massive size of the heatsinks themselves that provides more surface area for the heat to dissipate to more quickly. The JetArt Ram HeatSinks do add to the look of your video card as well, they really do stand out, especially if you have a window in your case. The only complaint, or improvement I might have about these is that the entire bottom of the heatsink should have been covered with the thermal tape so you could have just stuck them anywhere on your card without having to worry about shorting it out possibly, but that is not enough to warrant any penalty in this review.
DragonSteelMods gives the JetArt Ram Heatsinks (CK5000) a 5 out of 5 score.
Pros:
-Massive size
-Cools your ram
-Real 3M thermal tape
Cons:
-Entire bottom of heatsink not covered with thermal tape
I would like to once again thank JetArt for the chance to review their products.