I know what I want for Christmas!! Check these out, Gears of War Erector sets!! There's going to be four in total, the Armadillo, King Raven, Centaur Tank and Locusts vs Delta Squad battle set!  Price will range from $25 to $60  with 80 to 300 pieces in each set. Supposedly they're available right now at Toys R Us and their website. Full details below…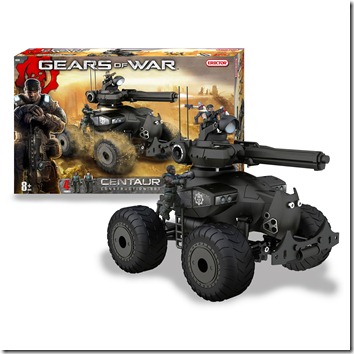 Fans of the Gears of War™ franchise will now be able to bring the game to life as they build model vehicles offered by Erector®, a division of Meccano®.  The brand is set to release four buildable models inspired by Microsoft's billion-dollar franchise, one of the most popular video games of all time.  The Gears of War Erector sets are available now exclusively at Toys 'R' Us and toysrus.com.

Enthusiasts can now build the most popular vehicles and recreate the Locusts vs. Delta Squad Battle with these highly detailed sets.  With the expertise of the iconic Erector brand, the precision construction and attention-to-detail will engage the older fans and collectors, while the easy-to-follow instructions and cool vehicle designs will make it a fun experience for younger fans who haven't yet played the video game.

"Erector's take on the Gears of War games brings the digital action to life," says Jeff McKinney, videogame editor for TimetoPlayMag.com.  "The toy collection offers the broader Gears of War audience an engaging element of positive construction play."

Unlike traditional Erector 'kits', these models are one-off builds recreating realistic sets from the Microsoft game:

C.O.G Armadillo – Designed for fast transportation, the C.O.G Armadillo features three rotating gun turrets, a trap door, six wheels and a mobile front tread.
C.O.G King Raven – This transportation and assault helicopter for the C.O.G army features rotating propellers, two mobile doors and retractable landing gear.
C.O.G Centaur Tank – This authentic C.O.G tank has a hood-mounted 360° rotating turret with a mobile cannon, four real-working large wheels and a mobile front tread.
Locusts vs Delta Squad Battle Set – Recreate a battle scene between the C.O.G Delta Squad and the Locusts, including a watchtower, tanks and crates. Then choose your side: the C.O.G. army with the Armadillo and enter the battle!

Ranging in price from $24.99 to $59.99, for ages 8+, the models feature 80 to 300 pieces and all models will include character figures, building instructions, stickers and tools.

"With its collection of futuristic vehicles, Gears of War gives us an opportunity to create a new dimension of construction play," says Florence Pilard, Meccano marketing communications manager. "This new collection gives Erector fans an outlet to play their favorite videogame, outside the digital realm."

More information can be found at http://www.gearsofwar.com.