I love Synology, they make some of the best NAS boxes on the market I think and they've just announced two new ones, the DS213air and DS2413+. Yes they are NAS boxes, good enough for home or business use, but what's special, at least about one of them, is that the DS213air is actually Synologys first NAS with built-in wireless capabilities which to me is rather exciting! Read on for full info and some pictures of the new NAS boxes.
The DS213air is designed for both home and small office use, and ships with Synology's DiskStation Manager (DSM) 4.1 operating system.  The integrated wireless adapter can be used to join an existing wireless network or even to create a new one by acting as a wireless hotspot.  The wireless hotspot allows for simplified file sharing without requiring additional hardware, making it an ideal solution for remote sites (such as construction sites).
DSM offers a suite of built-in applications and available packages to help users get the most from their systems.  Home and business users alike will appreciate the built-in backup capabilities, from Data Replicator 3 for Windows-based systems to support for Time Machine for Macs.
Capabilities include (but are not limited to):
•             The media server package allows for streaming photos, music, and videos to media players on the network
•             Cloud Station allows users to easily keep files in sync between laptops, workstations, iOS devices, and the DiskStation
•             Quick Connect allows sending direct download links to users without the need for port forwarding
•             Surveillance Station allows the DiskStation to quickly become a Network Video Recorder (NVR)
For more information about the DS213air, please see here:  http://www.synology.com/products/product.php?product_name=DS213air&lang=us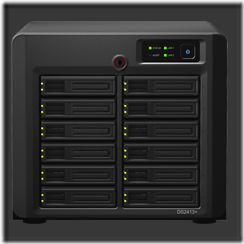 "The DS2413+ can easily scale its storage to keep pace with even the most prolific photographers," said Marivel Espinoza, Product Marketing Manager at Synology America Corp.  "Unlike other storage solutions aimed at photographers, this one offers excellent performance with Synology's well-known reliability, while remaining network attached, so there are no issues with proprietary connectors."
Sheer storage capacity aside, the DS2413+ ships with Synology's DiskStation Manager (DSM) 4.1.  DSM 4.1 brings a number of photographer-friendly features to the table.
•             Shared Folder Sync allows keeping folders in sync between DiskStations to minimize downtime
•             Support for both Mac and Windows backups
•             Photo Station allows for easily sharing photos
•             The Media Server package allows for streaming photos, videos, and music to DLNA-compliant televisions or media players
•             Synology's new Web Assistant makes it easier than ever to get started
Additionally, the DS2413+ is well-suited for business environments:
•             VAAI support for improved VMware support
•             LUN backup software included at no additional cost
•             ADS support for domains up to 100,000 users/groups
•             Time Backup package allows for point-in-time backups
For more information, please see here:   http://www.synology.com/us/solutions/photo_video/index.php