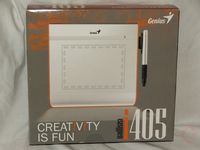 When it comes to input devices we've
got a lot of choices out there, especially when it comes to mice, but
there are other options for input, such as tablets, or graphics
tablets as they might be called. The graphics tablet is for much more
than drawing, they can be very handy for just generally making life
easier to do certain tasks, like presentations and hand signing a
document. When signing an electronic document without a pad, you'll
have to print it out, sign it then scan it back in and send it off to
wherever it needs to go, with a tablet though you can just edit the
document, sign it with the tablet and save it, very easy. The main
use is of course for drawing, nothing beats a tablet really when it
comes to creating or drawing a picture on your computer, a mouse just
really doesn't cut it most of the time. Another great use for a
tablet is for presentations, a tablet allows you to draw on the
screen, you can highlight, circle, underline or write on your
document, desktop or picture and it can be permanent or just
temporary as a type of overlay.
Up on the review block today I've got
the Genius EasyPen i405 4" x 5.5" Graphic Tablet, and by the
dimensions we see there it's pretty small, but that doesn't mean it's
not useful and a fairly decent product. The EasyPen i405 works well,
and includes a nice suite of software that can be useful to anyone
for personal or business related applications. The pad itself
features 28 programmable function keys and the pen has two buttons
that can act just like your mouse buttons, so you could replace your
mouse with the pen if need be. So read on to learn more about the
EasyPen i405…
Product
Name: Genius
EasyPen i405 4" x 5.5" Graphics Tablet
Author: Kristofer Brozio
Sponsor: Genius
Tech
Specs,Features or the Basic Info:
Genius
EasyPen i405 4" x 5.5" Graphic Tablet
EasyPen i405
4" x 5.5" graphic tablet
for painting & drawing
Now here's a simple, easy, and
fun way to show your creativity. The new EasyPen i405 from Genius
allows you to freely express yourself on your computer by simply
touching the pen tip to the tablet. The 4" x 5.5" working area
with the cordless pen is great for Windows and MAC users to write,
draw, sketch or sign emails. Using EasyPen i405 gives you more
convenience and is easier to control compared to a mouse. The cursor
moves precisely where you position the pen.
Just click the pen on any of
the 28 programmable shortcut keys for instant access to Office and
Internet functions. You just need to barely touch the pen to start a
funciton, it features two buttons and 1024 level pressure sensitivity
for thickness during drawing or writing. You can store the pen in the
clip on the right and this makes it easy to carry and store.
Touch up digital photos, draw
by hand, create artwork and paintings, and even write in your own
handwriting, EasyPen i405 has all these options at your disposal.
Just ask your salesperson how you can pick this device up.
Key features:
-4" x 5.5" working area for
drawing and handwriting
-1024-level pressure
sensitivity for all shapes and thickness control
-Make handwriting
notes/drawings efficiently in email, MSN, documents, or any
application program
-Vista plug and play;
handwriting recognition compatible, pen flicks, digital inking in
Office and snapping functions for convenient operation
Specs:
Interface support: USB
System support: Windows
Vista/XP/2000, MAC OS 10.3.5+
Active area: 4" x 5.5"
Resolution: 2540 LPI
Report rate: 100 RPS
Pen pressure: 1024 Levels
Programmable keys: 28
Price: $79
A
Better Look at Things:
The EasyPen i405 comes in two
boxes, well really a slip cover and a box inside of that.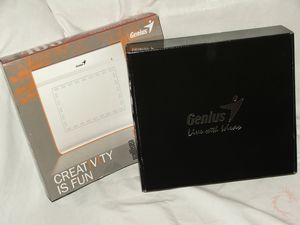 Inside we find the tablet packaged
well. Along with the tablet we find user manual, software/driver
disc, stylus, and extra tips and even a battery for use with the
stylus.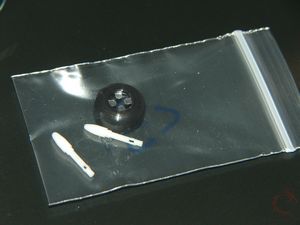 The pen or stylus itself is fairly
large, a bit fatter than a Sharpie but a bit shorter. The end, or
finger grip, is rubberized with two buttons in it that can be used
just like mouse buttons. IT comes apart easily to put the battery in.
The tablet isn't as small as the
measurements in its name, it's a bit larger actually, being taken up
by the border of the tablet. The bottom is orange in color and does
have four rubber feet to keep the tablet in place on your desk.
There's also a rubber tab on the side where you can clip the pen when
not in use.
The working area of the tablet is
surrounded by ovals that are used as hot keys. The cover is clear and
can lift up for you can trace through it or use a template so you
know what all of the buttons are for.
Installation
and Testing:
Installation is easy, just plug it
in and go, I used it with Windows Vista and it worked fine without
installing anything else. Though if you want to get the full
functionality of the EasyPen i405 then I'd highly recommend
installing the accompanying software on the CD, which I did of
course.
After you install the software and
plug it in, there will be two icons in your taskbar, one for Pen
Settings and one for Pen Flicks.
There are five choices in the
settings, Info, Button, Scope, Hot Cells and Pressure. They're pretty
much self-explanatory once you click the tabs. Hot Cells are for the
programmable buttons that surround the pad area, and the Scope is
dimensions of the board or your desktop, you can configure it however
you like.
The second icon is Pen and Input
Options, the first two tabs are Pen Options and Pointer Options,
while the third is Pen Flicks. Pen Flicks are just that, flicks of
the pen can be programmed to do certain things like Up, Down, Back
and Forward in your browser, you can navigate just with a flick of
the pen. Personally I didn't find them very useful, but they're an
interesting way to navigate, and you can customize them as well.
Obviously one of the main features
of a tablet is handwriting and handwriting recognition, the Easypen
i405 does this fairly well, of course it will need to be 'trained'
like any other tablet will. It works well for this application, but
again it takes a bit of practice to get the recognition perfect, this
is common with all tablets.
Included software includes Pen
Notice, Pen Mail and Pen Signer.
Pen Mail is the option to actually
handwrite and send an email to someone:
Pen Notice is actually a fairly
cool little app, it puts a very small icon taskbar on your screen,
from there you can turn your entire desktop into a white board or
just write all over your current desktop or whatever else you have on
the screen and save it as is, or erase it and start all over again.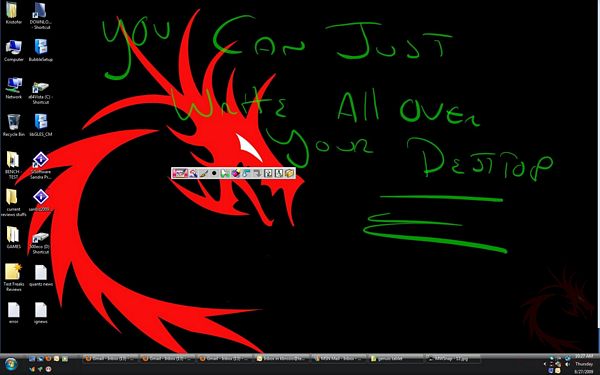 I work with three LCD monitors,
two 20" and one 22" and I found that the EasyPen i405 works
across all of them by default, which is something that I like very
much, other pads I've tested didn't do it by default or they just
only worked with the main monitor.
Overall the EasyPen i405 does work
very well, but I've got a few small complaints about it that are
worth mentioning.
The size of the tablet is the
first thing, the tablet is rather large compared to the actual
working surface area, while this is nice for a palm or wrist rest, I
would personally rather utilize all of the space of just make the pad
smaller. The size of the pad is small enough to be portable, but
smaller is always better.
Next up is the actual pen, it's
big, a bit too big to actually be comfortable to use, especially for
writing. Here's a comparison picture for you of the EasyPen i405
stylus and regular pen, mechanical lead pencil and a Sharpie.
The stylus is comparable to the
Sharpie, I personally don't write a whole lot with a Sharpie, and I
don't know many people who do. A pen should be thin and lightweight
really, but the stylus is just too fat to be used comfortably, at
least for me.
The last complaint is that the pad
seems overly sensitive at times, many times the pointer will just
jump across the screen, you can hover over the pad and the movement
will be picked up, while it's nice that it's sensitive, there is such
a thing as too sensitive.
Summary
and Comments:
The EasyPen i405 is really not a
bad products overall, but tablet are subjective things, it all
depends on the end user, what I like or don't like can be exactly the
opposite of someone else's likes and dislikes.
The i405 is easy to use, and it
features some great software that most anyone will find useful in
their daily lives be it for working or play. It's small and
lightweight making it portable as well so you can easily toss it in
your bag and take it with you if need be.
DragonSteelMods gives the Genius
EasyPen i405 4" x 5.5" Graphic Tablet a 4 out of 5 score.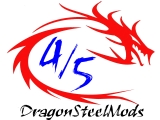 Pros:
+Inexpensive
+Very sensitive
+Easy to use
+Small and portable
+Works across multiple monitors
+Lots of software included
Cons:
-Can be overly sensitive
-Big pad, small work area
-Overly large pen
I
would like to thank Genius for the chance to review the EasyPen
i405 4" x 5.5" Graphic Tablet and for their support of DSM.
review#603