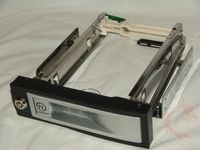 Hard drive racks are something that
many people associate with servers or primarily business related
applications, but they're much more useful than most people know.
Personally I've used an HDD racks for a few years now as I like the
ability to swap my hard drives out as need be. At this point in time
I'm so accustomed to using them, I couldn't live without one. In my
setup I use the rack for my operating system drive, I've got separate
HDDs with Windows 7, Vista, Xp and Linux on them, to use a different
operating system I just swap the hard drives out to whichever I need
to access or use. This makes my life easy, and it keeps everything
separate for me. It works basically like a cartridge, pop it out then
pop the new one in, simple and easy and I'm ready to go. The one I've
got doesn't use a tray as like most others do, all you do is stick
the hard drive in and you're done, which in itself is very nice, no
extra trays to buy for all of your HDDs, no worry about losing screws
for the trays etc, overall it's just an excellent feature not having
to use the tray.
Today for review I've got the
Thermaltake Max4 3.5″ SATA HDD Rack which is the kind of rack
that I prefer, it does not use a tray, all you do is put the hard
drive in, close the door and you're done. The Max4 isn't really
fancy, no LCD display on it, no built-in cooling fan, it's basic and
simple, which is nice as you don't have to worry about parts breaking
down or failing on you. Though since it doesn't have a fan one might
worry about its ability to keep your hard drive cool, you don't have
to, I've found that it works just as well as a rack that does have a
fan built in. Read on to learn more about an excellent choice for an
HDD rack that's simple and easy to use…
Product
Name: Thermaltake
Max4 3.5″ SATA HDD Rack
Author: Kristofer Brozio
Sponsor: Thermaltake
Tech
Specs,Features or the Basic Info:
Price: $29.99
P/N: N0023SN
Features:
-Fully supports hot-swap and
hot-plug
-Tool-free for easy HDD
installation
-Patent Design SATA connector
-Fits in standard 5.25" drive
bay
-Application for 3.5" SATA
HDD
-Durable stainless body
structure
-Transfer speeds up to 3Gbps
-Security key lock
-Front panel cooling vent
design
-Dual LED indicator for power
and disk activity
-Unique Patented Connector
The connector is protecting
Hard Disk from damage or scratches when processing hot-swap. The
Certified Lab House has approved it can exceed 50,000 times
insert/eject Hard Disk movements.
Guaranty the HDD working well
after 50,000 hot swap cycles
Specs:
Enclosure Interface: SATA
Transfer Rate: Up to 3Gbps
HDD Compatible: SATA I / SATA
II
HDD Capacity: 3.5" SATA HDD
up to 2TB
OS Compatible: Windows Vista /
XP / 2003 / 2000 / NT / 98 / 95 Mac 10.3 and later
Material: Stainless &
Plastic
Power: 4-pin Molex Power
Connector
Dimension: 184 (L) x 149 (W) x
42 (H) mm / 7.24 (L) x 5.87 (W) x 1.65 (H) in
Accessory:
-SATA & power management
cable
-Security keys
Weight: 470 g
A
Better Look at Things:
As usual we'll start off with the
packaging, it's nicely done, simple yet informative. Inside we find
the rack and its accessories packed well.
Included with the rack is an SATA
cable, screws, set of keys, user manual and a Molex to SATA power
cable that has a special two-pin connector on it for use with the
Max4.
The Max4 rack itself is nicely
made, and rather stylish looking with a silver and black colored
front bezel. The bezel and backplane are plastic while the rest of
the housing is metal. The rack is also an open air design, meaning
that it's not built like an optical drive like most other racks are,
in other words it's not closed all around.
The front features two LED lights
underneath the lock, one for power and one for hard drive activity.
There's also ventilation slits in the front of the door to allow for
air circulation.
On the inside you'll find an
ejection system in the form of a metal bar that pushes the hard drive
out as you open the front door, it's a nice system that makes
removing the drive that much easier.
Also on the inside you'll find the
standard SATA power and data connection, but this one isn't quite
standard, it's guaranteed over 50,000 swap cycles. That means you can
put a hard drive in and take it out over 50,00 times before it might
fail, I think that's pretty good. That's a whole lot of swapping…
Installation,
Testing and Comparison:
There's not much to the
installation, the Max4 3.5" Rack installs just as any 5.25"
device would.
Here it is installed in my case, a
Cooler Master Cosmos Black Label Edition:
You'll
notice I've got another HDD rack at the top of my case that's a bit
different than the Max4, that one is an IcyDock
MB672SKGF rack
that includes a cooling fan and a nice little LCD display. With the
Max4 I was very curious as to how well it would keep my hard drive
cool since it doesn't have a fan built into it, so I checked the
temperatures of each drive and surprisingly they were the same. Now
they are two different drives, one is a Samsung and the other I stuck
in there was a Hitachi, so there's bound to be differences in the
temperature sensors, but still they should be fairly accurate. Having
the same reading for both is rather interesting, it shows that either
the sensors are off or that the Thermaltake with no fan cools just as
well as the IcyDock that does have a fan. Even if they both were a
couple degrees off in accuracy, they would still be close in
temperature really so that just goes to show that the Max4 works
well.
I think the main reason it cools
well is that the Max4 rack features an open air design, while the
IcyDock resembles an optical drive with top, bottom and sides closed
off. The open air design allows the heat to dissipate easily from the
hard drive, which is of course something that you want to happen.
I do have two small complaints or
gripes or maybe even improvement suggestions about the Max4.
The first would be that the key
does not power the unit off, then again neither does the key with the
IcyDock rack, but it would be a useful feature to have.
The second complaint would be that
you must use the included power connector if you want the
power/activity light to work. It's not a big deal really, but it is
nice to see the light there to be reassured that the unit is powered
on and working. The cable is essentially a Molex to SATA power
adapter that has a shorter two pin connector that splits off of it to
connect to the Max4, you have to use this adapter if you want to see
the indicator light. For me, I've moved to all SATA connections in my
system for the hard drives and optical drives, so I had to pull a
Molex out of hiding to get this to work for me, not that big of a
deal, just a minute or two of extra work.
You might wonder about speed
differences between a direct SATA connection and having it connected
through the rack, well, there is none.
Despite the little things, I
really like this product, and it will remain in my system as a very
valuable piece of equipment for me.
Summary
and Comments:
The Thermaltake Max4 3.5" HDD
Rack is something that I can easily recommend to most anyone that
utilizes multiple hard drives in their PC systems.
Even if you're not using it for
business as I do, it makes life much easier when using multiple hard
drives, you don't have install hard drives in your system if you
don't want them in there running all of the time. For my uses it
makes a lot of sense to have one of these in my system, but even for
the average person you could use it with a couple drives for extra
storage or even a backup drive. You can pop the drive in, perform
your backup then put the drive away for safe keeping.
It also works very well for
transporting large amounts of data around as well, I use these in
conjunction with hard drive enclosures, it's much faster to transfer
the data via SATA than it is via USB. Sure you could argue about just
using eSATA, but not all computers are equipped with eSATA
connections after all. After the data is transferred, just put the
drive in the enclosure and take it where you need to go, at least
half of your transfer will be much faster…
DragonSteelMods gives the
Thermaltake Max4 3.5″ SATA HDD Rack 4.5 out of 5 score and our
Recommended Award as well.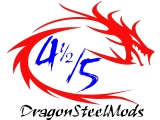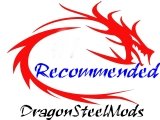 Pros:
+Keeps drive cool
+Very easy to use
+Works perfectly
+Well made
+Keyed lock for security
Cons:
-Key does not power off
-Must use included connector for
indicator lights
I
would like to thank Thermaltake for the chance to review the Max4
3.5" HDD Rack and for their continued support of DSM.
review# 604