Today for review I have another product from our friends at USBGeek, this product is indeed a very useful one. A plethora of devices these days use USB connections to connect to interface with your computer, but there are times when the cables just aren't long enough. You might want to plug in a USB thumbdrive and hate the idea of reaching around to the back of your computer to do so if you don't have available USB ports on the front. That's where the Illuminated USB 2.0 Extension Cables from USBGeek come in, these cable not only add length but bright colors to your desktop environment, and even come with a couple adapters as well. So, read on to check out these cool cables…
Illuminated USB 2.0 Extension Cables from USBGeek
Reviewed by: Kristofer Brozio AkA Dracos
Sponsor: USBGeek
Tech Specs,Features or the Basic Info:
Illuminated USB 2.0 Extension Cables from USBGeek
Features :
USB Male-Female cable.
Support Hi-Speed (480Mbps) USB 2.0 Data Transfer Rate.
LED Connectors at ends light when properly connected.
PC and Mac Compatible
Cable length: 150 cm
Contents :
Red LED Cable
Blue LED Cable
Green LED Cable
AM to BM connector
AM to mini 5 pin connector

Find tons more USB cables at ShopZilla!

A Better Look at Things
:
Ah the dreaded sealed plastic clamshell packaging, how we just love that stuff here at DSM… anyway, yep the Illuminated USB cables come in the wonderful sealed plastic clamshell that needs to be cut open with some sort of sharp object… Through the front of the package we can plainly see the USB adapters and the male ends of the USB cables themselves.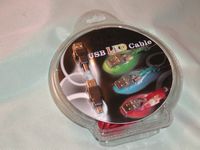 On the back of the package you can see the specs and features listed and the rest of the USB Cables.
Slicing the package open with my handy Leatherman, I can get at the contents easily, the USB cables are neatly tied with twist-ties and we can get a better look at them and the two included USB adapters. The two adapter that are included are the most commonly seen ones used on cameras and printers usually, but can be found on many other types of devices as well.
The cables themselves are very long measuring at 150cm, or just a hair under five feet long, more than long enough to reach most anywhere a USB connection is needed to and from.
Each cable has a standard male and female USB end, and embedded inside the end caps are LEDs, the color of the cable sleeving indicates the color the LEDs will be.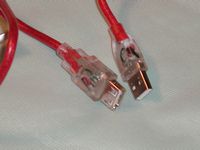 The cables themselves seem to be very sturdy with plastic sleeving covering the shielded USB cables underneath. The cables are fairly stiff, but yet remain flexible enough to maneuver them around where need be. The plastic ends with the LEDs inside are thick and solid rubber boot that allows them to be flexible yet sturdy and protect the connections and LEDs inside of them.

Find tons more USB cables at ShopZilla!

Installation, Testing and Comparison
Well there's not much to say about the installation process, if you can plug in a USB connection you can use these. When you plug them in they light up instantly and they are very bright, if you've ever been trying to find a USB cable in the dark and had trouble, you won't with these.
The Illuminated USB Cables from USBGeek work very well, I ran some speed tests and found no difference between using them and plugging directly into a USB port.
These cables will really add a bit of something to your workspace and you'll never have to hunt for a cable again, they stand out very brightly on any background.
The blue cable is not quite blue, it is more of a purple, at least the female end is anyway, but that's not a big deal at all.
Well there's not much more to say about these, except that I like them a lot, I don't know about you but I can always use an extra USB extension… the included USB adapters are an added bonus, you could easily pay $13 just for the two adapters, but you get the three lighted USB extension cables and the adapters for only $13.00, a very good price for a quality product.
On a side note you can connect them together to make a longer USB cable if need be, though I believe if you go over ten feet in length the signal will start to degrade, so you can use two of them together or with other existing devices and cables if need be.

Find tons more USB cables at ShopZilla!

Summary:
I like getting products like these for review, it's easy to review such a simple and great little product. What could possibly be wrong with them? Nothing at all… If you need some cool USB Extension cables that includes a couple commonly used USB adapters for a very low price then here they are, go on over to USBGeek and order them, I can easily recommend these to anyone, I like them and so will you…
DragonSteelMods gives the Illuminated USB 2.0 Extension Cables from USBGeek a 5 out of 5 score and our Recommended Award as well.
Pros:
-Brightly colored
-Long lengths
-Very useful
-Extra adapters included
-Low price
Cons:
-None
I would like to thank USBGeek for the chance to review the Illuminated USB 2.0 Extension Cables and for their support of DSM.

Find tons more USB cables at ShopZilla!