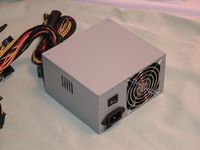 With all the chatter about global warming, and everything else related to it it's nice to see companies like Antec jumping in and doing their part for the environment. Today for review I have one of Antecs' EarthWatts 'Green' power supplies, the 500Watt version to be exact. In the past I've reviewed many of Antecs' products and they have become a favorite company of mine because of the excellent quality and performance of their products, and the new EarthWatts PSU lineup in no different, it is an exceptional example of Antec quality. So, continue on to learn more…
Antec EarthWatts 500Watt PSU
Reviewed by: Kristofer Brozio AkA Dracos
Sponsor: Antec
Tech Specs,Features or the Basic Info:
EarthWatts, the most environmentally friendly Power Supply yet.
Do your part for the environment with EarthWatts power supplies. The earth is our most valuable resource and protecting and preserving it for future generations is of utmost importance. EarthWatts is available in three highly efficient models—380 Watt, 430 Watt, and 500 Watt—and are all 80 PLUS® certified, the newest standard in power supply efficiency. And that means that using EarthWatts will save you money on your electrical bill. Fully equipped with universal input, EarthWatts automatically works on any power grid in the world. And the built-in Active PFC makes EarthWatts the ideal way to reduce electrical waste and protect the environment.
Features:
80mm low noise cooling fan
Dual 12V outputs: 12V2 for Motherboard and peripherals; 12V1 for processor
Industrial-grade protection circuitry prevents damage resulting from short circuits, power overloads,
over voltage, and under voltage
80 PLUS® certified
4 SATA connectors
PCI-E connector: one for 380W and 430W, two for 500W
Safety approvals: UL, CUL, FCC, TÜV, CE, CB, C-tick, CCC
Universal input
Active Power Factor Correction (PFC)
PF value up to 99%
AQ3 Antec Quality three-year parts and labor warranty
FEATURES

Switches

ATX Logic on-off
Additional power rocker switch
115/230 Volt selector switch

Maximum Power

500W

Transient Response

+5V,+12V and 3.3V outputs return to within 5% in less than 1ms for 20% load change.

P. G. Signal

100-500ms

Over Voltage Protection
recycle AC to reset

+5V trip point < +6.2V
+3.3V trip point < +4.1V
+12V trip point < +14.3V

Special Connectors

ATX12V
SATA
PCI Express

Leakage Current

<3.5mA @ 115VAC

DIMENSIONS

Unit Size

5.9"(W) x 3.4"(H) x 6.1"(D)
14.9cm (W)x 8.5cm (H) x 15.8cm (D)

Net Weight

5lbs.2.3kg

OUTPUT

+5V

+12V1

+12V2

+3.3V

-12V

+5Vsb

Max. Load

20A

17A

17A

20A

0.8A

2.5A

Min. Load

0.5A

1A

1A

0.5A

0A

0A

Load Reg.

±3%

±3%

±3%

±3%

±5%

±5%

Ripple
m(p-p)

50

120

120

50

120

50

* Total: +12V output: 34A
* +5V and +3.3V combined output: 34.2A

INPUT

Input Voltage

115 VAC / 230VAC

Input Frequency Range

60Hz/50Hz

Inrush Current

640A @ 115V , 100A @ 230V

Input Current

12A @ 115V, 6A @ 230V

Hold-up Time

20ms at full load

Efficiency

up to 85%

EMI/RFI

FCC Class B

ENVIRONMENTAL

Operating Temp.

10°C to 50°C

Operating Alt.

Sea Level-10,000 ft

MTBF

80,000 hours at 25'C

Safety Approval

TUV, UL, CUL, CE, CB, FCC, C-Tick, CCC
The average price is around $80 depending where you look, but the lowest I found was:
A Better Look at Things
:
The packaging is very well done, nice and professional looking, although the PSU on the front of the box looks really big, guess it's the angle…
The back and sides of the box list all the specs and features of the Antec EarthWatts 500Watt PSU, like any good product should.
Being it's an EarthWatts PSU, I didn't expect to find any styrofoam packing material in the box, and I didn't. Antec uses cardboard for padding and the PSU itself is wrapped in plastic for further protection… Wonder if it's recycled plastic?!?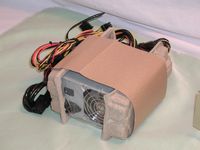 Along with the PSU we also find mounting screws, main power cable and the user's manual.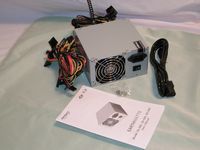 A Better Look at Things
:
There's nothing flashy about the Antec EarthWatts power supply, just a basic flat gray finish, one side sports the '80Plus' seal and the specs label.
The front of the PSU is entirely a ventilation grill, the small squares that we've seen on other Antec PSUs.
The back of course has the main power connector, i/o rocker switch and 80mm cooling fan that is temperature controlled by the EarthWatts PSU itself. You'll notice also on the side there are a few more ventilation slits as well.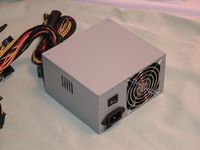 The Antec EarthWatts PSU has lots of connectors, only the 500Watt version though has dual PCIE connections. The cables are long enough for pretty much any installation configuration. At the moment this PSU is not on Nvidias' SLI-Certified list, but most other Antec brand PSU's are, and I don't foresee any problem running SLI with it, at least on older cards, not sure if it could handle dual 8800's though.
Of course I have to crack it open and check it out, once open we find there's a lot of room in there for air to move around. The middle heatsink is directly in the middle of the fan and it essentially splits the airflow across the components and out the back. One of the heatsinks though sort of blocks the airflow to one side of the PSU, but it's mostly wires and small caps over there anyway.
Installation, Testing and Comparison
I installed the Antec EarthWatts 500Watt PSU in an Antec Nine Hundred gamer case (review soon) with my Intel setup in it which consists of:
Intel P4X 955 (cooled by Noctua)
Asus p5wd2-e premium mobo
2 gigs Crucial 10th Anniversary ram
Connect3d X1800GTO vid card
1 HDD
1 DVD/rw
3 120mm case fans
I found no problems with installation, the wires were of sufficient length and reached everywhere fine.
During my testing I did find the Antec to be nice and quiet while not under any load and under partial load, but it did become audible while under full load, but once the X1800GTOs fan kicked in it drowned it out.
Since this is a dual core CPU I decided to run 3dMark05 and Prime95 at the same time to get a nice load on the entire system, and I found the Antec EarthWatts more than capable of handling it with good stability overall. Of course to get my measurements I used a multimeter, and not the software reporting, I've found the software reporting to be quite a bit off when reporting voltages.
Idle:
5v – 5v
12v – 12.19v
Load:
5v – 5v
12v – 12.16v-12.17v
While the 12v line did fluctuate a bit at first it stabilized at 12.17v for the duration of testing, overall I am very happy with the stability and performance of the Antec EarthWatts.
I ran my tests on the Intel setup, but I did decide to later move the Antec Nine Hundred case and the EarthWatts to my main rig which has two BFG 7900GT OC cards in SLI setup, the EarthWatts handles them nicely, I'm happy to report, but I didn't keep it the EarthWatts in my main system as I like my system to be as quiet as possible, so its home is in the Intel setup.
Summary:
Well, it's Antec and it's stable under load, what more can be said? Seriously though, the EarthWatts is a great PSU that anyone would be happy with to have powering their system, while it might not be flashy it does get the job done, and does it efficiently and with stability. Having the 80Plus certification, Active PFC , and RoHS all combine to make a great PSU.
DragonSteelMods gives the Antec EarthWatts 500Watt PSU a 4.5 out of 5 score.
Pros:
-Stable
-Efficient
-Small size
-Lots of connectors
Cons:
-Not exactly silent under load…
I would like to thank Antec for the chance to review the EarthWatts PSU and for their continued support of DSM.