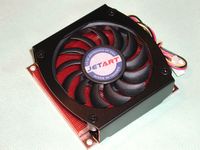 We have many, many choices when it comes to selecting a CPU cooler to replace the stock cooler, some are huge and have lights and big fans. Today for review I have one from JetArt that is actually really small, and rather unobtrusive, not flashy but yet gets the job done quietly. It is called the SL1600 Slim CPU Cooler, this CPU cooler, as the name suggests, is small and thin. It is made entirely of copper and fits the LGA775 platform. This CPU cooler would be perfect for those SFF cases or just for someone who wants a quiet, small CPU cooler that performs better than stock. Read on to check it out and see what I learned…
Jetart SL1600 Slim CPU Cooler
Reviewed by: Kristofer Brozio AkA Dracos
Sponsor: JetArt
Tech Specs,Features or the Basic Info:
Product Name SL1600 Slim CPU Cooler
LGA 775 CPU Cooler (Low profile)
Specifications:
Cooler Dimensions 82.0 x 80.8 x 25.5 mm
Fan Dimensions 70.0 x 70.0 x 10.0 mm
Heatsink Dimensions: 78.5 x 80.0 x 12.5 mm
Heatsink Material: full copper, C1100
Bearing Type: Ball Bearing
Weight: 366 gm
Accessories :
Thermal Grease, 1pc
Find Deals on CPU Coolers at ShopZilla!

A Better Look at Things
:
Since the SL1600 Slim CPU Cooler is more for OEMs and 1U solutions, it doesn't come in a fancy box like other products, just a plain white box with an identifying label on it.
It is packaged very well with lots of bubble wrap and plastic spaces.
Included with the SL1600 is the LGA775 backplate, mounting screws and a pack of thermal grease.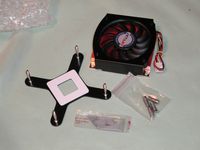 The SL1600 is not very flashy, but being all copper it does make it look very good, I've always liked the look of solid copper. The fan is attached with a shroud, and the fan is the type with the curved blades to promote optimum airflow.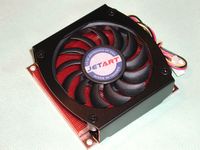 Taking a look at the SL1600 from the side we can really see just how thin it is, the fan is only 10mm thick, while the heatsink is 12.5mm thick, it total it is 25.5mm thick. Nice and thin, this CPU cooler will not have any trouble fitting in the smallest cases out there.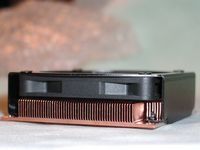 The base comes covered with protective plastic, and the base appears to be one solid piece of copper for optimum heat transfer.
Taking a nice close look at the base we can see it isn't quite the mirror finish but still very good nonetheless. The base is flat and very smooth to the touch.
Overall the SL1600 makes a very nice presentation, it might not be flashy like others out there but I think it still looks very cool. I wasn't quite sure of the cooling performance of such a small CPU cooler, but we will find out how it does in the next section, so continue on to see the results of my tests.
Find Deals on CPU Coolers at ShopZilla!

Installation, Testing and Comparison
Installation is fairly easy, but it is always a pain when you have to take the mobo from the case to install a CPU cooler, so that is something to keep in mind. All you have to do is slip the backplate through the holes on the mobo, apply thermal grease, seat the SL1600 and tighten the spring loaded screws to complete the installation. The CPU installation itself take about five minutes, it's the removing the mobo and re-installing everything that takes all the time.
The first thing I noticed, and that what really surprised me was that it is quieter than the Intel stock CPU cooler. I really expected it to be loud, and annoying, but it wasn't even under load.
For testing I am using my ASUS P5WD2-E Premium motherboard with an Intel P4 Cedar Mill 631 CPU running at stock of 3.0Ghz. Ambient temperature during testing was approximately 25C, idle temperature was measured after letting the system sit idle for approximately 30 minutes, while load was achieved running Prime 95 for the same time duration.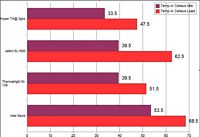 We can see from the tests results that it easily blows the Intel stock CPU cooler away, while at idle keeping up with the Thermalright SI-128. Of course at load the SL1600 Slim CPU Cooler, does loose out the the other performance CPU coolers but still fairs much better than the Intel Stock cooler, and is much quieter as well.
Honestly I was a bit worried that the SL1600 could not handle the heat at load being that it is so thin, but surprisingly it works very well. I would have to assume that this is because it is one solid block of copper, and that helps to transfer the heat more effectively. I'm very happy with the performance of the SL1600. The only complaint I could have is that there is no fan grill, call it a pet peeve of mine, but I feel all fans should have grills on them, I've had wires get caught in my fans and it's not a pretty sight at all.
Be on the look out for my review of the JetArt SL1800 Slim CPU Cooler coming soon, it is basically the same as this one but only a bit bigger, we'll see if size does matter…
Find Deals on CPU Coolers at ShopZilla!

Summary:
As I mentioned I was pleasantly surprised by the performance of the SL1600, being so small but yet able to effectively cool the CPU is very good. This CPU cooler could be perfect for those with SFF cases, or any case where room is at a minimum. AS you saw from the temps the SL1600 does a very good job at keeping my CPU cool, and it does so quietly…
DragonSteelMods gives the Jetart SL1600 Slim CPU Cooler a 5 out of 5 score
Pros:
-Great performance
-Relatively quiet
-Very small in size
-Solid copper
Cons:
-No fan grill
I would like to thank JetArt for the chance to review the SL1600 Slim CPU Cooler and for their continued support of DSM.
Find Deals on CPU Coolers at ShopZilla!