I love little gadgets, and I have a
fondness for flashlights for some reason.. I got the Gorillatorch
for review a while ago and I've found it to be one of the most useful
products I've ever got for review. Joby has introduced another
Gorillatorch though called the Gorillatorch Flare, that is similar to
the original but offers a brighter beam with three levels of
brightness and a strobe. In addition to the standard white light
though included is a red light, that's kind of where the name flare
comes from. The red light can be solid or strobe only. The
Gorillatorch Flare has legs that are flexible to wrap around anything
but it also has magnetic feet so it sticks to many surfaces giving it
the ability to get light exactly where you need it.
Product
Name: Joby
Gorillatorch Flare
Author: Kristofer Brozio
Sponsor: Joby
Tech
Specs,Features or the Basic Info:
The most flexible and adaptable
hands-free flashlight is now even more versatile!
Equipped with both white and
red LED lights, the Gorillatorch Flare combines a powerful emergency
signal and an ultra-functional worklight into one compact flashlight.
Advanced lights and lighting
settings
One 100-lumen ultra-bright
white CREE LED, three red LEDs, and six light settings let you choose
the optimal beam for any situation.
Flexible, wrappable legs
Over two dozen leg joints that
bend and rotate 360° securely attach your Gorillatorch Flare to just
about anything; illuminate your target while keeping your hands free.
Powerful magnetic feet
Each foot contains a very
strong neodymium magnet, ensuring a solid hold on any magnetic
surface.
Drop resistant
Gorillatorch Flare has been
tested to sustain drops of up to 2 meters (6 feet).
Focused projection lens
The Gorillatorch Flare delivers
a powerful, smooth, and even beam, making it a wonderful work light.
Water resistant
Certified IPX5 Water Resistant,
the Gorillatorch Flare stays bright no matter how hard it rains.
Compact and lightweight
An ultra-adaptable form factor
enables you to stow the Gorillatorch Flare anywhere from your trunk
to your backpack. Even the refrigerator door makes a good habitat for
this little guy.
Easy to find battery size
The Gorillatorch Flare uses 3
AA batteries. (Batteries included in USA, but not internationally due
to regulatory restrictions)
Materials:
Legs and flashlight housing:
* Tough ABS plastic
* Durable TPE grip rings
* Super powerful neodymium
magnets
Flashlight:
* Ultra-bright white CREE LED
* 3 powerful red LEDs
* High quality reflector optics
* Polycarbonate lens
Brightness: 100 lumens
Battery: 3 x AA batteries
Size: 20 × 7.5 × 6.5cm (5.5cm
diameter bezel)
Weight: 185g (6.5oz) (including
batteries)
Price: $34.95
Price
$34.00 (From Amazon at time of review)
A
Better Look at Things:
The Gorillatorch Flare comes in a
plastic package, inside you'll see it wrapped around a fake poll to
demonstrate it's bending abilities.
When you open the box you won't
find much, just the Gorillatorch Flare and batteries, yes they even
included batteries with it!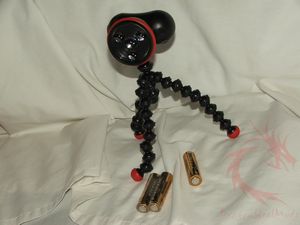 As we know the Gorillatorch Flare
has flexible legs that can bend pretty much anyway to attach to most
anything.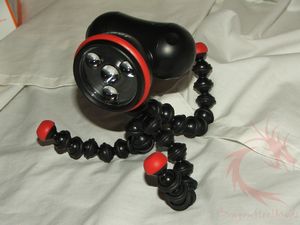 The batteries go in on the side of
the Gorillatorch Flare.
The regular Gorillatorch has a
switch on it that is a knob, you adjust the brightness and turn it on
or off by turning the knob. The Gorillatorch Flare though has a
button that you basically keep pressing to change modes.
The light itself has four LEDs in
it, the one in the center is the white while there are three smaller
ones around it that are the red LEDs.
Installation,
Testing and Comparison:
The light is actually very bright
but of course my camera compensates automatically for the brightness:
As I mentioned there are four
modes for the white light, three levels of brightness and then a
strobe.
The red light is only two modes,
solid red and then a red strobe.
Here's the original Gorillatorch
and then the Gorillatorch Flare: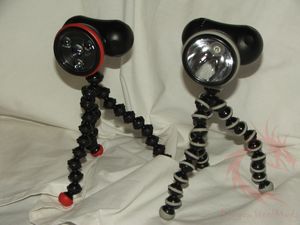 Luckily I've got a nice metal
shelf that I use for stuff, I can easily stick the Gorillatorch to it
or wrap the legs around it:
Then here's both just hanging
around:
It's a flash light, so there's
not much more to it than all that really.
I did notice that the Gorillatorch
Flare is more of a flood light with a wide beam, while the original
Gorillatorch is more of a spot light with a bright spot in the
center.. I'm not sure which I like better though…
Summary
and Comments:
The Joby Gorillatorch Flare is a
great product honestly, it's one that's very useful for many things
especially working on a computer.
The Gorillatorch Flare is very
well made, the legs are touch and the magnets are very strong, this
thing can attach itself to most anything.. anything that's metal and
the right size of course.
When I'm building a PC it's always
nice to have a flashlight handy and I've used the Gorillatorch for
many of them.
Of course you can use the
Gorillatorch Flare for anything really as it's a flash light, toss it
in your tool box and you're set.
The red light can be used like a
flare in emergency situations, so toss one of these in your car and
you've got a flash light when you need and an emergency light as
well.
It's not a bad little product
really, it's one that I can easily recommend though, it's one that I
really like.
DragonSteelMods gives the
Gorillatorch Flare a 5 out of 5 score and our Recommended Award as
well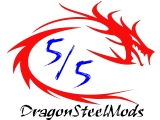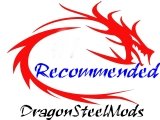 Pros:
+Very well made
+Easy to use
+Very bright
+Both magnetic and flexible
+Extremely useful
Cons:
-Flood light and not spot light
review# 668
Disclosure: This product was given to DragonSteelMods for review by the company
for review purposes only, and is not considered by us as payment for
the review, we do not, never have, and never will, accept payment
from companies to review their products.
To
learn more about our review policy, testing methods and ratings
please see this page.