Up on the review block today I've got a little macro lens from USBFever.com that can be used with anything that has a small lens like an MP3 player, phone or even your netbook or laptop and the hand held style video cameras. It's an interesting little gadget, and it does work well to help focus on the macro level. Read on to learn more..
Product Name: Magnetic / Detachable Super Macro Lens for iPhone / Cellphone / Camera
Author: Kristofer Brozio
Sponsor: USBFever
Tech Specs,Features or the Basic Info:
Magnetic / Detachable Super Macro Lens for iPhone / Cellphone / Camera
Product Code#:UFAE001258
Price: US$13.99
Features:
– Portable and detachable, you can take photo with your device at any time
– Use it as a Close-Up Lens, you can use this conversion lens to have close-up pictures
– Strong: Made of top-grade Aluminuim
– Applicable to any devices with camera interface suitable for a washer of inner diameter 9.30mm / outer diameter: 12.90mm
– You can use this conversion lens to make the object away from your camera as close as 10mm (effective distance 10mm~23mm)
How to attach the Lens to your device?
– Attach the Lens directly to the device cover (front of Camera)
– use the Magnetic washer with self-adhesive tape (if you cannot attach directly to the device surface)
How to use?
– Device + Lens (applicable to some device only)
– Device + washer + lens (applicable to ALL devices)
Specifications (Wide Angle):
– Super Macro
– Lens Construction: 1 element in 1 group
– The shot distance is between 10~23mm approximately
– Dimensions(main body): 15.8mm (diameter) x 6.5mm (length) approximately
– Dimensions (magnetic washer): 13.06mm (outer), 9.38mm (inner) approximately
– Weight: 2.0g (main body)
Applications:
– Taking pictures in a very short distance.
Suitable for: (Please have a reference to the dimension of the Lens and Rings)
– iPhone 4 (or 4G)
– iPhone 1st Gen / iPhone 3G / iPhone 3Gs
– iPod Nano 5th
– HTC Phones / Blackberry
– NDS DS-i
– Notebook / Netbook (eg. Mac / Macbook / eee-pc / laptop)
– Mobilephone / PDA / Smartphone…
– Degital Camera (for example: kodak Zi8, kodak Zi6, kodak playsport Zx3)
Package Contents: 
– Magnetic / Detachable Marco Lens x 1
– Lens Cap (plastic) x 1
– Detachable Magnetic washer x 2
– Keychain strap x 1
A Better Look at Things:
The Macro lens comes in a plastic pack:
Included in the pack is the lens, two metal rings, a plastic and a metal lens cover.
The plastic lens cover that was included didn't fit the lens, oops on the packaging mistake. The other cover though is just a metal plate that clips onto the bottom.
Installation, Testing and Comparison:
For installation on the iPod nano 5th you'll need to attach the metal ring first with the adhesive on it, simple to do.
Then you just set it on there and the magnet takes over and holds it in place very well. You will have to center it on the camera for a good view for the lens though, just shift it a bit.
Once it's on there it sticks out quite a bit so it won't be going back in any case. I also tried putting it in a silicone case with just the ring attached, it fit but very, very tightly and the ring moved a bit actually.
So how does it work?
The nano 5th doesn't do still pictures so I had to do a video, I tried to grab a couple still frames from it but they're not great, but you can get an idea of before the lens and after:
Here's the actual video for a better example of how it works. I cut the sound out as my kids wouldn't be quiet for me, but you don't need much sound to just see the lens going on and off and see the differences.
So there's the video of it in action, it works fine.
Summary and Comments:
So as you can see it works fine, but I'm not sure I'd actually use it with the nano as I keep mine in a case and I really don't take videos with it.
I guess it's a neat little gadget if you're into things like this….
You can of course use it with really anything that has a little camera on it like a cell phone or even a netbook or laptop or maybe even a webcam or the little flip style cameras as well.
So it can be a useful little lens.
DragonSteelMods gives the Magnetic / Detachable Super Macro Lens for iPhone / Cellphone / Camera a 4 out of 5 score.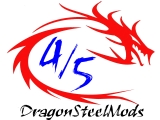 Pros:
+Easy to use

+Seems well made

+Really works
Cons:
-Wrong sized lens cover came with 

it

-Can't use case most likely with 

metal ring attached

-Kind of pointless really
review# 667
Disclosure: This product was given to DragonSteelMods for review by the company for review purposes only, and is not considered by us as payment for the review, we do not, never have, and never will, accept payment from companies to review their products.
To learn more about our review policy, testing methods and ratings please see this page.