Mionix? Ever hear of them? Probably not
unless you're over on the other side of the pond, they've been around
for a couple years now, based out of Sweden actually. Mionix
specializes in gaming accessories like mice and mousepads, but they
are expanding their lineup as well. They've recently come to be
available here in the United States and from my experience so far
with their products, I think they're going to do well.
Today for review I've got another
mousepad, yep a mousepad, not too exciting to most, but I personally
like getting them for review because I've found they can be greatly
different from each other. The one I have for review today is called
the Alioth 400 and it's from Mionix. It's a fairly large sized pad,
coming in at 400mm x 335mm or about 15" x 13" in size. In my time
with this pad I've come to like it very much, it's nicely made and
offers a surface that tracks perfectly with every mouse I used with
it. So read on to learn about a very good mousepad…
Product
Name: Mionix
Alioth 400 Mousepad
Author: Kristofer
Brozio
Sponsor: Mionix
Tech
Specs,Features or the Basic Info:
Art. No. ALIOTH-400
A STAR HAS BEEN BORN
Alioth is the brightest star in
the constellation of Ursa Major. The word "Alioth" origins from
the word "Alyat", which means "fat tail of the sheep".
Alioth has a very weak magnetic field for its type of star and the
magnetic poles separates different elements in the stars hydrogen
fuel. This phenomena causes Alioth to have very strange spectral
lines. The spectral lines has been implemented in the design of the
surface to avoid data losses in chaotic situations.
MODEL OVERVIEW
Next generation of coated mouse
pad, suitable for all type of gaming. The surface is made of a
extremely smooth coated cloth to allow user do exact and precise
movements. Backside is made of a rubber-based material offering a
combination of firm grip and great performance. Alioth 400 is the
ultimate mouse pad for players who likes to play with low sensitivity
without loosing control over the movements.
FEATURES
• New
developed coating for maximum glide
• Optimized
dimensions for low mouse sensitivity
• Backside
is made of a rubber-based material with a ribbed pattern to improve
the grip
• The
unique striped design improves the sensor performance and reduces
data loss
• 3
mm thickness smooths out the differences irrespective of the surface
under the mousepad
TECHNICAL SPECIFICATION
Material: Durable, smooth and
flexible coated cloth
Surface: Glossy, low-friction
coating
Dimensions: 400mm x 335mm
Thickness: 3mm
Weight: 222 g
Back: Rubber based back for a
firm grip on all types of surfaces
Compatibility: Optical &
laser
WARRANTY INFORMATION
Warranty for Mionix products
only covers defects caused by manufacturing. The warranty does not
cover defects caused by any kind of usage that is not attributable to
the manufacturing process.
All of our products have 2 year
warranty. Defect products will be replaced with a new product. For
more information read our FAQ or contact your local vendor.
A
Better Look at Things:
The Alioth 400 Mousepad comes in a
clear plastic box, not much special about it, but it's nicely done.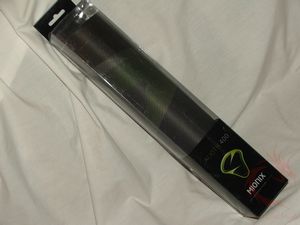 The pad itself has a great design
on it, it's actually a large version of the Mionix logo broken up to
resemble a camouflage pattern.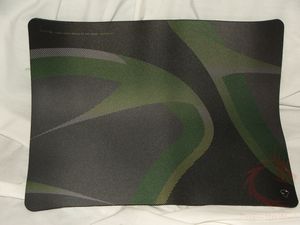 … and
you'll find a small version of the logo in the bottom right corner: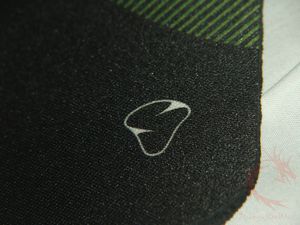 It is a cloth mousepad, but the
surface is very smooth, and of course it's very flexible and it has a
rubber non-slip backing. It's thin as well, which is very nice as you
won't have to worry about your wrist rubbing on the edge.
The Alioth 400 is a nicely made
pad, the edges haven't frayed like other cloth pads will do, but then
again I have only been using it for about two weeks, so only time
will tell with that really.
Installation,
Testing and Comparison:
Here's a picture of my Logitech G5
on the Alioth 400 for scale comparison:
Yes it's a rather large pad, for
some people it might be too large, but for my it's the perfect size
really.
I tested the Alioth 400 with my
Logitech G5, SteelSeries Ikari Optical, NZXT Avatar and the Mionix
Saiph 1800 as well.
I have to say I really like this
pad, it's smooth and offers very little resistance no matter which
mouse I used.
As for tracking, every mouse
tracked perfectly, never skipped a beat no matter how fast of slow I
moved the mice. It's a great pad for gaming and for general use.
Summary
and Comments:
The Alioth 400 is a great choice
if you're looking for a new mousepad, it offers exactly what you want
to see in a pad, accuracy, size, build quality and compatibility.
I honestly like this pad quite a
bit and it will be remaining on my desktop for some time to come.
DragonSteelMods gives the Alioth
400 Mousepad a 5 out of 5 score and our Recommended Award as well.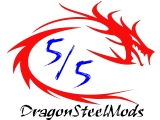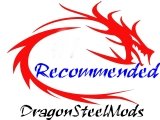 Pros:
+Perfectly sized
+Great design
+Mice glide nicely across surface
+Excellent tracking with all mice
tested
+Good quality
Cons:
-Limited availability
I
would like to thank Mionix for the chance to review the Alioth
400 and for their support of DSM.
review# 605