Today I'm back with more micro USB cabled from Boxeroo but these are two sizes with five cables in total and these are just the standard black color but they're tangle free and eco-friendly with a non-toxic PVC covering on them. Rad on to learn more…
Tech Specs,Features or the Basic Info
Micro USB Cables, 5-Pack Hi-speed Tangle Free Black USB Cable in Assorted Length (1ft, 3.3ft) by Boxeroo for Samsung Galaxy, HTC, LG, HP, Motorola and More Android Cellphone
-Convenient Combo: One pack contains 2 different sizes: 2 * 1ft+ 3 * 3.3 ft–cater to your different needs. The short cables are ideal for external battery when go out. 3.3ft cables give you enough extent. More choices will give you a more convenient life.
-High Speed Charge & Sync: The sufficient quality and quantity of premium copper wire supports faster and safer charging and data transferring. Power phone or tablet at speed of 480-Mbps, saving time effectively.
-Snug Connection: Premium connector head made of stainless steel snugly and securely fits compatible devices with most cases. And it is easy ans safe to pull it out.
-Flexible and Durable Jacket: The inner copper are securely wrapped up by Eco-friendly and nontoxic PVC jacket. The cable is soft and flexible but not easy to tangle.
-18-Month Warranty for better buying experience: Cables manufactured by Boxeroo comes with 18-month warranty for unexpected defective to ensure the best buying experience.
Color & Length:
Black
2*1ft+3*3.3ft 5/pack
Convenient Combo
Every pack includes 2 different sizes to meet various cable requirements. The 1ft short cables can work with your portable external. It is good for powering your cellphone and transferring data in close range wherever at home, on workplace or outside. While the long cables enable you charge your phone or devices and transfer data from other devices in long distance.
Hi-speed Charging & Data Sync
These cables can power phone or tablet and transfer data at speed of 480-Mbps by connecting it to USB adapter or computer. Fast transmission can save time effectively.
Snug Connection
Connector head made of stainless steel snugly and securely fits compatible devices with case, but you can easily and securely pull it out.
Price: $7.99 (from Amazon at time of review)
Testing and Usage
The packaging for the microUSB cables is just a heavy duty zipper style bag that is white on one side and clear on the other.
In the pack are three 3.3 foot long cables and two 1 foot long cables making them useful for various things surely. Long cables are nice but sometimes you need a really short one and you get two is this pack for a low price.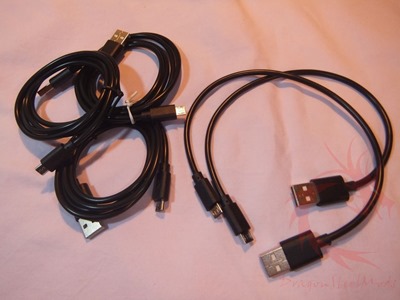 I charged my phone, the Samsung Galaxy S6, using a battery that provided 2.1amps of power so you can fast charge your devices and there were no issues. The cables worked just fine and I had no issues with charging, the cables didn't get warm or anything like that. I charged my phone and tablet via the battery and via the AC adapter and again, no issues there.
Summary and Comments
So it's just a quick review yes, but these aren't exactly complicated products, they're just USB cables basically. They're a bit different than others but they work just the same.
It's nice having choices and this pack gives you two different sizes so you can choose what's best for the job.
The cables seem well made, they're tangle free which is a nice bonus.
All in all not bad for the price for sure.

DragonSteelMods gives the Boxeroo Tangle Free Black Micro USB Cables a 5 out of 5 score.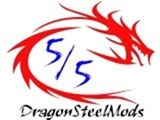 Pros:
+Different sizes
+Tangle free
+Work fine
+Inexpensive
Cons:
-None
review# 774

Disclosure: This product was given to DragonSteelMods for review by the company for review purposes only, and is not considered by us as payment for the review; we do not, never have, and never will, accept payment from companies to review their products.
To learn more about our review policy, testing methods and ratings please see this page.